Salter is a trusted name in Kitchen ware, going back a long time, believe it or not  250 years! Even though it is  mostly Chinese sourced ( what isn't these days ) , they seem to have done a pretty good job with this oven. 
Cook all your favourite foods with less fat using this fantastic Salter low fat fryer. Easy and convenient, you can cook directly from frozen using triple cooking power; halogen directly heats the surface of the food for browning, roasting and flavour; convection circulates the hot air, evenly distributing the heat for faster cooking, and infrared heat cooks from inside out, sealing in the juices for maximum taste. A complete kit, you can get started with your fabulous fryer straight away.
Using halogen, convection and infrared power, you can prepare the tastiest fried foods with little or no oil for healthier cooking.
With 1400 W power, it can cook your food up to 3 times faster, and can also be used for baking, roasting, grilling and steaming.
The fryer has a glass dome which allows you to see the cooking process or monitor your food, and a removable bowl for easy cleaning.
It comes with a high rack, low rack, lid stand, tongs, mesh tray, oil sprayer and 50 recipes, so you can begin cooking right away.
With a capacity of 12 litres, you can roast joints of meat for the whole family or use the racks to separate the food during cooking.
VonShef 12Litre Hinged Lid White Halogen Air-Fryer Oven
  Breakfast, lunch, dinner; this cooker has it covered! Roast chicken, fluffy rice, crispy fries, deep pan pizza – not a problem! The new VonShef model has the hinged lid feature for safe cooking
(more…)
Have a look at our Breville Halo VDF105 review
This new model has some great features, cooks evenly, two heat sources, tumbler action for chips…
I don't want this to sound like a lecture, but if you have a few of these major points in your head, you can easily avoid any danger from bacteria. Under certain conditions they can multiply rapidly and become a hazard.  Take a few tips from the professionals and look after your family or party guests….
Foods most easily affected are meat, poultry, eggs, seafood, dairy products, cut melon, raw seed sprouts, garlic-in-oil mixtures, cooked rice and potatoes. So given that Halogen ovens are perfect for cooking and reheating leftovers, we do need to know the limits of temperature and time to make sure we are safe.
Hot Food
When your hot food is ready, it should have an internal temperature above 140 F ,  if you  don't serve it immediately and use a food warmer, be careful to choose one which keeps food above that magic 140 degrees or use an oven set between 200 and 250 deg F.  Professionals in a commercial kitchen will use an internal meat thermometer to check this several times over a  time period.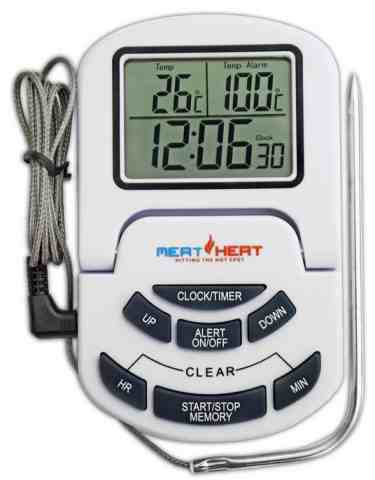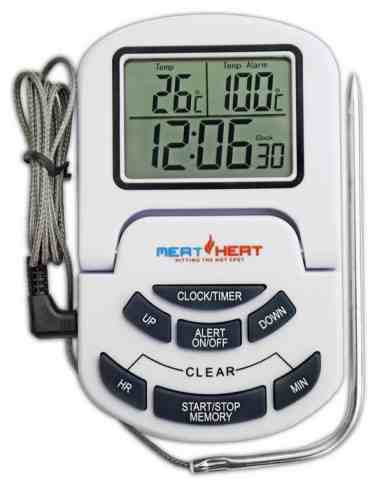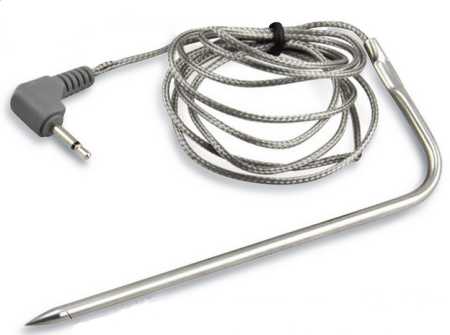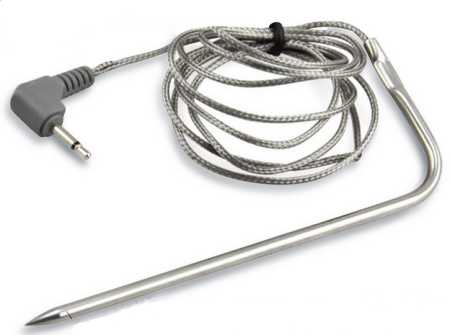 Anything not used and that may be tomorrows 'left overs' should be refridgerated as soon as possible and kept below 40 deg F.  Anything left out unrefridgerated more than 2 hours should be discarded,  it just isn't worth the risk. Remember that in a hot climate the bacterial processes work faster so reduce this time to just one hour if room temp is approaching 90 deg F
To avoid waste when serving large numbers of people over a longer period, pre prepare smaller serving dishes, that way, each new dish will be piping hot, from the cooker and no risk of the temperature falling below the minimum.  If you are using the meat juices to add to sauces or gravy make sure the liquid boils for a few minutes
Reheating Leftovers
As there is more risk of bacterial multiplication with leftovers the temperature used when reheating should be higher, 165 degF is recommended for all the foods on the list above, especially Chicken. Reheat thoroughly, stirring frequently to even out the heat distribution. Here the Halogen oven does a really good job as the hot air circulation ensures even temperatures all around the cooking area.  If you have guests who are taking "doggie bags" of leftovers, remind them to refridgerate asap.
Cold Food & Buffets
If your cold meats, seafood etc is going to be out on the buffet table longer than 2 hours, be sure to pack the serving plates on ice
Cook from Frozen
One area where the Halogen oven scores over other methods ( link to my article ) . You can cook straight from frozen with the Halogen oven, if you are using a microwave to thaw out food, you must fully cook it as soon as possible after thawing, any delay at this point will increase the number of bacteria hugely.
Preparation
Always use separate chopping boards and knives for raw meat and for vegetables / fruit, similarly ensure when storing raw produce in the fridge, that it is not put above cooked produce and able to spill or drip onto it.
Wash Everything!
The simplest and most effective preventative measure is Wash everything, hands, utensils, knives, etc frequently, don't for example use a dish previously used for course one, for a later course, which may be hours difference, without washing it in HOT water and detergent.
If you are new to cooking or unsure about your oven temperatures either conventional or Halogen , the new Digital Thermometers are very accurate and a good way to make sure you are safe.
Digital Thermometer For Internal Food Temp Readings  This semi professional digital unit has a fully metal screened and heat resistant probe for readings inside the oven and inside meat and poultry joints. Very accurate and repeatable readings, this model is calibrated in the same way as your local food and kitchen council inspectors  equipment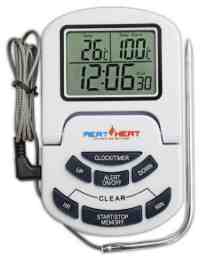 [amazon-element asin="B012DS2ZY0″ fields="new-price" msg_instock="in Stock" msg_outofstock="no more left!"]

.
In many Halogen ovens, a broken lamp means end of business! Not so with the thoughfully designed Andrew James range. Even a complete duffer like me is able to master this very simple procedure.
Simple Replacement for an Andrew James Digital 12Litre Oven
First take out the three screws holding the lamp cover and place it to one side. The lamp is held in place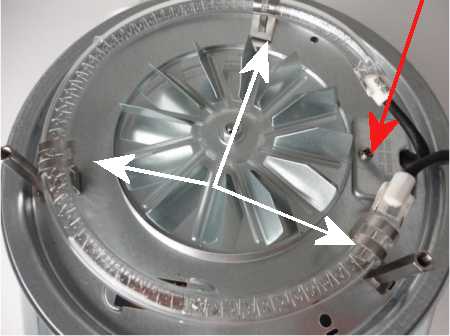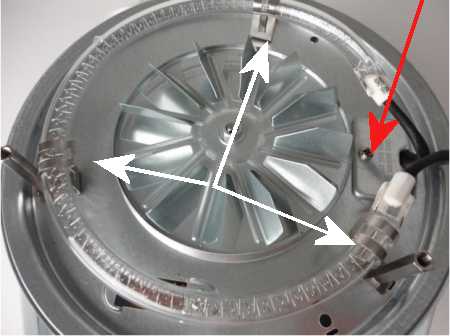 With 3 clips ( indicated by the white arrows ), which are easily opened up, the old lamp can then be gently prised out. To release the electrical connector just take out the screw indicated with the RED arrow, squeeze the lock to open the connector.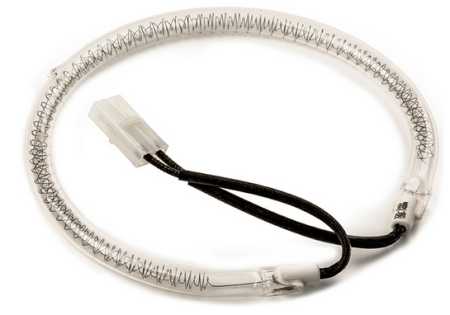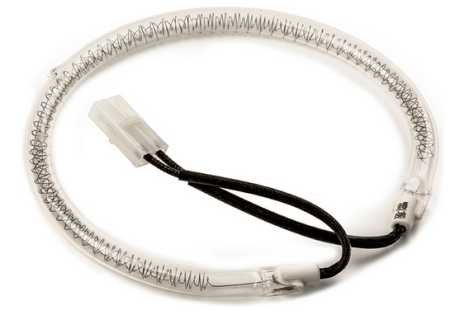 Fitting the replacement is just following the above instructions in reverse.
Easy !
Buying a Replacement Heater Element
The lamp can be found , specifically for the Andrew James 12L Halogen Oven  in the AndrewJamesWorldwide website, Amazon and even Ebay. Be sure to buy the correct one for your model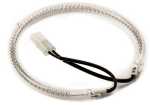 [amazon-element asin="B007Y5JAV4″ fields="new-price" msg_instock="in Stock" msg_outofstock="no more left!"]


OR
To Buy from Andrew James Worldwide website
A Tricky procedure with most other Halogen Ovens
With the majority of Halogen Ovens on the market, the process is still possible, but is not so easy as this video shows with one of the Ziks Fix videos. Removal of the Fan and the heater assembly is necessary just to get to the heater electrical connections deep in the body of the unit. Then you  would have to make a good electrical connection to your new element, which means shortening the cables and then insulating them properly. All of which is a longish task, even for an experienced repair man.
1 New products with new features
Halogen ovens have been around for a long time now and if you opt for the old models you will be missing out for things have moved on. The technology has been refined, new halogen tubes are very efficient, using even less electricity. The newer halogen rings are much tougher than early ones. The designs of the lids has improved in several ways, to give less spattering into the element, to give longer fan life, quieter fan use and better hot air circulation. So have a good read through the reviews on my little website and make an informed choice.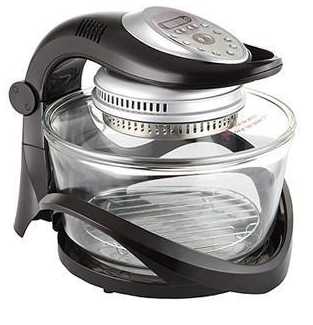 2 Halogens will save you money.
In the past year electricity and gas prices have soared, with some bills expected to be 10% higher than last year. If you are like most of us, in most European countries today , with austerity budgeting, no wage rises for the longest period in modern history, food prices also rising faster than ever before, plus household bills like petrol and mortgage or rent at an all time high, the  halogen is a breath of fresh air! It cooks faster than any other method, it cooks from frozen many meals that usually require a defrosting  period. It cooks meat and chicken to perfection. It hardly ever needs preheating like a gas oven and it is just the right size for family meals, so you're not heating a huge oven to cook 4 fish fingers for supper!  It doesn't heat up the kitchen either, wasting your expensive electricity.
3 Hinged Lid is safest type if you are not 100% able bodied.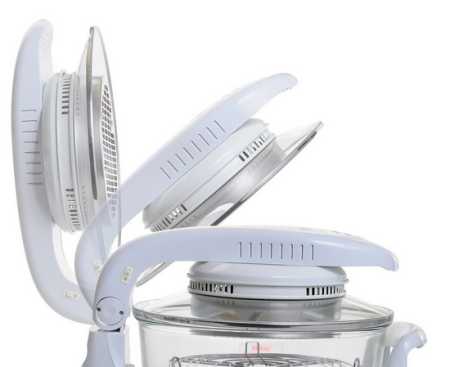 The simple addition of a fixed hinge lid to the standard Halogen Cooker has meant it is now suitable for those of us who don't have much strength or can't hold heavy things for long or cannot grip very well.  We take it for granted that we easily move around the kitchen and lift objects quickly. For those that don't, this is a life saver. The lid contains the heater element and should not be handled roughly – the hinged type lid solves that problem. The lid is also very hot so you really need to be sure you are able to lift it quickly and securely to one side, plus it is plugged into the wall making it doubly difficult if you are a little immobile. The hinged lid design solves this problem too, just open it up and it stays there safely out of the way while you attend to the contents of the oven.
4 make sure that the lamp unit is replaceable and cheap to buy
It has been a complaint aimed at the Halogen oven from day one, the heating element is easily damaged by rough handling. Sooner or later it may break, although  less so now, as the new generation of Halogen oven has a much better life span. Nevertheless, if it does break, you don't want that to be the end, a simple to fit replacement at a good price is an essential consideration. The benefits of the oven overall, make it very worthwhile to fit a new element if you can, rather than have to dump the whole unit.
5 Ensure there is no question of electrical safety
A simple point this one. Some halogen ovens are still on sale in the original form without the essential modifications to bad designs. If you go through the reviews on this site, my scores will make it clear enough, when there are a lot of comments and feedback from many customers about the same problems , like sparking electric cables, rusty element covers and poor electrical contacts to the lamp, the manufacturers of these models really should have modifications   ready and carried out pronto !  Or just replace it with a new  properly designed model.  They just don't deserve to have our custom, if they  don't.
6 Don't buy one with difficult to operate controls
It's a fact some manufacturers introduce technology that is NOT easy to use. Ok the old dials were dead simple, set up temperature with one and time with the other. Its fine to give your customers new digital controls, but if they are difficult to use, it simply puts customers off. I particularly like the Andrew James   model, that introduced digital controls, it followed the same simple layout as the old dial types and was a big hit –  because it was understandable.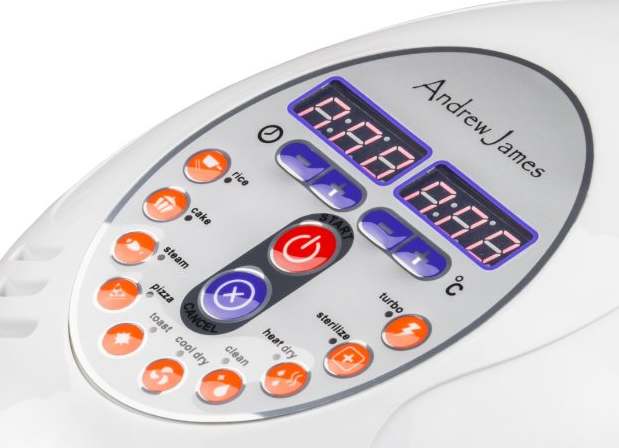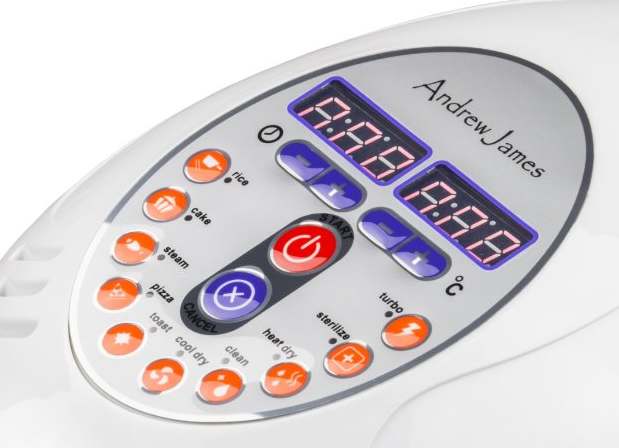 The advantages with digital are obvious,  in that times and temperatures can be set very precisely . In addition some would introduce new features like different fan speeds and delay timers, so you could have something preloaded in the oven and time it to start at  a later time.
7 Is the manufacturer in the UK( or US) and can be contacted easily.
So often I read reviews of goods bought in supermarkets, with an unknown name usually cheap, but not always, being commented on by some luckless customer who can't get a replacement handle or glass bowl. With the ones I review, you know where you are,  you can phone or email the service departments and order parts.  I never waste money on unknown brands now unless it is really cheap. Asda for example sell some kettles at an unbelievable £5 and they work properly !  But if you're going to pay out for a versatile cooker, make it a good one, the savings you make will pay for the  oven in no time !
8 Are spare parts available
The spare part that is crucial is of course the heating element.   For my own preference, the Andrew James models, a quick look on Amazon told me that the  element  is available easily and cheaply and the unit would not become an expensive burden.  I  haven't  had  the misfortune of a blown element but I have taken the cover off to have a look and even with my meagre skills I can see that the task is relatively easy.  As  my comments on the review pages will show  , this situation is not always a positive one, many of the ovens are criticised for being inaccessible, making element replacement too difficult to even attempt. Also don't attempt the job unless you can buy the right part.
9 Never burn or overcook your food ever again!
Cooking is controlled with a timer.  As a mom of teenagers I can assure you that they burn almost everything !  As soon as that pan of milk goes on the hob , or that pizza goes in the oven, their attention is instantly wandering, usually to the ipod, phone or tablet gizmos. Next thing the milk is bubbling over or the smell of burning pizza is coming upstairs or even setting off the smoke alarm. Well…. simple solution, buy a Halogen oven and it only cooks until the timer goes off. It will only cook with the timer engaged, so you can't fool it !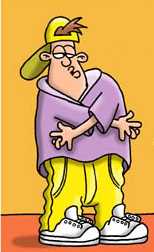 10 Which is easiest to clean up, A halogen Oven, A gas oven or a microwave ?
Easy! The Halogen will self clean the grease and most burnt on remains after use, but it is also dishwasher safe.   Cleaning the gas oven is still a messy job. Even the microwave takes a little while, but the Halogen makes a really quick meal and cooks it well, afterwards just pour in some  hot water and a squirt of washing up liquid and put it on "clean cycle" . The soapy water starts to swirl around the bowl and after a short while has cleaned off the worst of the grease. If necessary you can pop the big bowl in the dishwasher .
Whether it was Oscar Wilde or George Bernard Shaw who said something like " two countries divided by a common language"  is certainly true for these Halogen Ovens . On Amazon USA and other American seller websites they are described as Halogen Infrared Oven or Infrared Convection Oven or even all three terms together Halogen Infrared Convection Cooker, on the Amazon UK site its just plain Halogen Oven. Over in Australasia its different again! Our humble Halogen is called a Turbo Oven.
Well whatever its name, put one on your countertop ( kitchen worksurface ) and get some hash browns , bacon and eggs cooked, now is that eggs "over easy"or"sunny side up"?
Here are some great and quick examples of the countertop, Halogen Infrared Convection Oven in action, cooking fries ( chips ) chicken stir fry vegetables and pancakes
In his article in the Independent Newspaper, cookery author and critic Robert Ehrlich recently ( Oct 2010 ) wrote about Halogen Ovens entitled  "How I fell in love with halogen ovens"
In it he notes that men in particular are drawn to innovative gadgets, especially if it can be put in the "useful" category. The Halogen Oven not only is very practical, it fits the category , it will save time and can be used , as he does, every day. In fact he describes it as a godsend. Continue reading →
Tessa Cunningham recently wrote in the Daily Mail an article on the Halogen Oven" They roast a chicken in 30 minutes, clean themselves and cost just £40. We give halogen ovens a grilling"
The main points raised in the article are the growing popularity of these innovative units designed to go on your worktop and are capable of doing everything that your expensive built in cooker can do , but at less cost fuel wise and much quicker. Originally introduced on the tv shopping channels, they are now very much more popular and internet chat rooms are frequently discussing cooking with them.
What to get for a Christmas present for the nearest and dearest? Be original this year, the Halogen Oven is an ideal gift and once the lucky recipient realises just how convenient, efficient and quick it is for everyday cooking, it won't be one of those gifts that end up in the loft, it will be used every single day.
Our Review pages give the findings of our tests, in which we examined the products for quality and features rating on…
Value
Performance
Included extras
Potential Problems
We gave the full specifications when available ( there were some differences noticed between the sellers spec and the manufacturers data)
The Amazing Halogen Oven
2018 Update.
Hi, I hope this site (now in its sixth year) will help you decide about these unusual products, without being conned into buying whatever the local store happens to have piled up in stock. You can read the manufacturers own glowing descriptions, then when buying it online, you find it just isn't what was promised. Its no good after you've bought a lemon, Googling it online at forums and finding hundreds of posts complaining about the same thing. So I decided to do some real research into Halogen Ovens and give you my findings… which is the best value Halogen Oven? I have compiled my findings on the review pages:-

When I got my first Halogen Light powered Cooker I was very sceptical about the performance a machine that cost so little against my trusty Gas oven which had served so well over years and years of cooking.
Believe! these little units are extraordinary
Save money
Save time
Save time cleaning afterwards
Get the very best results every time with very little effort
The halogen oven is as cheap as a  microwave oven, but cooks like a conventional oven, browning meat perfectly. It is also as quick as a  microwave but doesn't suffer with cold spots , the heat is distributed very evenly.  It will also cook straight out of the freezer! No thawing necessary. Plus there is no pre-heating like your gas oven, it reaches top temperature almost instantly.
Continue reading →