This Crockpot, model CSC026 has a 20-hour timer and Digital controls. 
With its tiny 220-watt consumption, this is an ideal cooker for the winter of 2022, when our gas and electricity prices are going off the scale! Keep your bills at bay and come home to a super tasty stew with minimal effort – literally, just throw in the ingredients and turn it on. 
Colour: Silver
Material Ceramic & Aluminium
Cooking Bowl – die cast steel with Duraceramic coating
Dimensions(cm)  33.5L  33.5W 19.5H
Capacity 5 litres
Power 220watts ( 230v) 
Timer: 20 hours set in 30min intervals, digital LED display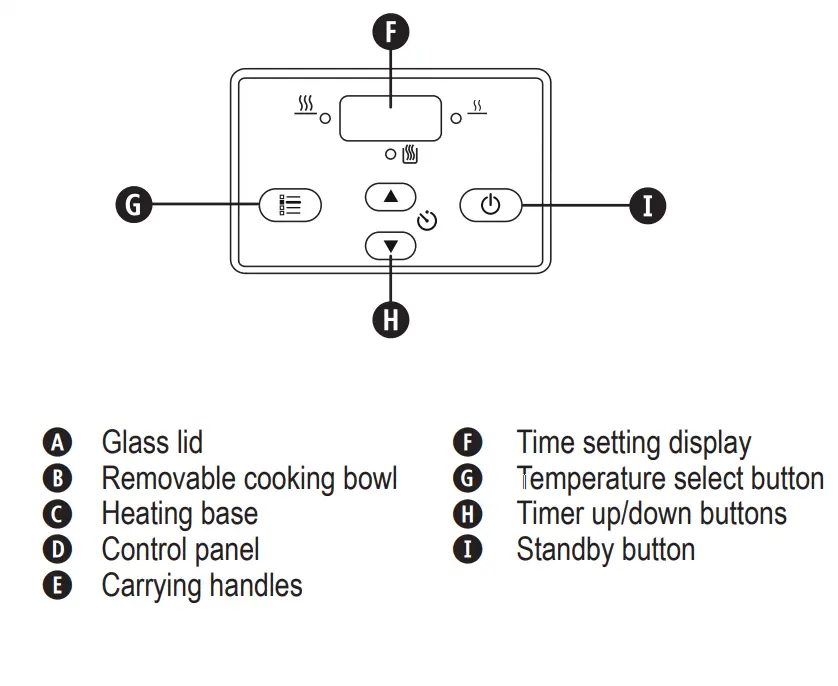 The Crockpot is extremely simple to operate with Timer settings up to 20 hours, and Heat settings (in 3 steps)  It has a nice clear LED display. 
Crockpot DuraCeramic Build Quality and Everyday Use
What is the Crockpot CSC025 like to work with? The large inner pot is die cast, not pottery as with many slow cookers, so forget having to store the food in a new container, the cooking pot can be put in the fridge and even in the oven without damage. Ideal to use your stews etc over several days. The convenience of being able to prepare food, slow cook it, store leftovers and reheat them all using the same pot is brilliant.
I particularly liked the idea that the Crockpots inner cooking pot can be used on the hob, this means that you can seal cuts of meat, by sauteing directly in the same pot, before adding all the stewing ingredients and starting the slow cooking. This saves on washing up and your time. The simplest ideas are always the best.
What is Duraceramic?  It is a ceramic based non-stick surface which has 4 times the durability of Teflon and other PTFE products. I've seen many similar products ruined by scratching with cutlery in normal use, so Duraceramic is a welcome addition to a competent product. Cleaning can now be done without fear of damage.
With the Heat control you can select one of 3 settings, high or low for cooking, and warm for keeping a meal hot after cooking ( max 4 hours on warm setting)
Should you buy a Slow Cooker or a Multi-Cooker?
It is a fact that the more hi-tech your kitchen gadgets are, the more expensive they get. Sure a Multi-cooker will do everything and it makes sense to have one multi purpose unit rather than several, all taking up room on the kitchen work-top. But, if most of your cooking life is preparing beef stews, vegetable stews, soups, casseroles, chicken chasseur, brisket,  or chilli con carne, then perhaps a slow cooker is your best choice. 
Another good reason to go for the slow cooker, is the price of fuel, although it takes a long time, it uses not much more than a lightbulbs worth of electricity to work.
The Keep Warm Feature: instead of turning off at the end of the cooking time, the Crockpot can be set on "keep warm" , so if you're a little late arriving home, no problem, you'll be greeted by a steaming hot delicious meal, ready to eat.
What the buyers said about the Crockpot
Great for cooking a variety of slowcooked food. Easy to use. You can cook on stove first to brown the meat and then put the pot in the cooker to simmer until its done.
Cleaning must be done outside dishwasser.. and timer is in 30 minutes steps. Temp has 3 fixed positions.. high low and keep warm. So very much straightforward and no extra features whatsoever.

Very easy to use and clean. The timing function is a big help not having to check how long there is to go. The crock is light and very easy to clean. The final benefit is how light it is. First class product.
Easy to use on induction hob to sear meat, soften onions etc . So easy to use and clean. Would accommodate 4 to 5 very generous helpings for main meals. I use it 3 to 4 times a week on average. Takes a small amount of time to prep the food but then just put it all in the pit, set time and forget it. I had one years ago but was not anywhere as good as this one.
Download the Crockpot Instruction Book
Great product, well made, simple layout, reasonable price, 
I like the simple element to the whole design, they could have added a lot more gadgets, like a delay timer, but do you really need it? I give this 7/10 overall