Wow what a new departure !  I was really impressed with the features and quality of build of this Halogen oven. It is unique to incorporate a rotisserie and a Halogen heater together.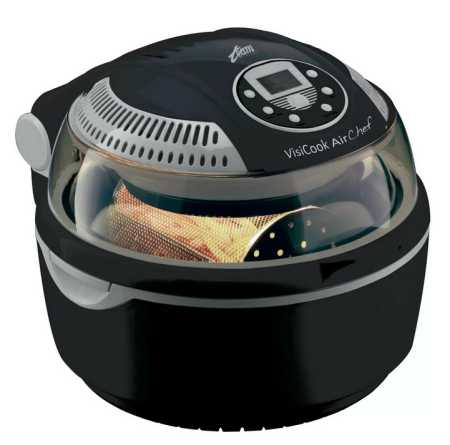 Team VisiCook have created a really new product, powered by halogen element, the unit cooks as economically and quickly as any of our reviewed Halogen Ovens but there are two new innovative features
The oven contains a rotisserie
the cooking vessel itself is double insulated so its cool to the touch when in use !
plus it has the best feature from our top ten reviews – the hinged lid. There are actually more benefits of the double insulated body of the unit, the heat can't escape so it has a higher top temperature than any of its rivals , it reaches the cooking temperature even quicker than its rivals and unlike any glass bowl conventional design , you won't burn your fingers on the bowl. The insulation also cuts down on the noise, although most of our reviewed halogen ovens were quiet, this is the quietist yet.
Rotisserie
The rotisserie can accommodate a wire drum, ideal for air frying those chips and any of a number of quick snack type foods, cooking very evenly and in a tiny amount of cooking oil
It can also accommodate a spit roast fork, so Chickens etc. will rotate and cook perfectly evenly, no opening the top up to turn it round half way. The execution of the design is perfect my only comment on the con side would be about the size of chicken that it will take, that's really the only down side, perfect though for two people.
Safety
In use the lid snaps into a lock when it in the up position and requires you to press a button to release it, so forget those horrors on the shopping channels with the red hot lid and nowhere to put it, this is definitely the safest unit ever!
Ease of use with the Digital Timer
Visicook have spent some time designing this as simple as possible. It has some presets for common menus , you can customise and set up your own times and temperatures.
You can program a delay, so you can load it up ready for hometime and it will be ready for you to serve up as soon as you get home.
No overcooking – you can't forget to turn it off and burn your food, as all cooking is done on timer.

Download  Team visicook AirChef manual
Accessories
The unit is complete and ready to  roll with these included items: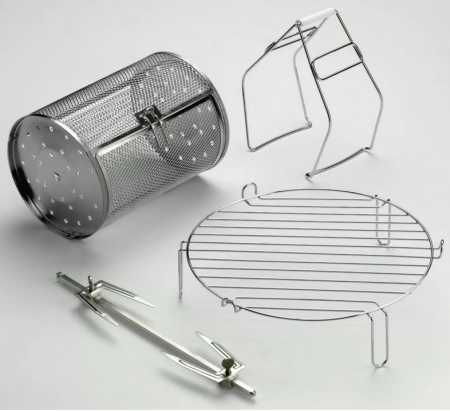 dual height combi cooking rack
rod and forks assembly for the rotisserie
RotorFryer basket
tongs
cradle to rest the rotisserie or RotoFryer basket when hot
It comes with a reasonable instruction booklet and a serving suggestions booklet to start you on your way cooking with the Visicook.
What the Customers who bought the Visicook Airchef had to say…
This is exactly what i was looking for. I use a halogen oven all the time and to have a rotisserie too is perfect. The taste of rotisserie food is lovely and this method of cooking is quick and easy. Highly recommend and don't know why there are not more versions of these ovens
unlike the more common glass bowl Halogens the insulated base on this one prevents the escape of heat therefore leading to quicker and less expensive cooking
Excellent, have not used my oven from the day I received cooker. Meat stays moist and cakes perfect. I use it every day

—————————————————————————————————————