What's under that gleaming black exterior of the new Philips  HR9252 "essentials" model.
The Philips Air Fryer appliance model has been proven over 10 years. It has remained a best seller. Many manufacturers have copied the style, but none have topped the performance and longevity of the products. 
You can get spares for these products, from Philips,  whereas most of the competition are throw away items, the first time it fails. 
Get to know the Philips range and select  for size – Number of portions
Use it for all sorts of cooking, frying, baking, broiling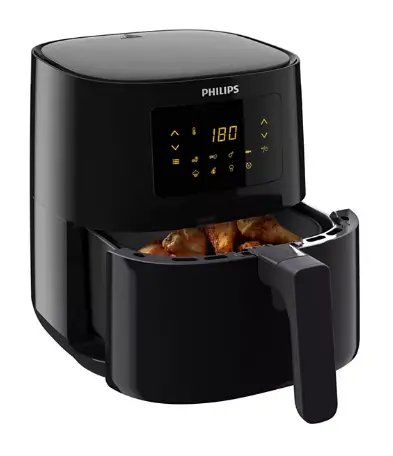 Just half a tablespoon of cooking oil is more than enough to cook up to 500g of food, in this highly efficient tech marvel, the air-fryer. 
Hot air is the cooking method, its like a fan oven on steroids! Simply pull open the drawer unit, spray on the oil and push it fully in to start cooking…. simples! 
With foods like chips, you can open, shake the pan, pop it back in, at intervals to ensure even cooking.
Philips Air Vortex Cooking
The bottom of the pan has a spiral pattern raised in it causing the air to form a vortex and helps to distribute heat evenly and quickly
Many frozen products like chips can be cooked in 10 minutes or less. 
The Philips pan dish washer safe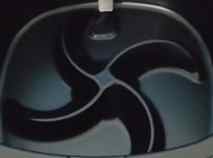 The Fan is situated above the heating element and creates a down draft around the pan. The bottom of the pan swirls the air stream and enables hot  air to reach the food evenly cooking it very quickly. 
Food is cooked in the same way it is, in a conventional  oven, so many cookery techniques such as foil wrapping the food, works great in the airfryer too.
Fatty foods like bacon, might cause more "splatter" than other types of food, causing the element to smoke – so avoid fatty ones.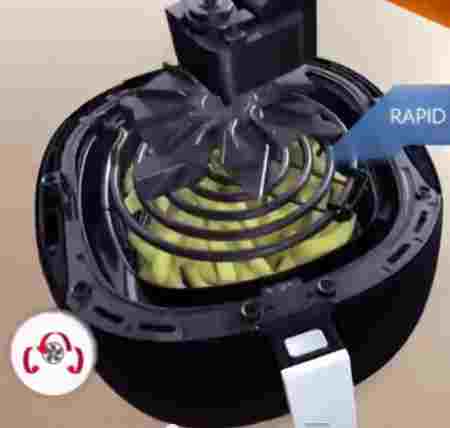 The design of the Philips range of air-fryers ( copied by many others ) is reliable, safe and economical
1400watt
80cm power cord
Body measurement 360 x 264 x 295 mm
Weight 4.55 kg
Designed to cook 4 portions Capacity 4.1Litre
Controls On the Philips 9252
All this range from Philips have a touch screen. Note that this is a proper sensor device, not a membrane bubble type switch as found on cheaper models ( similar to a tv remote ). It senses your finger and does not rely on pressure, as with a simple switch. So there is no plastic membrane to split or let moisture in, nothing to wear out, it is fully sealed and the perfect technology for a working kitchen.
A Temp Adjust Up
B Temp Adjust Down
C Menu
D Presets
E Standby/on
F Timer Adjust Up
G Timer Adjust Down
H Timer indicator
I Timer/Temp Display
J Temperature Indicator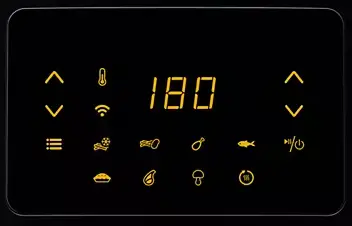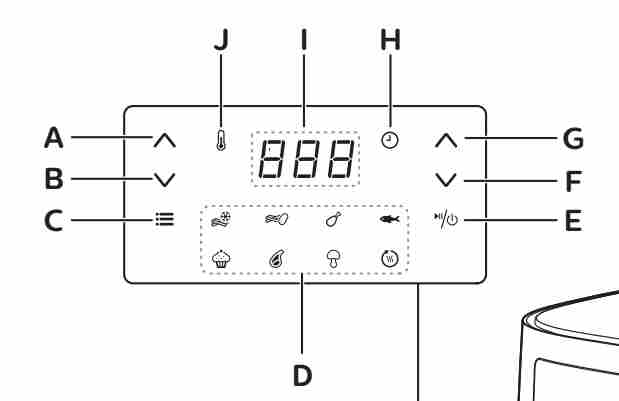 Preset Buttons
The Essentials comes with 7 preset functions and a "keep warm" button
Frozen Chips
Fresh Chips
Chicken Drumsticks
Fish 300g
Cake
Chops
Mix Vegetables
Keep Warm
You select the preset by tapping the menu key, each preset icon will flash in turn, then touch the ON button to start the cooking process.
Time and Temperature are both preset on all 8 functions although only the 'keep-warm' function cannot be changed.
The NutriU application is a great companion for the Philips Air Fryer, it is loaded with the best  recipes, and recommendations. Cook truly healthy dishes in your Airfryer get inspiration from our app.
I bought this as it is one of the best brand of air fryers and was tired of turning on the oven to cook for only 2 people.
I tried this as soon as it arrived and made frozen hash browns in 20 minutes with only a light spray of oil. Result is amazing, they are really crispy and fast to make as you don't have to preheat this air fryer before cooking.
In the evening i tried to cook the whole dinner: frozen salmon and fresh asparagus and mushrooms. They were a little dry but I think I can do better if I just learn the cooking times properly as I may have overcooked everything.
It is very easy to clean, just wipe with soapy water, it doesn't stick at all, it's not noisy and very easy to use. Also the basket is big enough for 2 portions so that saves a lot of energy wasted on the oven.
I'm glad I bought this and not a cheaper brand, really worth the money. 
Rating and Recommendation
The Philips is easily the best I have seen, the manual is a lot better ( though not perfect ) than all the others. Using it is very easy, you really get a solid, well-built product, and something that looks like it will last.
 The original Philips range of Air Fryers was groundbreaking, ten years on they are still being copied but never beaten.   They have remained the best seller and represent great value for money.
If you want the best in your kitchen, look no further, just decide on the size you need
The HD9252 is the basic size ( 4 portion )  with a cook capacity of 4.1 litres – 0.8Kg