A solid contender from the Emperial team, basic, good engineering, with everything you need, and well built. Although it's a generic model, it is one of the top-selling models and has very good reviews
This Halogen Oven has a standard One-hour timer and simple dial controls. 
With its super-fast heating method this is an ideal cooker for the winter of 2022 when our gas and electricity prices are going off the scale!  
Materials:  plastic  & Aluminium top
Cooking Bowl – Glass
Dimensions(cm)  40 x 40 x 30 cm
Weight : 6.2kg
Capacity 12 or 17 litres with extender
Power 1400watts ( 240v) 
Timer: 1 hour 
Temperature 125 to 250°C
Model basic ( 2017 )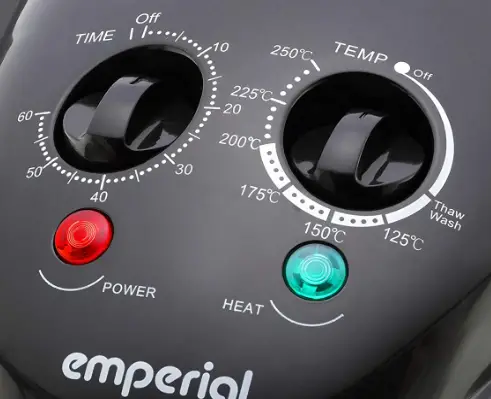 The Emperial Halogen is extremely simple to operate with its 1-hour timer and variable temperature dials. 
Emperial Build Quality and Everyday Use
What is the Emperial Halogen oven like to work with?  
This is a true 250°C oven
A very competent product. Basic bowl cleaning can now be done with the auto-clean setting. 
As with several other models the timer is a very simple dial but cannot be reset ( turned backward) so take care to set it correctly.
The cooker's top handle acts as a power cut-off switch.
Should you buy a Halogen Cooker or a Multi-Cooker?
The more gadgetry – the more expensive.  Sure a Multi-cooker will do everything a Halogen can do and more (pressure cooking)  but you have to weigh up how often it will be used. The Emperial is a basic model, cheap, reliable, and easy to clean.
If you're searching for a way to reduce bills, one of the best options is a
slow cooker
,  although it takes a long time, it uses not much more than a lightbulb's worth of electricity
so do take a look
The Emperial is a workhorse, able to cook most dishes, and works just like a conventional fan oven, but quicker and much cheaper to run
What the buyers said about the Emperial
1. I just finished eating fish & chips cooked in my new halogen cooker. The oven chips and battered fish were so crisp and dry, I would never have guessed they were cheap own-brand products if I hadn't bought them myself. I don't have a fan oven to compare cooking time, but the need to heat the larger capacity of a regular oven must result in a longer cooking time. I can say my dinner cooked a lot quicker compared to the mini oven I used for the past six years. 17l seems perfect for one man and his cat, and I plan to dump the mini oven tomorrow. The only thing I think I will need is another mesh rack for battered fish. This is one item that needs turning. The chips cooked perfectly left alone.
2. This oven is easy to use. Its the third one I have had.
Easy to cook roast in it
Also easy to clean.
3. Versatile, large enough for a roast, it does great spuds. It comes with two stands and an air fry tray. Some instructions on how to use the supplied parts would be good, a quick YouTube video showed me that there's an extension ring too, as a novice, I didn't know.
Overall, I think it's an economical way to replace a conventional oven.
4. Great product. I prefer the Halogen to the air fryer. I can see food as it cooks and it's easy to clean afterwards.
5. I've bought this oven because the traditional one is quite old and slow. Living in a rented flat means not being able to change appliances as my taste so I got this one instead.it perfectly substitute the big oven, it saves energy and bills cause it gets hot In 1 minute or so (180°) the oven comes with different accessories, all useful a part the crappy tongs that I bin pretty quick. There is no lid older so be careful how you handle the hot lid and where you put it.
It doesn't really wash itself. You fill it with water and the oven warm it up. That is not washing to me. I usually take it and wash it properly in the sink. It's heavy but still manageable and quicker/better than clean the normal oven.
I'm looks safe to use, just check that the wire doesn't touch the bowl when or it will be ruined as the oven gets pretty hot.
6. I have been using halogen ovens for 10 years or so and am very pleased with them. In fact I never turn on my kitchen oven. I live alone so they are perfect for me.
This oven was delivered the next day after I placed the order with no delivery charge and I do not use prime so very good service . I only received the oven 3 days ago so I have only used it 3 times but I am pleased with it, it is well made and simple to use. I like the fact that the temperature control goes up to 250C, all the others I have had only went up to 200C. It certainly cooks quickly and evenly so so far I am happy.1.
Download the Daewoo  Instruction Book (nearest model to the Emperial)
Great product, simple and well made, at a very reasonable price, timer cannot be wound back so just be careful when setting it
  I give this 8/10 overall