Another fine product from Livivo, Digital Halogens are –
speedy and economical
can see the food cooking
easy to set up
great LED display
big 17 litre capacity
Livivo Digital Specifications
12 litre capacity / 17 with extender
1200 watt heating element
Temp 60 to  250 degrees C
Timer 60 min 
Lid handle cuts power off 
Weight 6.1kg
Dimensions 33x31x39.5 cm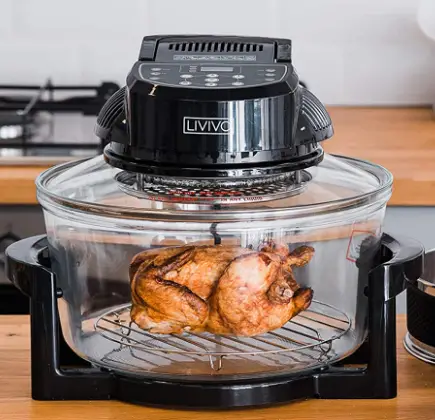 Better than any Air Fryer, the halogen layout allows you to see what's cooking and select the extender ring if you're cooking a whole bird, to prevent burning the top
For cooking  multiple  items of food  together, use the extender ring which extends total capacity from 12 to 17 Litres
Livivo Digital Controls and Preset Functions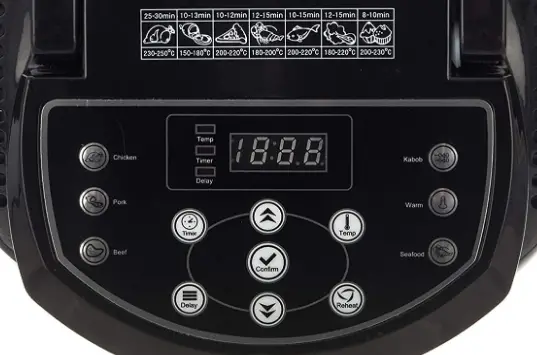 Preset times and heat settings for : 
Chicken
Pork
Beef
Kebab
Warm Up
Seafood
You can see immediately what is set up – the Temp, Timer and Delay lights indicate what is on the LED display
Extender Ring
Low Rack
High Rack
Wire Lid Stand
Tongs 
mesh tray
manual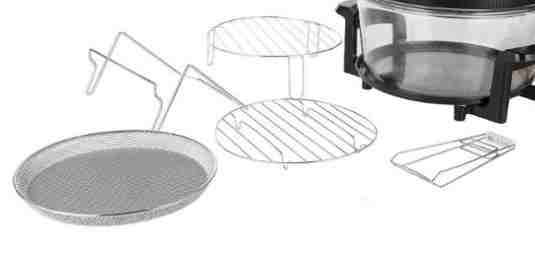 What buyers of the Livivo Digital said...

So it arrived a day early and dinner plans went out the window, just had to try this out… Roast chicken breast, Mediterranean veg with roast potatoes… Mid week roast.. First time trying this type of oven out… 50 mins later dinner with little to no fuss, easy to clean up too… Between this my slow cooker and microwave the oven / hob is now redundant. Wish I'd bought one sooner.
Used for everyday cooking of a wide variety of recipes
I found the digital control hard to work out especially as the booklet that came with the halogen air fryer oven did not show how to work out times etc, as they did not correspond with the instructions.
This is automatic. It cooks food twice as quick. The temperature was in Fahrenheit when we received it, but it somehow changed to Celsius. But, it is a brilliant piece of kit.
Try it for your self. Send see the result.
I found the setting up very easy, I've had several models, with the two dials (heat and timer) but this is defo easier and recipes are 100% repeatable.
Build quality excellent
Overall 9/10