Designer Habitat  Digital Control 12 Litre Premium 1400w Halogen Oven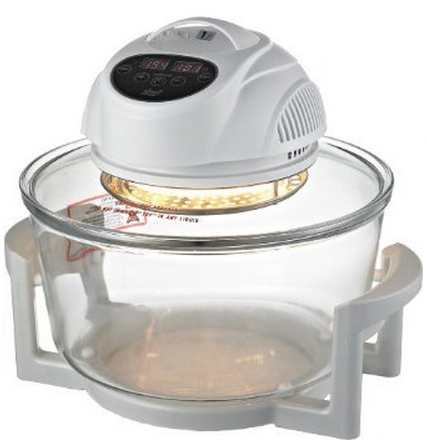 Accessories provided
Tongs set
Extender Ring
Grill rack low
Grill rack high
Baking Tray
Steamer Tray
Detachable Power Lead Plug
4 Skewer forks
One oven glove
Lid holder Rack
This unit was a surprise price wise, well under the average price for a digital control model. When the order arrived it was well packed with additional cardboard outer cardboard box. I have ordered quite a few products which have arrived broken from poor packing and rough handling. Delivery time wasn't the best I've experienced, at 7 days, but at least it arrived intact
Overall Impression
First thoughts when viewing the unit was that it looked a little flimsy compared to the Andrew James models, but so far it has held together and functioned perfectly. I was very concerned about the poor design of the lid stand. This is a wire constructed stand for the very heavy cooker top and it is the last thing you need in a busy kitchen to have to concentrate on putting the hot lid down safely, then not knocking it over whilst on the stand . It really did seem not well balanced. There is always the possibility, when the element is red hot after use and vunerable to shock, that it will break if handled roughly. Habitat have incorporated a plug/socket arrangement, for the mains power lead, so its possible to pull this out of the lid heater unit, which is good from one point of view, its safer when its not tethered to the wall socket, but long term, will this connection become loose ? Another model in our review suffered this problem, with several customers experiencing problems.
Digital Set Up
The digital setting of the temperature could be used in Fahrenheit or Centigrade, useful if your recipes have temperatures in degrees F. A pet hate of mine is manufacturers who miss out essential buttons on these digital models, turning a simple task into one you have to think about,  on this model though Habitat have changed their mind and  gone for the better twin display, simple and obvious.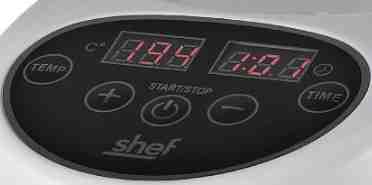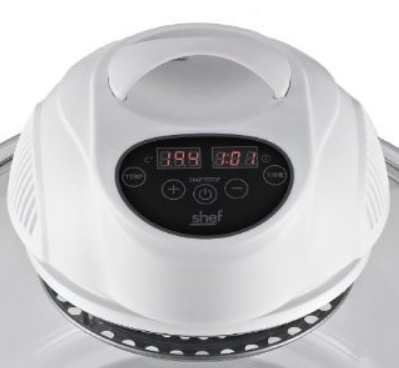 Cooking Head
Looking at comments we have had from customers and other websites too, this is probably the weak point of the design.  However, you can buy a good stand to replace the Habitat one and very cheaply. If you have doubts about handling the lid, maybe you don't have the strength in your wrists or maybe a bit unsteady on your feet, it would be wise to consider one of the models with a hinged lid, which doesn't have to be lifted, so eliminating the problem. Turning to the instruction book, often a very poor publication and a complaint with many halogen cookers, this one really sucks! A general book on Halogen ovens ( or just a good read on our website ) will tell you far more than this instruction sheet.
What Buyers are saying
Excellent item. I use this more than my conventional oven. Cooks brilliantly, saves time and money and easier to clean than an oven
Uses a lot less electricity than the main oven. Cooks quickly and without having to pre-heat. Roast vegetables and oven chips are brilliant!
 I wouldnt be without it now. Hardly ever use my normal oven any more. It will cook just about anything, perfect roast potatoes and oven chips

Review Rating
Overall the Habitat Digital model scored  8/10 Great price,   accessories pack ok , it worked perfectly, with the usual great cooking results from a Halogen Oven . May be not such good value long term, seemed a little flimsy compared to other top models. Order from Amazon for the best price and secure delivery.

Currently Unavailable