Instant pot makes a lot of models including: 
Instant Pot Duo Evo Plus 10 in 1
Instant Pot Duo Crisp + Air Fryer 11 in 1
Instant Pot Duo 7 in 1
Instant Pot Pro 10 in 1 
This review is about the Duo Crisp model which combines an Air fryer and Pressure cooker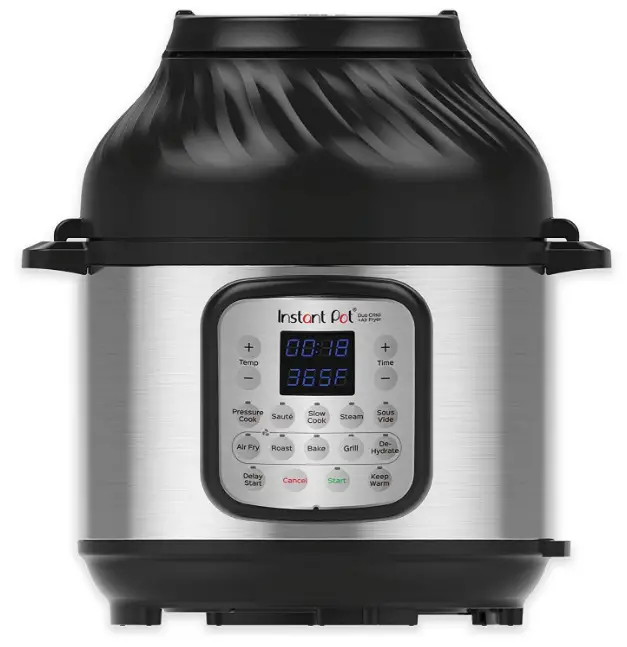 The Instant pot has 2 lids, one for AirFrying and one for Pressure cooking.  So bear in mind you will have to find room for both the Instant Pot AND an extra lid. 
Neatly  laid out in two rows of buttons, first the pressure and steam functions; 
Pressure Cook
Saute
Slow Cook
Steam
Sous Vide
then the conventional heater: 
Air Fry
Roast
Bake
Grill
De-Hydrate
then the "keep warm" button
The Instant Pot is well laid out and has separate time and temperature displays. Temperature can be displayed in Fahrenheit or Centigrade( set it in standby mode) , the cookingTemperature Up/Down adjustment is on the left and Time on the Right. 
Capacity: 5.7Litres ( there is an 8 Litre version ) 
Material : Stainless Steel, Plastic
Color: Silver
Power: 1500 watts: Voltage 230V
Dimensions: 13.6D X 13.6W X 14 H(cm)  
Weight 10kg
Download the instantpot Instruction Book
This is a amazing cooking aid, very easy to use, and very easy to clean, so far I have used the Air Fryer, Slow Cooker and Pressure Cooker, easy to use and great results, managed to buy it when on offer, would highly recommend, also saves on having the oven on, so I believe it to be more energy saving. Looks great and a solid build. Also downloaded the app, so have lots of receipe ideas, love using it.
Highly recommend, i have previously had a ninja, much prefer this one, doesn't leave the food dry like the ninja. This has so many options. Cooks in such a short period of time. Haven't used my cooker since getting it. Cooked chicken, pork chops, chips, sausage and bacon..
I have had air fryers in the past where you could fit in an entire Crosta & Mollica Pizza to the basket. the size of the inner compartment of this 5.7l 11 in 1 Instant Pot is laughable. as is the size of the dehydrating tray, which – no joke – is the size of a large saucer or small dinner plate. i mean, its absurd, if someone was to try and use that for dehydrating you would have to do 1 apple at a time! it was silly. the moment I took everything out my excitement turned into, hmmmm, i'll end up never using this as it will be more faff than convenience.
Conclusion Recommendation and Rating
For the reason given in the customer's feedback, the small size of the air fryer makes the 5.8Litre model impractical, the Duo is however well built and all the cooking functions are very good, so I would recommend the 8Litre version only.