Although it has no Air Fryer component, the trusted Tefal name pops up frequently, this All in One model is a best selling product, I thought it was worth a look at its excellent features, in a competitive market, the price is going to make it  stand out
6 litre capacity (2.4L useful capacity)
1600 watt heating element
Material – Stainless Steel
Color Black/Silver
Temp 70 to  120 degrees C 
Delay Timer 24hour 
Dimen: 13.4D x 13.4W x 15.6H cm
Tefal have made a solid product, with easy to operate controls, but without all the OTT apps and hundreds of presets. So this model will suit the average "Mum" cooking for a family, wanting something easy and cheap to run.
The lid on this model is hinged – Good, safe !  Ok not as easy to clean, but less chance of it sliding across the worktop or burning you. 
Once again, as with other machines in this category,  the puzzling "Capacity" discrepancy between the actual volume and the Useful cooking volume. Why do they state 6 litres when it actually takes nowhere near this amount?  If you're going to need a lot more, I would seriously take another look at the Halogen ovens, their 12Ltr and 17 Ltr with extender, which is almost universal through the different makes and models is a true working volume.
Pressure cooking gives you near instant food, many dishes taking 10mins or less! 
Maybe it's me…. but I could not get along with the provided instruction book, it's one of those multi-language tomes, you think you're getting loads of detail, only to discover its just a few drawings with very hard-to-discover explanations, this is worse even than the average Ikea 'manual'. Judge for yourself, you can download it below. 
One problem which is reported in the comments below, and was seen several times is the stream of water you get coming out of the machine after using the pressure cooker, as long as you have some sort of tray underneath,  it's not a real problem but surely it could have been better designed.
Fortunately, most people should be able to use it without too much effort, do pay attention to the assembly of seals and safety valve maintenance though – essential stuff! 
A Sealing gasket
B Steam basket
C Trivet
D Cooking pot (removable)
E Heating element
F Carrying handle
G Control panel
H Base
I Safety valve
J Pressure limit valve
K Lid handle
L Lid
M Condensation collector
N Measuring cup
O Rice ladle
P Power cord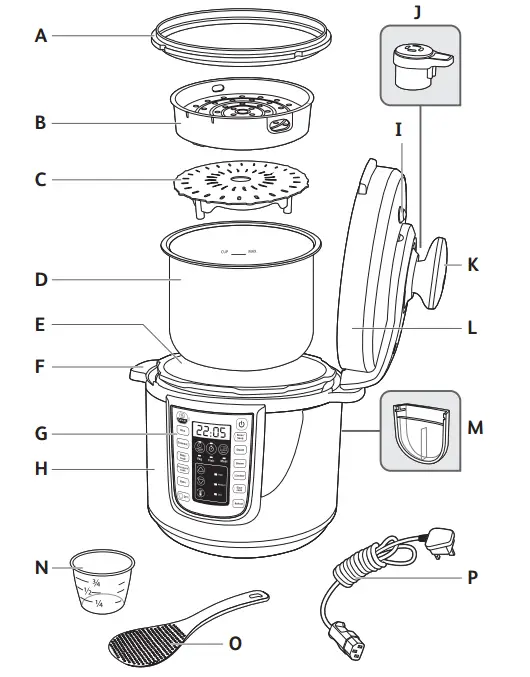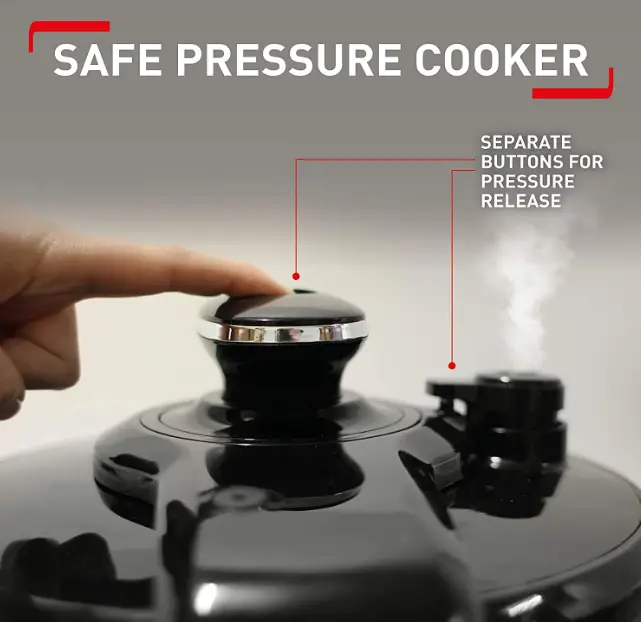 Safety is important, Tefals arrangement of a separate pressure release button is simple. Always check the condition of the float valve before attempting to open the unit, after use. 
The units lid is locked during cooking.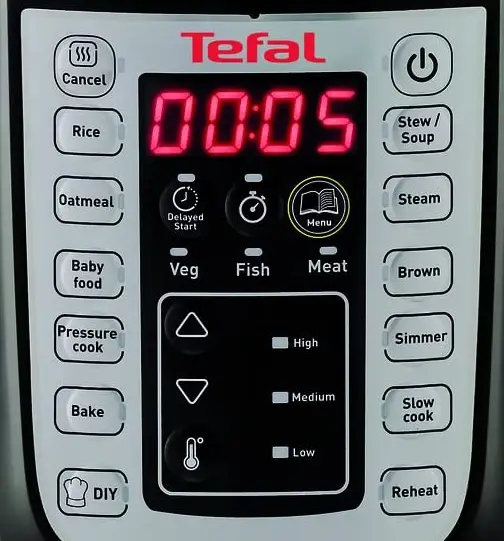 Convenient one-push preset buttons are provided and give the following programs:
Rice
Oatmeal
Stew & Soup (fish) 
Stew & Soup meat
Stew & Soup veg
Steam fish
Steam meat
Reheat –
– veg
Simmer (fish) 
Simmer ( meat ) 
Simmer ( high ) 
Baby Food
Baking
Slow Cook
In addition 5 "Diy" modes with different temperatures are provided
What buyers of the Tefal All in One Pressure Cooker said...

I love my new electric pressure cooker it is so versatile & I use it as much as I can as it is more energy efficient than the oven or hob. I would have found a users manual more help than a recipe book as I struggled with just getting it started once that was sorted it a brilliant little cooker. I had a hob pressure cooker for years but this is so much nicer to use & much more versatile
absolutely love it…..
So full disclosure: I am rubbish in the kitchen and have no interest in cooking, I've been known to have a pack of biscuits and a cup of tea for dinner.
A line in the sand was drawn and effort was made to have healthy dinners. I don't know how to work all the functions, slow cooker setting is where I am. Things go in, dinner comes out, pyrex boxes for the freezer.. anyone struggling for time busy work life etc you cannot go far wrong. If I can make dinners with this, literally anyone can
I wish I had one years ago.
Takes a while how to use it. Could do with a better instruction book
I'll start with it right away the hinged lid lets this product down from the start its too heavy and when up it's off balance by this I mean that it constantly wants to close because the lid isn't open enough also after the cooking has finished and the lid is full of steam and condensed hot water lift the lid allows all this to run from the lid and it's seals all over the pot lid and down the out side of the cooker creating a load of wet mess this is unavoidable with this hinged lid.

This unit has inspired me to cook more again. It's really versatile and pretty easy to use. I have sautéed, Pressure cooked, Baked and slow cooked in it. In these days of saving on the fuel bills, it make sense. Delicious food, cooked to perfection and much quicker plus less electric than traditional methods.
Download the Tefal Instruction Book
Tefal have made a good quality product, even if let down in capacity and a little in design with the dripping water issue.  A very good cooker overall. 8/10