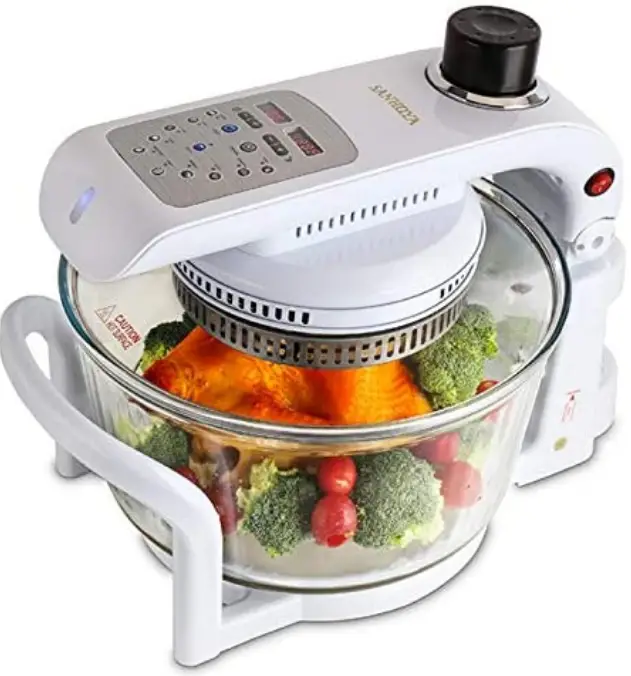 Sanhoya Safety & Features
The Sanhoya is one of the few cookers I have reviewed on the US side, that has the hinged lid for safety.
It's so easy to raise the lid to reposition or reload the contents. 
This is especially important if the cook is elderly or infirm. The older design Halogen cookers with a lift-off lid can be very difficult to set down safely. Usually, a wireframe holder is provided, but it is far from ideal when dealing with a very hot lid and a frame that skids around on the countertop.
This also has a water spray feature that I have never seen anywhere else. 
The  cooking element is not halogen, but I thought this was an interesting unit with unique features and abilities
I have stuck with the Halogen and similar glass bowl cookers for many reasons, they are quick, economical, easy to use, you can see the food cooking, they are easy to clean, and unlike the peeling Teflon coatings you see in a lot of Air fryer pans, the glass bowls are totally inert.
If I can give you a couple of tips, when using a glass bowl cooker, it would be to always ensure there is adequate room around the food, for the hot air to circulate. Second, I tried a water spray, just a tiny amount, when cooking some fries, this did not enhance the taste at all, so avoid using it when doing fries! Does wonders for leafy vegetables though.
Specification of the Sanhoya Oven
Inn customer reviews the Sanhoya rated very well indeed 
One Touch presets: – 
Temperature settings : 500°F max ( 350°C) 
French ARC glass for the bowl, giving good high and low temp resistance
Capacity 13 Quarts (12 litres to 17 Litres with extender ring)
Dimensions 18.1 x 12.9 x 14.1 inches
Unit Weight 19.2 pounds
Power Consumption 1300watt
The Sanhoya features a good number of pre-set function keys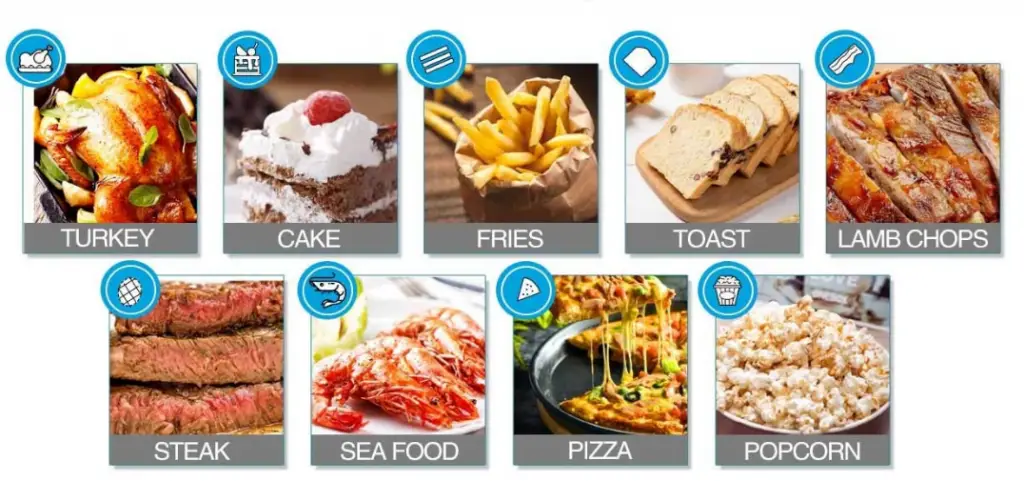 I like the provision of two displays and two sets of adjustments – separate Time and Temperature. When you're in a rush this is so easy, no thinking, no  changing display to show the settings
Note: The pre-set functions are able to be further adjusted, press the selected button and then adjust time and temp as required, then press the Start button.
PRE-SET FUNCTIONS
Chicken
Cake
Fries
Toast
Lamb Chops
Steak
Sea Food
Pizza
Popcorn
Sanhoya Oven Instruction Manual (English/French)
 I absolutely love this air fryer. Its the perfect size for my family of 8. Not to mention its absolutely gorgeous. I also feel a lot better with it not being the typical Teflon.
It's very easy to use. It cooks evenly. And easy to clean. Its so nice looking I don't see a problem leaving it on my counter for everyone to see. I've gotten so many compliments on it.
I love that it comes with an extender making it the perfect size for a whole chicken or turkey.
2
I have used this type of oven for the last 25 years. I have had manually, digitals, expensive, cheaper, more wattage, etc, but this is the King of Kings. The arm that holds the lid is phenomenal. I no longer have to look for where to put the lid. It also has options already pre-programmed to facilitate the daily use of what we eat and cook the most. The meats are fabulously delicious and juicy inside and to put the cherry on top, now it have a steaming feature. I will definitely buy more to give to my family for Christmas. I absolutely recommend this product. Love it
3
Very useful and practical air fryer. Having the heater/oven on the glass top attached to an arm that swings up and out of the way is very innovative and sooooo useful. As a result, you do not have to look around to find a flat, heat-proof surface to place the large, glass top after or during the cooking process. This feature is fantastic! This manufacturer (SANHOYA) may have the BEST and most consumer-oriented customer service I have EVER experienced. Through no fault of theirs, my first shipment of this air fryer arrived very damaged (glass bowl was shattered into hundreds of broken pieces of glass), glass top and heater all used and greasy and several items missing…power cord, racks, pizza tray, etc. ONE EVENING, SOON AFTER, I WAS VERY SURPRISED SANHOYA CUSTOMER SERVICE CALLED ME…FROM CHINA. FROM CHINA!!!! They made the process of getting this problem resolved very easy and fast. FANTASTIC SERVICE! And I'm SURE they DID NOT cause the breakage or missing pieces or greasy residue on the product. They made sure I got a new one right away. They REALLY stand behind their products! My only complaint is there is no interior light on the air fryer so you can see how the cooking is progressing. I'm working on using some sort of external halogen light for this. Stay tuned!! Fine product, fine company, great customer service, what more could you ask for?
Rating and Recommendation
The manual  does not try to be all things, its just an instruction and safety book.  Although not perfect, for a Chinese source they have done a very good job of the book.
That is better than the usual diagram heavy type of book supplied with a lot of products…. we can read ! 
It is easy to see why this product sells well, it is very well designed and simple to use.  It has presets, so anyone with little or no experience, is going to be able to cook with this unit. 
I liked the  fact that you can fine-tune these settings, unlike some ovens which can only use them as – is. 
The water jet is an unusual feature, it does help when cooking some meats which dry out easily.
The fan  cover, has narrower slots than most other ovens, which I thought might lengthen cooking times, but no, it works well and stops the heater getting splatter from the food, so requires less cleaning.