This is a best seller in the Halogen Oven category, I think the design – using a plastic basket outside the glass cooking bowl is a great idea, from a safety point of view. Anyone with kids knows how dangerous the kitchen can be. With this product, little hands are kept at bay from the hot glassware.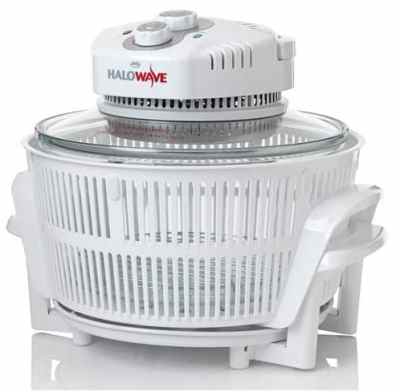 The Halowave comes with quite a reasonable manual, unlike many Halogen products. 
It shows exactly how to fit a new halogen lamp, which is easily obtained from JML, I would always suggest having a spare lamp, order one when you purchase, if possible. 
It only  contains 3 – (but good) recipes like:
Baked Crumb topped Cod

Macaroni Bake

Classic English Fruit Cake (really good)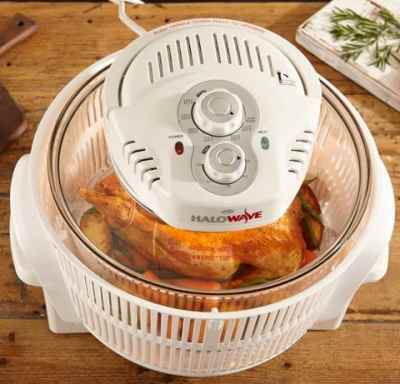 Two rotary dials for Temperature and Timer. Timer is mechanical and has a power shut off 
Not as accurate as a digital unit, but more than adequate for everyday use.
Note: Do not turn the timer backwards (warning in the manual)  This really is a poor choice of  timer component for THE major function of the Halowave! 
There is a handle to lift off the heater lid, when it's raised, it cuts off the power.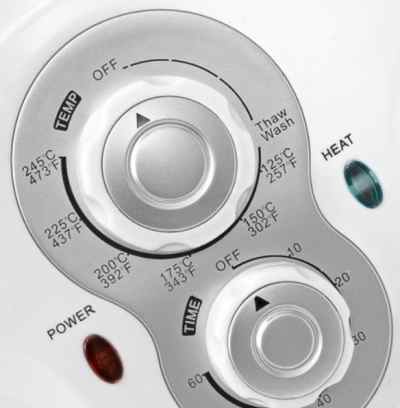 The JML uses a standard layout, halogen heating element and fan in the lid unit above a glass bowl 
1400 watt

90cm power cord

10.5 Litre (640 cu inch) Capacity

Temperature 125 to 245°C (257-473°F)

Thaw & Wash Temp ( unspec )

Timer 0 to 60 minutes Auto shutoff

Weight 4.5 kg

Dimensions Bowl 330mm x 160mm
The Halowave in Everyday Use
The JML uses a common halogen lamp and it's available from them at a very reasonable price. You can order the bundle – Oven, spare lamp, and stand on Amazon. 
I would always buy a halogen oven with a full range of temperatures, many recipes call for the full whack! that is up to 250°C. The JML goes up to 245°C which is near enough!
After JML introduced their first halogen cooker (probably the first in the UK) which was a poorly made model with many flaws, this new model is a breath of fresh air.
Note that the manual states this plastic cover is NOT dishwasher safe!
1.  This is the second Halogen oven my wife has had, she wouldn't be without one. Also the Halogen Oven bulb is Far easier to change than others
Easy to use, inexpensive to run and great value for money. This is the second halowave halogen oven I've bought. My first eventually cracked after almost three years of nearly daily use. I rarely use my normal oven now (Christmas turkey was the last time I used it!!). Highly recommend this quality item.
I love jml halogen ovens, this is my second they are great they have a clean setting, just add a little hot soapy water and put on for 5 minutes, empty finish off with a cloth. Saves heating a big oven just to cook a few bits and you can see it cooking great for roasts just set temperature and time drop the handle and it's off
I did have a cheap one it only lasted 6 months this one is a lot better
2  This is my first Halowave. I bought this as it is extremely difficult to change the halogen element on other designs. The Halowave element can be changed in minutes. Having a hinged lid would make it perfect but using the stand for the Halowave turns out to be straightforward. I have removed the standard oven from my kitchen as the halogen oven does the same function but much better and quicker. My halogen oven makes the best roast pork ever. Wonderful crackling. Sausages, bacon etc. I use it every single day.
Rating and Recommendation
Quite a decent  manual for a change!
Note: this is a  10.5 Litre size not the standard 12 Litre, ideal perhaps for someone living alone
The most important setting on the cooker, and it cannot be turned back – so if you set it for too long, you'll have to use another timer.
It does actually cook very well, is safe and is fair value