Morphy Richards has many models of slow cookers some with no timer, others with digital controls and display, and some with only the basics. The 461012 has a timer and Digital Controls with a display.
Colour: Red
Material  Aluminium bowl glass top
Dimensions(cm)  42 x 29 x 24
Weight 2.93 Kg
Capacity 6.5 litres
Power 290watts ( 230v) 
Timer: set with up/dn buttons digital LED display 
Power Settings (3) Warm, High, Low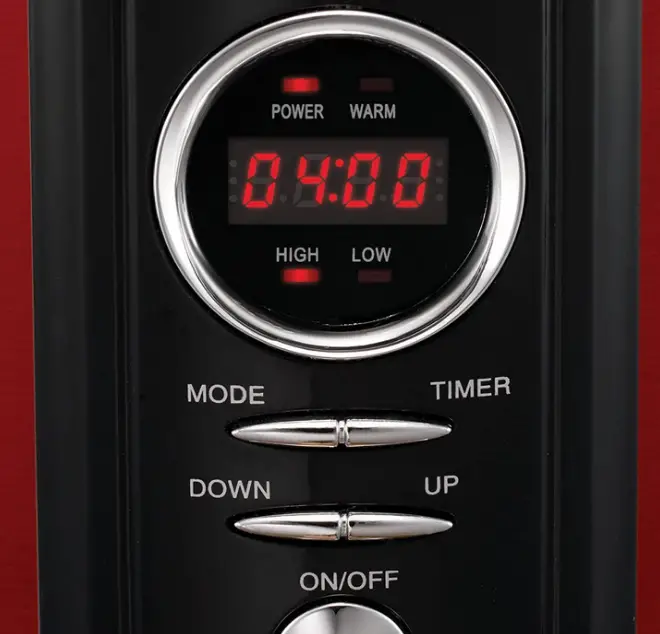 The Morphy Richards is extremely simple to operate with up/dn Timer settings, and Heat settings (in 3 steps)  It has a nice clear LED display. After the cooking time is finished, it automatically goes to Keep Warm setting, which lasts  for 2 hours then shuts down.
Morphy Richards Build Quality and Everyday Use
The shatterproof and Non Stick coated pan, allows you to sear the meat on the hob, sealing in all the flavour,  before you add the stock and start cooking, so no need for a frying pan, just use the same pan for both.  The material is aluminum so it may not work on some induction hobs, but will be fine on a gas or electric standard hob. 
Wash up – straight in the dishwasher, the coating is ok for dishwasher use. 
If you're late to arrive, don't worry the "Keep Warm" function is automatically activated at the end of the cooking time and will continue for 2 hours before automatically switching off. So it will guard against overcooking, limiting the "Keep Warm"  time to 2 hours.
What the buyers said about the Crockpot
We'd been after a new large slow cooker with timer for a while after our massive CockPot's lid got broken and can't be replaced. This is a really good size, the pot goes on the stove easily and is extremely light (unlike the ceramic ones that we thought we liked but turns out we didn't!). Only gripe is the controls are a little fiddly, difficult to reset and the stay warm function only lasts for 2 hours. But overall does the job well, excellent value for money. Cleans v easily too.
great slow cooker easy to use with a really good timer [off only ] which is fine just set and forget, so far only done a beef casserole in it and it was really good, 7 hours on low setting, brilliant result, although the timer will only set for a min of 6 hours on the low setting but that is not a problem as it can be switched off whenever you like it also switches to a warm setting when the meal is cooked which could be useful if you are late home, very easy to clean.
So versatile. Makes a wide range of tasty healthy meals. Very efficient energy saving
I've had this for 2 years and 3 months and I use it regularly. It's been washed in the dishwasher many times and it still works as well as the day that I got it. Apart from the metal pot being ideal for searing meat in and keeping in the flavour, it's also very lightweight which made it perfect for my elderly mum for whom I also bought the smaller one. It's been a very reliable, hardwearing workhorse in my kitchen and is not showing any sign of wear. I'm so happy with this purchase and I can't imagine that I'll need to replace it for many years to come, but when I do, I'll buy this one again if it's still in production.
Download the Morphy Richards Instruction Book
Great product, well made, simple layout, very good price, 
The only minus point I could see was – when cooking on low, the minimum time you can set is 6 hours which is not editable, a strange anomaly! If you did want to set it up ( in your absence) for a shorter period, you would need an external timer unit.  I gave the Morphy Richards a 8/10 rating