At last, a family-size air-fryer to compete with Philips. This Smart model has the features usually associated with only the top line ones aka Philips. 
The California-based company produces several models, differing in size, the CS-158  5.5Litre  is the one I have reviewed here.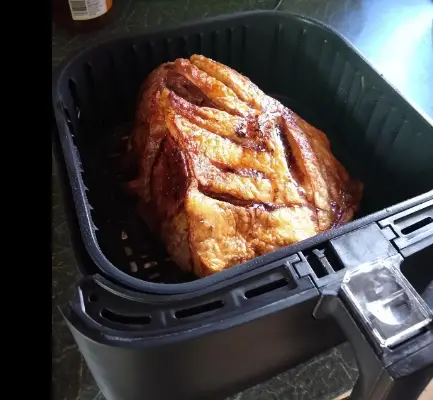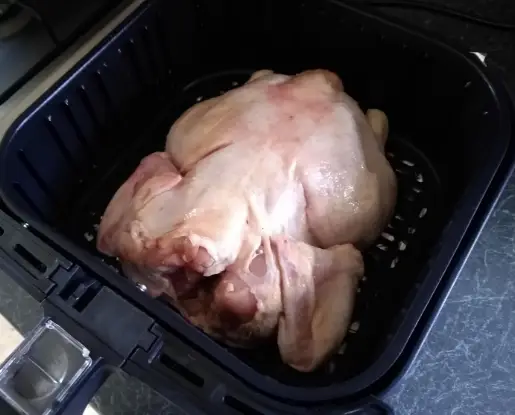 Controls On the Tefal Easy Fryer
Similar to the Philips Air Fryer, the layout has Main settings Temperature, Timer in the center
The preset functions are grouped at either side 
Temp is in degrees Centigrade only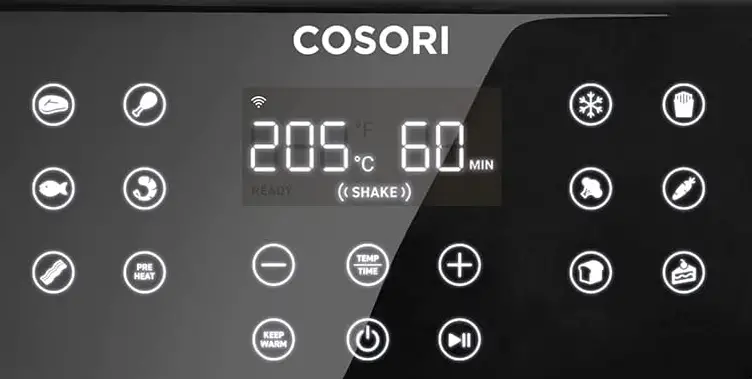 Preset Buttons
The Cosori Fryer comes with 11 preset functions + Keep Warm 
Steak 205°C

Chicken 195°C

Seafood 175°C

Shrimp 190°C

Bacon 160°C

Frozen food 175°C

Vegetables 150°C

Root Veg 205°C

Bread 160°C

Desserts 150°C

PreHeat 205°C

Keep Warm 75°C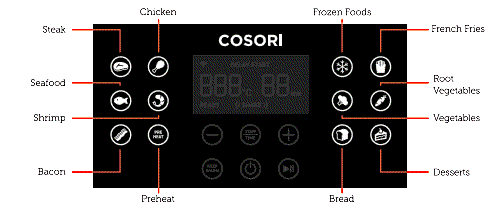 Functions are very simple and self explanatory
This model behaves perfectly, I do like the "shake" reminder warning, so often I've forgotten to shake the contents around on other fryers, and ended up with very uneven results.
The basket is easy to remove from the drawer unit, note only the basket should be put in a dishwasher, hand wash the drawer. 
If the heater gets splashed with fat, the best way to clean is a paste of baking soda, which you can leave for a while then scrub it off – works brilliantly. Put the fryer on its side to do this.
Never use without the basket !!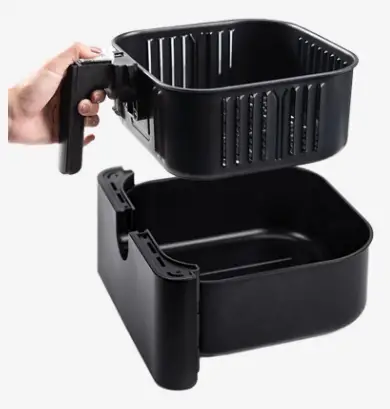 The Cosori 5.5Ltr  uses a standard layout, heating element, fan and food drawer
1700 watt 220volt

90cm power cord

Temperature 80°C-200°C

Timer 0 to 60 minutes Auto shutoff

Weight 6.5 kg

Dimensions 300mm x 320mm x 300mm

Capacity 5.5 Litre
Click to Download the pdf manual
1
Since buying this we have not used the normal oven.! Everything seems to cook quicker, taste batter and seems healthier.!
The 5.5 litre enclosure fits a nice size chicken or a leg of lamb. We have cooked burgers, sausages and chicken portions, also roast potatoes, fries and hash browns with no problems.!
It does take a while to gauge your cooking temperature and time, but it's easy to check on the progress of the food by pulling out the basket.
There are loads of recipes on the internet for air fryers in general plus cooking settings for all your 'normal' foods.!
2
The COSORI Smart WiFi Air Fryer 5.5L is as good as it gets in the air Fryer range. One only has to go onto the foodies page of YouTube to see that people who cook with our cookers are using the COSORI.
It comes with a decent recipe book which gives you over a hundred recipes, although you probably aren't buying this because you want to cook a hundred different things, you're probably buying this because you think that it's going to give you healthier chips or healthier meats, truth be told it's a yes and no. Take chips or French fries that what you call them, you chop them up and you put them in the air Fryer following the instructions, you cook it for what you believe to be the right amount of time and then you take it out to inspect, only to find that some of them are cooked more than others, or some sides are cooked more than others. Now I know that it does say that you are to take out after cooking for so long and shake them, but you kind of have to learn what constitutes a shake and how much you have to do it.
I've gotta be honest there are some things in this air Fryer which cook extremely well, steaks for example are absolutely bang on perfect and you can cook them exactly how you want them to come out lovely and they taste lovely makes you want to eat steak every night, but not so the fries. I believe that it really comes down to portion size and smaller the portion, the better chance you have of getting a better cooked fries. Subsequently, use it for cooking fries any more, because in my book it's disappointing. And this would have made for a really bad review had it not been for the other stuff that it does extremely well like the steaks that I mentioned.
Rating and Recommendation
The manual  is one of the better ones for air fryers, it goes into enough detail for beginners to get going easily. 
The product overall was good and easy to use.
The plastic body would protect you from burns however the lower half does get significantly hot so beware.
Well manufactured, I would recommend this product