A fairly recent Manufacturer to enter the UK Kitchen Appliances market, Aigostar's 3 Litre Air Fryer has one of the lowest electricity consumption ratings, and although it's a small air fryer, it is all digital control, very easy to use with its 8 preset functions and has a very small footprint on your kitchen worktop. So in this winter of higher-than-ever energy bills, this is a winner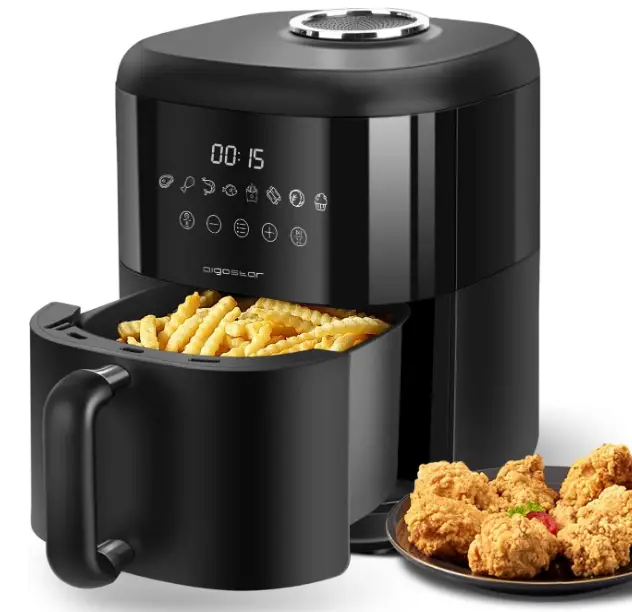 The Aigostar is one of the smallest yet useful sized air-fryers, It would suit students or anyone living alone, realistically 2 people, at 3-litre capacity, it's fine for pieces of chicken, pies, rolls, cakes and of course chips, ready in a jiffy!
Aigostar Specifications
Capacity 3 litres
Size 302 H x 282 D x 230 W
Weight 3.52 Kg
Temperature range 65-200°C
Timer up to 60 minutes
Power consumption 1300 Watt max
Power cable 0.8 metres
EAN 8433325216870
The Aigostar 3Litre in everyday use
This is fast !
In such a small space, the 1300 watt element, takes no time at all to get up to temperature. Cooking the usual menus it was noticeably faster than most of its rivals. When the drawer unit is opened, the power is cut off. When the timer reaches the end, the power is cut off, so the Aigostar is safe at all times.
Digital Controls on the Aigostar Air Fryer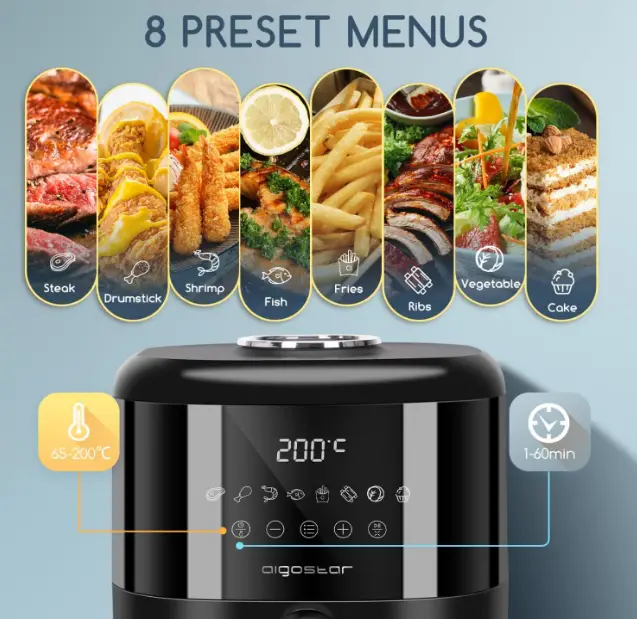 Top row: the 8 preset functions can be selected
Below: left to right, The display is switched from Time to Temperature with button 1, next is the adjustment for DOWN, next is the Menu button, then the adjustment for UP and finally the START/PAUSE/STOP button
What the Buyers said…
Brilliant buy. Alot cheaper than some named brands yet the food tastes amazing, it easy to use and so far reliable. Only used a handful of times so can't comment on long term durability but the basket is large enough for us. 2 adults & 2kids. The layout/controls are so easy. We have brought the 8 inch square liners aswell to help keep it clean but comes apart so easy to washout!!
Takes a while to work out timings
Ready to use settings, meat,chips,fish etc
Don't know how I managed before
Great accessory for the kitchen
Honestly I've never cared about air fryers but my good wife said it's healthier and cuts down on electricity. So we bought one and wow, the food taste fantastic. It's stays hotter longer as well. Steak, chicken, bacon and sausage taste fantastic from it.
It's cooks fries, mushrooms and tomatoes perfect. We should of bought one year's ago. We have bought the liners so it keeps it a lot cleaner as well, and a nice little cook book, as I didn't have a clue about air fryers.
Best decision I've made this year.
Conclusion and Rating
The unit seems to be well made, would suit people living alone and is very economical compared to a standard gas or electric oven
I rated this 7/10
Go to the top of the UK Air Fryer Section