If you want :
To save money on cooking energy costs
a Small air fryer
a RELIABLE product from a TOP BRAND, that will last
a SIMPLE air fryer that is EASY to use
All at an ECONOMICAL price
This is it….
Specifications of the Tower Air Fryer T17023
Capacity 2.2 litres
Dimensions 324x256x253 mm Weight 3kg
Timer 30 mins clockwork
Power consumption 1000 watt
Temperature range 80 – 200°C
The Tower in Operation
This is an air fryer for one, or maybe two people, its tiny capacity of 2.2 litres is fine for anything served in pieces, chicken drumsticks, or chips, but a bit limited for families. Forget cooking a whole chicken. Students will love its small size and it's certainly a hit with first-time cooks, it's just so SIMPLE!
There is virtually no need for any instructions, the Tower is fool-proof, open up the drawer, chuck in the ingredients, close and turn on. There are a ton of worthwhile recipes online, enough to keep a budding chef busy for years. Remember not to overfill the basket, do use a little cooking spray oil with things like fresh-cut chips, to crisp up the results, and shake the basket halfway through cooking, to ensure a good even colour all over.
The SIMPLE air fryer settings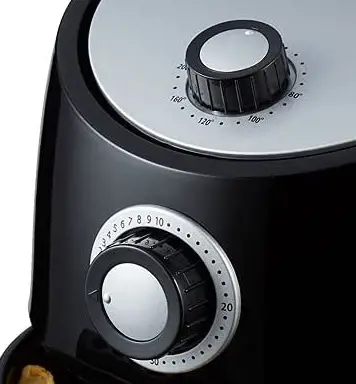 Makes falling off a log look like rocket science…
Set the bottom dial for the cooking time ( or set it to remind you to turn or shake the contents ) this is 30 minutes max.
Set the top dial with the temperature 80 to 200°C, actually, I have a small complaint here – why is the temp dial marked with 2 dots between each 20° setting? One dot would have been the logical point, halfway between 100° and 120° is 110°… ah well!
What the buyers of the Tower said…
I bought this decent price more of a trial, plus my oven goes on for people eating at different times, different things, this is small, maybe too small but good for one, so If I go bigger, my son can take it to uni.
Being smaller it might help with my portion sizes and my waistline.
It's also a handy size for my kitchen.
I bought this for my husbands meals as it gives me more room in my oven when cooking 3 different meals for the family!
It is small but I only wanted it for 1-2 people so I had been great for what I needed it for
It heats up fast and your food does cook quite quick but I don't feel it's any quicker than my oven but I do like it especially for French fries and kfc style chicken it works a treat and is cheaper then using the cooker when it's just my husband's tea I'm doing!
For the price I think it's worth it and it doesn't take up a lot of space in the worktop which is a bonus!
Would recommend
It is hard to work out what is the best size when looking at the amount of LItres you want. Just over 3 does me as I live on my own. If I had a family then it would have to be 4 plus. Everything cooks very even and not long. I should think with today's economic costs it is better to use this fryer than to put something in the oven to cook which is 5 x the size to heat up.
My Conclusion and Rating
Tower is a well-known and respected brand, all their products tend to have a long life and parts remain available long after all the cheap no-name products have ended up in the trash.
This is a Simple air fryer, with no complex buttons/menu selection, or display, just dials for timer, and temperature. The size is small, so if you live alone – perfect!
I rate this 9/10