With Digital Controls, LED displays and Recipe App controls, almost universal on Kitchen appliances, why is this air fryer with its now Quaint analog dials so damn popular? This unit was only introduced in March 2022, yet has an amazing 28728 reviews!
Available in 5 Colors
Aqua
Black
White
Blue
Red
Dash 6 Qt Specifications
Capacity 6 Qt / 5.6 Ltr
1700 watt power consumption (max)
Heat range 200 to 400°F
Timer 30 minutes
Analog controls – Temp and Timer dials
Timer and Drawer open power shut off
Size 13.5 x 10.8 x 12.9 in
Weight 13.6 pounds / 6.2Kg
Made – Indonesia
Model DCAF200GBBK02 – name Tasty Crisp 6Q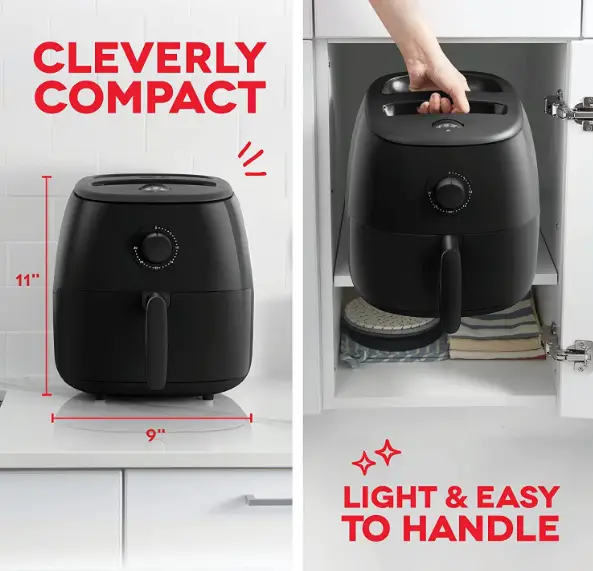 Dash 6Qt in Everyday Use
Nothing remarkable about the Dash, just a solid piece of kitchen kit, not maybe as well put together as a Philips, but its not at Philips prices, at under 70 dollars it has to be a bargain, and will save you some money on energy bills too.
Yes you will find the dial markings wearing off, yes the non-stick surface of the cooking pan has to be treated very carefully to avoid it peeling off. But you can churn out those family favorites, reliably, day after day in record time, with only minimal clean up to do afterwards.
Just a note, here is a possible solution to the peeling non-stick coating, I haven't tried it, and it may not fit exactly as the basket isn't round, but take a look
What the Buyers Said…
1 Very easy to clean, so easy to use it took us a moment to figure it out ? still a little confused on pre heat but other then that cooks food amazingly
2 Don't know what took me so long to order this, makes juicy and crispy thicken thighs. Go get it
3 I gotta figure a way to protect the temp numbers from rubbing off. The handle should be redesigned so as to get a grip without your fingertips needing to rub them. Made in non-communist Indonesia! I've so far made beautiful and delicious personal size pizzas and french fries. Seems to be made with good quality materials and workmanship.
4 I like this. We've used it many time since we bought it. I like being able to make foods with a minimum of added fat. And it's pretty fast. I didn't find it all that loud (something that some people complained about with air fryers). I wish that it had more temp control visuals, but I've made it work. What I don't like is that it's not as easy to clean as I wish (not a deal killer) and it's really big. I checked the dimensions before I bought it, but It's just bigger than I thought. I wanted it for our camping trailer but it's too big for that. I'll be buying another air fryer for the trailer.
This is my the third airfryer I have purchased. I have two at home that I love so I bought this to take to work and use it in our break room. I chose this airfryer because I liked the shape and size of the basket and that it wasn't digital so in my mind it would last longer. When it arrived I was mildly disappointed that the basket doesn't line up correctly in the machine, it leaves a gap and hot air escapes. I thought about returning it but I thought it was cheap and you Dget what you pay for. Then I printed the invoice for my records and see it was a $109 which in my mind isn't worth what I got. I liked that it didn't have a digital display that would go out over time and I thought that it would last longer being old fashioned. I do like the size and shape of the basket, I have a ninja air fryer that is skinny and tall and in my opinion it doesn't air fry french fries or stackable things as well as an air fryer that is wider and thinner. Also pizza in this shape of an air fryer is better as well and that is in fact my favorite thing to cook in the air fryer, it makes left over pizza better than the first time around. So in closing, it works, I like it well enough, but you get what you pay for and this is cheaply made and should only cost $60 MAX
Rating and Conclusion
The Dash 6Qt is a simple to use workhorse. No fancy digital buttons and displays, but it will get the job done
I give it a 6/10 rating ( mainly because of the number of complaints about the pan )
Go back to the top of the Air Fryer Section