California-based company Cosori has one of the best-selling Air Fryers on the 2023 marketplace, lets's see why this medium-sized Airfryer is so popular.
With its tempered glass control panel and dark grey finish, this good-looking appliance is functional and easy – clean
Cosori Specifications
5 Quart capacity / 4.7 Ltr
1500 watt heater
size 10.71×10.83×11.93 (inch)
Temp range 170-450 °F
Timer 60 min
What Can you Cook In a 5 Qt Size Oven?
5Qt size is big enough for a family to cook thousands of dishes, including all the favorites here.
Air Fryers are great for pieces like fish fingers, chicken drummers, etc., but also up to a 4.5-pound chicken – whole.
Air fryers bake too, try out some cake recipes, they come out perfect!
No pre-heating is necessary and you can cook from frozen, just add a little time to the total.
Out of Ideas? Have a look at our recipes
Cosori PreSet Functions and Controls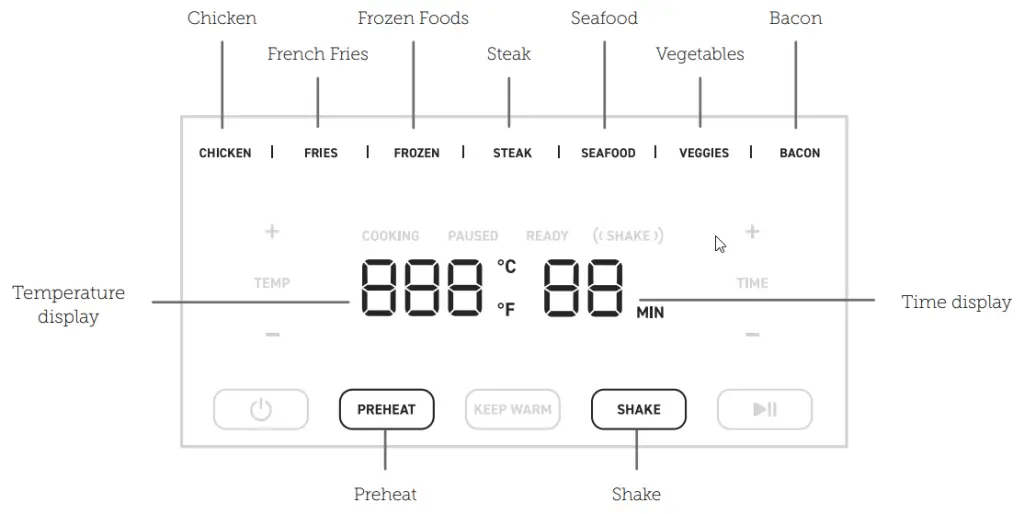 What the Buyers Said…
1 I have really enjoyed using this air fryer. I got it to eat healthier. Mostly to cook frozen chicken breast easily and because vegetables just taste better with a bit of a crunch. While it does make healthy food taste good, it makes unhealthy food taste so much better. For example, fries… they weren't my favorite. I'd usually sift through them to get those elusive thin, crisp ones. Sometimes they'd look thin and crisp and feel okay, but would be completely soggy. Anyway, I like my fries like I like my bacon. 30 more seconds and they'd be charred. Even if I blasted them in the oven, or do it low and slow, it would be hit and miss. With this thing, I can make them as crispy as I like, 95% of the time (the other 5% is when I'm starved and impatient).
2 In my opinion, an air fryer is pretty much a 'must-have gadget' in the kitchen and there are plenty of them out there to choose from, ranging in price from around fifty quid to well over double that.
This air fryer from Cosori is, in my opinion, a pretty good buy towards the lower end of that price range, particularly if you can snap it up when on offer or using a voucher to reduce the price.
The Cosori is attractively designed with a tempered dark glass touch screen control panel covering the whole of the top. It has a nice compact footprint (LxWxH 30×36.4×32.3cm) and easily sits on a kitchen worktop under fitted cupboards even when in use. It has a protruding bar on the back to ensure it is far enough away from the wall to ensure adequate air circulation on the back.
3 The predefined programs help you, for example, fries steaks and the like. Of course, you can also bake bread rolls, pretzel sticks, etc., and cut in pretty much everything else that is prepared in the pan or in the oven.
So we often make chicken skewers, fried sausages, leberkäse, fish sticks, oven dishes, cheese, falafel, etc. The results were all good.
Only with fries, the browning could be a bit more evenly brown, but by shaking it halfway through the time (there is even a shake reminder), the result will also be good.
We don't use any additional oil for fries and they still get crispy.
However, there are differences in the fries themselves, so Aldi Süd and Edeka's own brands, as well as those from McCain, will be the best in our opinion.
4 Fryer is a bit of a misnomer. It is not a replacement for a frying pan or a deep fat fryer. It is, however, an excellent, efficient mini-oven. I found myself often heating up our old large oven just to cook some chips or hash browns. We are only cooking for 1 or two people in our home, so heating up a whole oven for this is both slow and inefficient. Here is where the air-fryer excells. It heats up to temperature much much faster than a conventional oven, and circulates the hot air thoroughly around what you are trying to cook to cook it evenly and fast. I would not say it does a better job than an oven at making things crispy, it just does it faster, consuming less electricity.
Conclusion and Rating
A Good Instruction Manual
A good product overall and was simple to use.
The plastic body gets fairly hot, but not as hot as a glass bowl Halogen
Well made – deserves its popularity , I would totally recommend this product
Very Very Good Indeed !