If you want a solid halogen oven, with the ultra safe hinged lid and easy digital controls, look no further… the Emperial has it all.
Regular readers will immediately recognise the strong similarity to the Andrew James Hinged lid model, (sadly no longer in production), so strong in fact that I will bet the same manufacturer is involved.
The 1400w halogen element, the 17 litre bowl and extender, the raise/lower mechanism, the control panel and the 250°all look exactly the same.
2 year guarantee is available when buying this through Amazon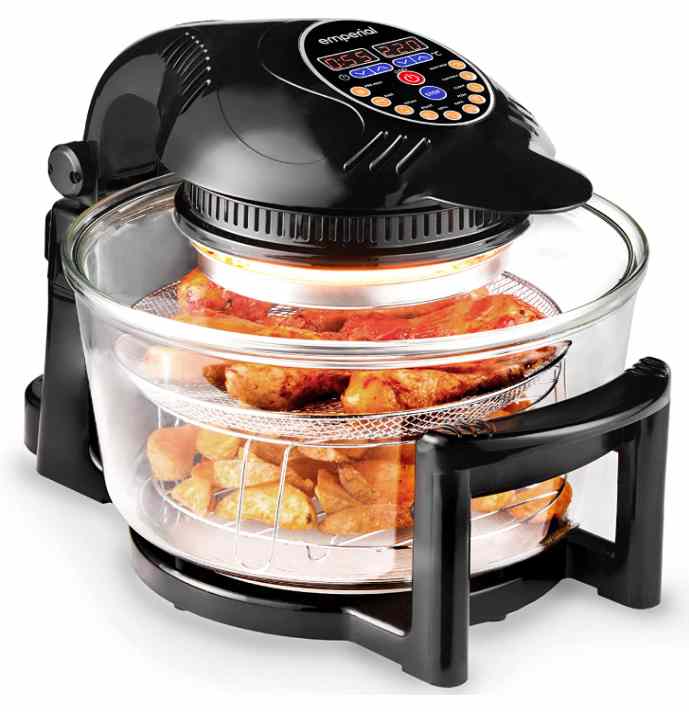 Safety of the Hinged Lid Design
The main safety drawback of the Halogen oven, has been the hot glass bowl. To take the contents out, you have to take that heat source lid off. Bear in mind that it is red hot and tethered to the wall socket, so you may not have much choice in where to put it ! The racks provided for the lid, with most halogens are ok, if you have a steady hand, but it may just go skipping across the worktop!
The hinged lid variety of Halogen cooker, have the advantages that it is so much easier. Just lift the lid and it clicks into its upright position. It is SAFER to operate. That is both safer for you, safer from the standpoint of the delicate hot element in the lid, which can be damaged if dropped.
With any new user, but especially older or disabled users, the hinged lid design is a perfect solution.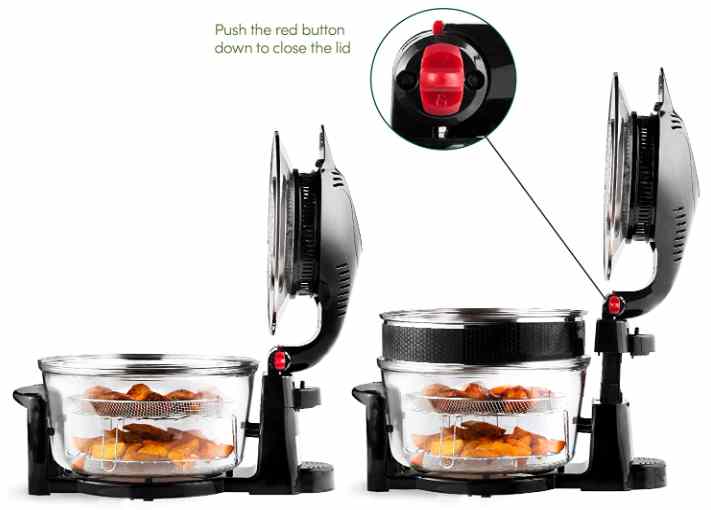 Specifications Emperial Digital Oven
Stand and Control Unit Plastic
Bowl – Glass
Weight 8.2Kg
Capactity 12 or 17 Ltr
Power 1400w 240volts
Timer 2 hours
Temperature 125° to 250°C
Dimensions 33 x 34 x 47 cm
Model introduced March 2023
Control Layout
The Emperial has separate time and temperature displays, with 10 preset functions. No confusion having to change the display, the Emperial always shows the time and temp.
Complete Set of Accessories
The value is superb! Along with your Emperial Digital halogen cooker, you get everything you could need to get going. Tongs to move dishes in and out, high and low rack for food. Extender ring which effectively increases the capacity from 12 to 17 litres. A mesh tray which is ideal for cooking chicken pieces and many other things.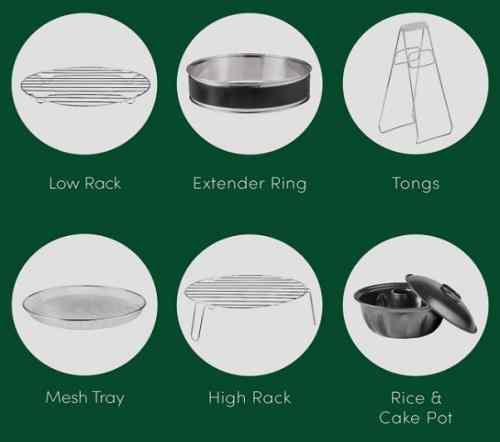 Rice and Cake Pot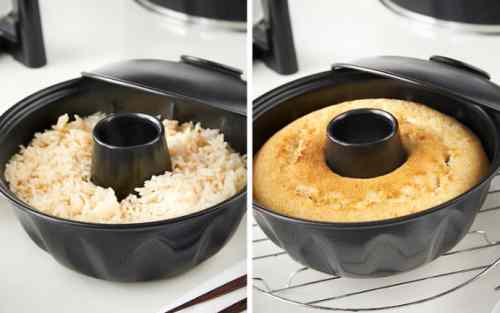 New with the Emperial Halogen 2023 product, is this Cake and Rice pot, with a lid. These ensure even heat distribution and moisture retention, important when cooking things like cake and rice, where you want to have a moist end result.
Emperial – True Value Products
All of the accessories AND a 2 year guarantee! For less than half the price of most Air Fryers, you get a product that is bigger and more versatile than almost anything else on the market.
What the Buyers Said…
A) . . . best thing ever, wow, did a whole chicken on my first try, amazing, all browned and crispy, but watch out, it get hot quickly, so you can burn the top bits, I covereded the legs with tin foil, an amazing machine, money well spent, William
B) Brilliant!! My second one because I love it so much. Now even safer with the neck lock. Cooks everything so simple.
C) This is just so good. Ive thrown my entire cooker away and only use this these days. Its my second one as I wore the first one out. I can do anything from oven chips to a full roast dinner in this.
D)I just finished eating fish & chips cooked in my new halogen cooker. The oven chips and battered fish were so crisp and dry, I would never have guessed they were cheap own-brand products if I hadn't bought them myself. I don't have a fan oven to compare cooking time, but the need to heat the larger capacity of a regular oven must result in a longer cooking time. I can say my dinner cooked a lot quicker compared to the mini oven I used for the past six years. 17l seems perfect for one man and his cat, and I plan to dump the mini oven tomorrow. The only thing I think I will need is another mesh rack for battered fish. This is one item that needs turning. The chips cooked perfectly left alone.
UPDATE
After one month of use, I don't think I could do without this amazing cooker. I have cooked all my usual meals and found it as good as a conventional oven, only quicker and much easier to keep clean. I have not tried soups or stews, but as I own an Instant Pot, why bother?
As mentioned previously, a silicon mesh rack is essential for cooking delicate items like pastry and battered/breaded foods. Buy a circular one that's larger than the internal circumference of the bowl and cut it to size with scissors. That will stop food from falling down the sides. These are sold everywhere, including on Amazon.
I think this 17l model would be perfect for singles or couples. A family of four might need to adapt their eating habits to the capacity of the cooker.
It certainly makes me wonder why people routinely purchase 65l+ ovens and heat a lot of empty space.
I must mention one minor problem I have experienced. The light produced by the halogen bulb is very bright and irritating at times. On the other hand, you don't need to remove the lid to see if the food is ready.
NEXT article
PREV Article