The NuWave 20326 Pro Digital is marketed as an Infrared Cooker, the heater is so similar I decided to include it in my reviews. You will no doubt be familiar with the NuWave TV ads
Upside Down Design
Unlike almost all infrared convection Ovens, when you remove the top, with its Halogen heating element, with this model you also remove the sides. This has an upside in that it is much easier to access, once the cooking is complete. You are less likely to burn your hands taking the food out. Also, no stand is required for the heater – lid as it rests easily on the countertop with its plastic bowl. Plastic conducts much less than glass pyrex, so it's quite safe to put it directly on the surface.
Special Patented Heater Design
NuWave has coated the carbon heater element with their own special material, the result is a super efficient heater, you will certainly be saving a great deal on electricity when using this compared to a  conventional oven, on full power it uses 1500W, this compares to conventional ovens around 3500 watts. The upside of using a plastic dome is that you are less likely to suffer burns handling it and the plastic material, being a better insulator, wastes even less of the generated heat when cooking, compared to other similar ovens, increasing its efficiency considerably.
The downside of this construction is cleaning. When you cook meats, especially, there is always some splatter, which gets on the bowl sides. It isn't as easy to clean this bowl, as it is attached to the heater lid.
The kitchen is always a source of hazards. Glass bowls are heavy and get very hot. If you dropped this plastic bowl on the floor, it would not fragment into hundreds of pieces of razor-sharp glass. Also, it is much cooler to handle, as I said above, glass conducts more heat than plastic, so less chance of burns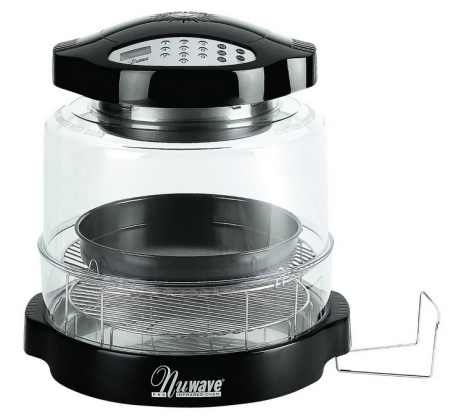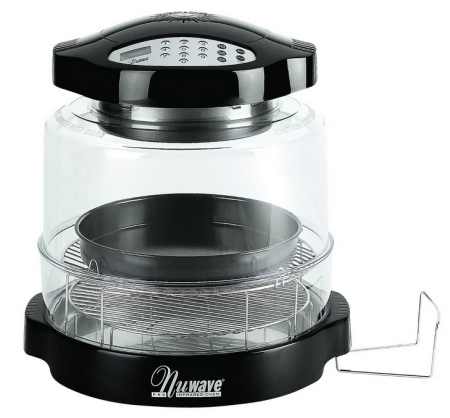 I'm glad to see that NuWave decided to go the Digital way, with the control panel, so much more accurate and repeatable than the conventional dial-type controls. NuWaves booklet though does need to be read with a pinch of salt !! Their cooking times are VERY optimistic.  For a better guide for beginners, download my Guide then note down the results for all your new recipes, then amend your own 'Guide' for the best long-term success. If you have any particular tips, I would welcome them here on the Halogen Blog.
The plastic 'dome' is obviously going to wear over a long period and as you use it day to day, cleaning off the 'splatter' it may well discolor and scratch. However a replacement is very cheap at only $15, certainly not worth buying a new cooker, they don't usually crack but I would consider a 2-year period fair going for the bowl.
Best Distributor
You will find a  link direct to Amazon, for buying this cooker below. There have been some issues with NuWaves distributor, nothing to do with the quality of NuWave, that is absolutely fine, just their customer relations, which is why I am emphasizing purchasing via Amazon. At least you are assured of decent treatment with a world-renowned seller like Amazon.
If you are wondering if this unit will fit on the countertop, its outside dimensions are 13.5 inch tall and 15.5 inch wide, something to bear in mind is that you will be lifting the top off the base unit, so allow for that, its quite a tall unit, if you have cupboards above it.
Specification and Manual
Power 1500 watt
Internally the NuWave is 6.5 inches deep and 12 inches in diameter.
Heater – Infrared type
Temperature range 100-350°F

When your Oven arrives, it is complete with an Extender ring, cooking rack, baking pan, manual, and a recipe book, so pretty good value overall. The unit proved to be reliable, some feedback is from customers using units they bought over two years ago, in use everyday. There were several comments talking about its remarkable ability to cook from frozen, with chicken, meat and pies, such a time saver. You can download the manual for the NuWave range of Halogen/Infrared cookers here – click on PDF. The NuWave is the most powerful cooker we tested, the results and comments reflect its ability.
Cooking Control
The digital control panel has heat settings 1 to 0 (10) which are roughly 100 deg  F to 345 deg F. It only allows times in excess of 2 hours if the lower heat settings are used. In practice the timer is a great aid to using the cooker, you just set and forget! Unlike a conventional oven, you would remember too late and find the charred remains, this one lets you know when it's done and switches off.

Feedback – What the Buyers Said…
Overall this was overwhelmingly favorable, a few complained about the plastic bowl cracking, yes you will have to take care with this, but the cookers outstanding performance, was well above the standard of most of the competition, I think I would take that small drawback. Shipping charges from NuWave were found to be very high, one of the issues I addressed earlier, with advice to order from Amazon. One of the foods to get a special mention was Ribs, a couple of reviewers having pork chops and ribs commented on how good these turned out, even if you have had no experience with this type of cooker.
This is one of the very few items that you see on a info-commercial that really works
 I have used it almost daily and have cooked cornish hens, leg of lamb, pork loin roast, chicken leg quarters, whole duckling, toasted bagels, and english muffins. Everything has cooked perfectly using the included cooking chart 
What a joy this is! Haven't used my regular oven since this was received. EVERYTHING cooks up exactly as required from FROZEN!
The oven is easy to assemble, easy to use, and makes great tasting food. It's also portable, which is great for holiday cooking.
A number of users commented that over a long period, the plastic bowl does discolor and some may crack, however, this is long term and a replacement bowl is easily obtainable and at a very reasonable price.
Review Rating:
Highly recommended, easy digital control, powerful, well made and represents excellent value for money
I gave the NuWave a 8/10 rating