Did you know…..
Flour ( and some other ingredients ) are compressible! so the worst way of measuring out flour would be by volume. If your recipes call for 4 cups of flour, you can actually end up with about 6 cups if the flour is compressed rather than lightly sifted ! That's 50% inaccurate, always weigh out your flour for accuracy.
I love gadgets. But I am also very practical, if I am in a hurry I don't want to be in doubt when I am measuring out some flour or sugar. Gadgets with unreadable numbers that rub off after washing it a couple of times…. useless. Gadgets which show me the weight digitally are fine, but some digital models leave me in doubt if its set to measure pounds or kilogrammes , so these are equally useless. I was shopping for new scales recently and found an unbelievably wide range of items, but some with gaping flaws. Do I really want to know the weight in decimal pounds   0.8 lbs is meaningless, I really don't want to look at a chart to convert it to ounces.
Another very annoying but all too common trend, is to get smaller. Ok maybe we all live in smaller spaces. But I don't want to have to put my glasses on to read a digital readout so small and dim it can hardly be seen.   I also don't need 3 decimal places of accuracy, my Mum managed most of the time just chucking the ingredients in a bowl , by eye.
The measuring bowl supplied with a lot of Kitchen scales today is so small, it is difficult to weigh out for some recipes, ok I know we don't have Victorian size families any more, but would it kill anyone to design something practical, of a decent size?
Measurements found in recipes today are in Kilogrammes mainly ( or grammes ) but there will always be some, especially the old favourites measured in Pounds and ounces, so make sure if you are buying scales , to include both sets of measurement. Don't buy anything that requires you to press a button to change from Imperial to Metric, sooner or later you will forget which and make a mistake. Both measurements should be clearly visible.
So what did I end up buying?  Well here are the front runners I found when shopping around.
Typhoon Retro Black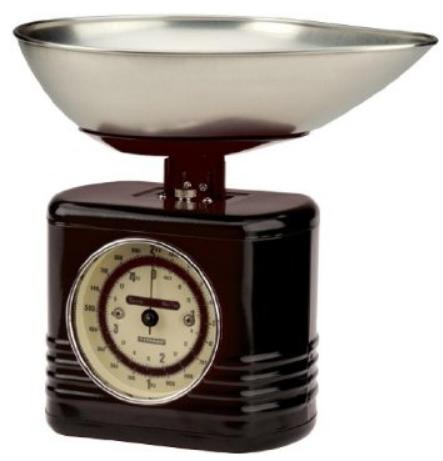 With its retro design it looks great. but practical too. The measuring dish is huge compared to its rivals. If you hate today's miniature products this is for you. The dish is also shaped like an egg, so it will pour well. The body of the scale is all stainless steel, painted black, ribbed for extra grip when moving it around. Perfectly simple operation and big , easily readable dial. Simple zeroing wheel arrangement. Accurate when tested with my set of weights and ample capacity, up to  2 Kilogrammes or just over 4 pounds. That is twice what my old scales managed.
My only minor gripe is the dial is a little dark and slightly difficult to see towards the top of the scale
Typhoon Bella Scales, Cream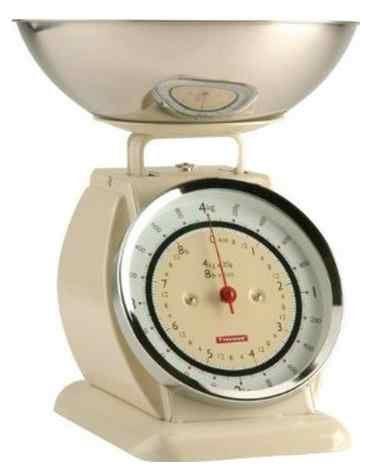 Another from the same company Typhoon, this is the big sister model weighing out a double helping , up to 4 kg or over 8 pounds maximum, this would be perfect in any busy kitchen and good in most commercial kitchens too.
The dial is big, well lettered, very readable and slopes back so you don't have to bend down to read it, like the retro model above. I gave it my accuracy test and of course it passed with flying colours, correctly weighing out my standard weights, from 1 to 8 pounds. My husband has taken a liking to it too, for weighing up his Ebay parcels !
Jamie Oliver Electronic Scales
Although I like my gadgets I'm not a fan of electronic scales, but in fairness, I always use the pan on the scales to weigh my ingredients. If you are one of the new breed, this may appeal to you. You can quickly use ANY bowl or jug to measure out the ingredients, including your mixing bowl, just sit it on the scale and by pressing TARE you zero the scale with your container on it.
The unit cleverly registers everything you add to the mix. It even shuts off automatically if its not used, but comes straight back on if its touched or you add anything else.
The most clever of its many features is its ability to measure fluids, the left hand button goes between imperial/metric / fluid oz or mLitres , so no need to use a measuring jug and so less washing up
Yes you guessed it, I bought the Typhoon Bella scales, big, practical, easy to read and built to last a lifetime.