The Big Boss is a big Seller
There is no doubt , this is a top selling product. It is the standard size glass constructed oven with the heater in the lid and dial controls for heat and timer.  It is very simple to operate and that's what the customers demand.  It has a smart appearance on the counter top. The handle on the lid cuts the power off when you lift it . All very standard and ordinary features on this model, which is the pattern design for Halogen cookers up to the newer "hinged lid " type design, which in my opinion is a safer option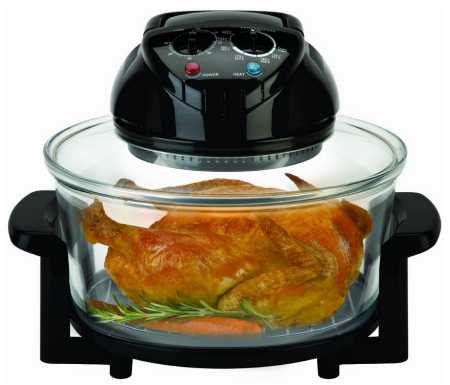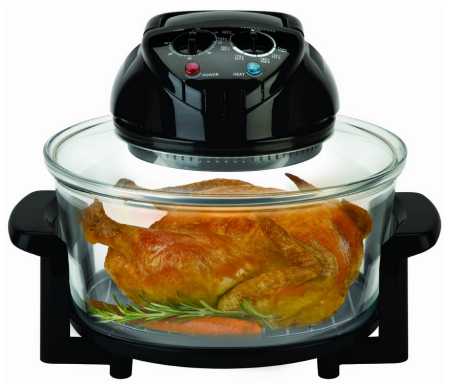 Whats in the Package?

There are a few accessories, provided with the Big Boss unit, the extender ring, which givcs a total capacity of 17 Liters, very useful for preventing burning , when cooking larger chickens and bigger roasts, the high and low rack provided has a rather wide spacing, which could be a problem when arranging smaller items, in the oven , like chips or sausages. However there are no oven glove, pans, steamer, tongs or even a lid rack, which is a glaring omission, without a lid rack you would have to be very careful where to put the hot  lid when the food is cooked or needs turning.   If you add the cost of these extras to the Big Boss, then it really doesn't look such a bargain against some of the others on offer.
Look for these accessories packs , to go with your BigBoss:
Secura Turbo Oven Complete Accessory Set
The-Sharper-Image-Grilling-Accessories
What the Buyers Thought of the Big Boss
the painted numbers are starting to come off
You can't pause the timer nor decrease the time because it's not a digital timer
This is our third Rapid Wave. We use it every day and sometimes multiple times per day. We wore the first one out, bulb finally died. The second one has a bad switch, if I can figure out how to get it apart I will replace or bypass the switch so we can get more use out of it.
Everything cooked really fast and came out tender and moist just as it said.I soon found myself headed out to the store to look for other things to cook that would dry out in the oven and even thick chicken breast was moist .I will certainly tell all of my friends that like to have a hot meal for the kids everynight
This is a necessary tool for all people who want good food prepared healthy and in an efficient amount of time. My chicken is nicely brown, my baked potatoes are done in half the time and my kitchen is not sweltering hot in the summer. The product is sturdy and user friendly.
The Big Boss is a great addition to my kitchen. It allows me to have fried chicken that is truly health conscious, with VERY little oil involved yet crispy and tasty. The two cooking levels allows me to cook a whole meal without heating my entire kitchen with oven and stove top.
The problem is longevity and customer support. It has died and all due a grease splatter on the bulb. You see the unit uses a halogen bulb to cook with and nothing else. The bulb sparked and that is all she wrote.
I have gone to the webpage for customer support to see what I can do to fix it. There is no customer support. There is a link that tells you that there is only a 30day warranty on the cooker and that if you want it fixed you have to ship it to them on your own dime.
The big problem is,cannot find anybody at the 800 # to get a replacement. It has a yellow note inside the brand new box, says "DO NOT RETURN TO THE STORE, CALL 800-423-4248"
which I did 10 times and every time I get a personal voice mail of a lady that
never return a single phone call. This company SUCKS!!
Unfortunately although many of the comments in the feedback praised the cooking and operation of the Rapid Wave unit , customers who had contacted BigBoss for parts or service were not treated well at all. As there are so many similar complaints , sadly unless Big Boss get their act together, I won't be recommending their products.
Rating 1/10