There cannot be many Air Fryers with such a distinct shape and design. Most just have a Frying basket or drawer, this one has a Spit Roasting spindle and a rotating fry basket. The new 2021 Cooks Professional Digital Air Fryer. The combination of a hinged lid and a safe-to-touch machine body makes the Cooks Pro product a winner. The usual halogen glass bowl is replaced with a double-cell construction effectively insulating the outside, making it much less of a hazard in the kitchen.
Note: a bit of a steep price rise since its introduction!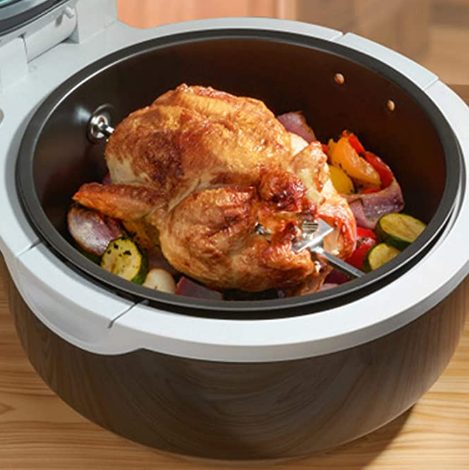 The Cooks Professional has a spit roast attachment which enables very even cooking of  chicken.
Attaching the spit spindle is very simple, drop it in seconds.
This rotating wire cage is designed for chips and similar foods. Tumbling allows even cooking. 
Just a tiny spray of oil is all that you need for perfect chips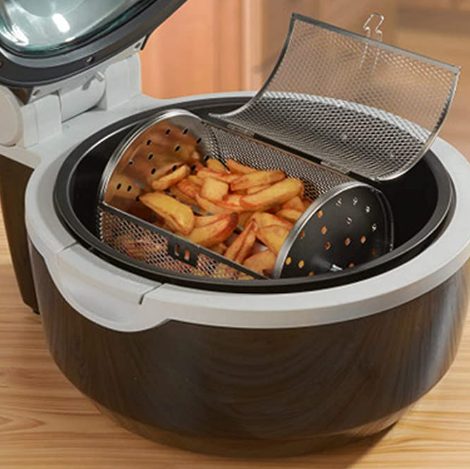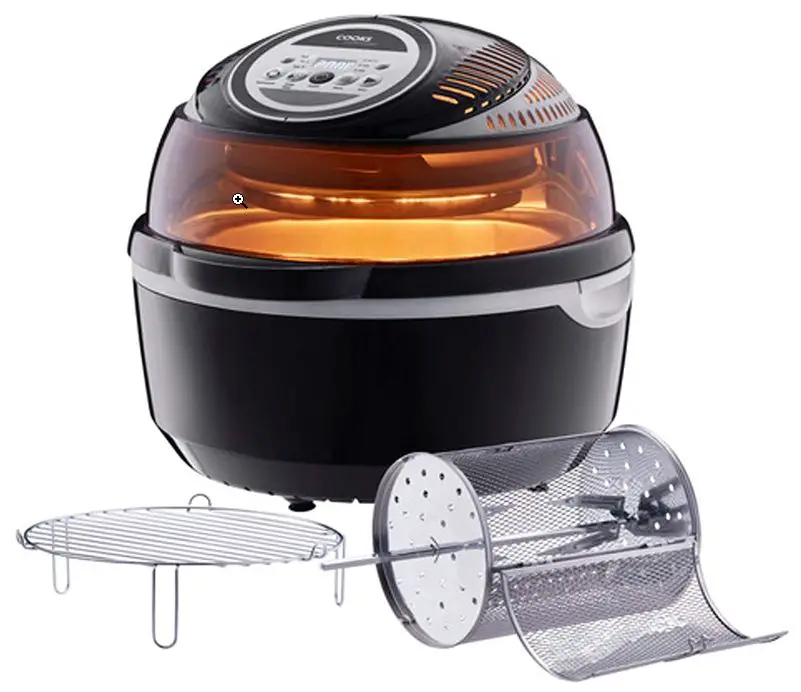 The Cooks Pro is complete with Tongs, Grilling rack, fryer basket, BBQ Rotisserie Fork and Skewers
NOTE: Check the Amazon listing, there are 2 versions, the same model but one has more accessories and is £10 more ( that's the one in our Ad ) 
Adjustable Temp and Timer Digital Display
Program Modes
I didn't like the single multi-purpose display, but mainly because my own has separate timer and temperature displays, but you do get used to switching between the two.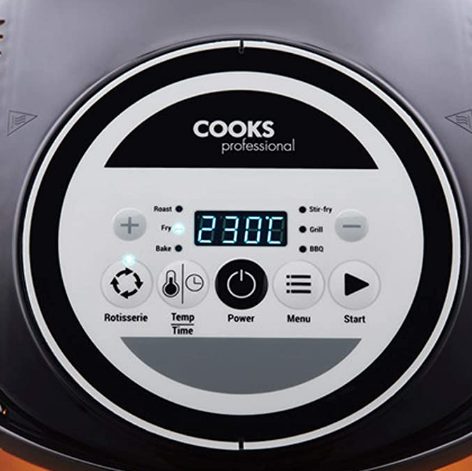 Power Consumption: 1300W

Dimensions: L35cm x W43.6xm x 33cm

Voltage: 220~240V 50 or 60Hz

Power Cord Length: 96.5cm

Weight: 6.21kg

Temperature Range: 50~230℃

Time setting Range: 1~60 min

Capacity: 10L
This one has all the Accessories!
This is a brilliant addition to the kitchen. As I live by myself with 2 dogs I find it onerous, on a daily basis, to use the large electric oven as it takes an age to heat up to the required cooking temperature. This unit heats up within seconds, literally, and cooks the food to perfection. You can cook several items at once and the attachments are good for the size of the unit
Love this machine, so far have used it to cook whole chicken, roast potatoes ,pork shoulder joint (with great crackling) and chips. I used the rotisserie which gave golden even cooking. The only negative I have is the instruction booklet, could be better explained and a few more recipes would have been nice. I would highly recommend this machine.
With its hinged lid – a great safety feature and cool body, the new Cooks Pro model is probably the best Halogen Oven available today. Although the capacity is only 10 litres and the bowls coating isn't very thick – ( best to just soak and handwash ) , the overall capacity, speed, quality of build, and cooking results are second to none !
Review Rating : 9/10