I first reviewed this one back in 2013 on "AirFryerChips.com" 
And…. its still a current model!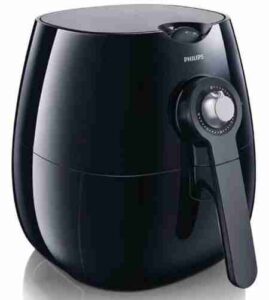 Safety When Frying
Most of the comments from buyers included appreciation of the safety of the product compared to frying in a pan. Although less common now than a few years ago, frying with a pan full of boiling hot oil, is so dangerous.
If it bubbles over, it can catch fire, or if you spill it, it can result in major burns. Fortunately with the advent of 'Oven chips,' this is now quite rare.
The Philips HD9220 is a very solid, well-made product, which sits on the countertop with its nonslip rubber feet and is almost impossible to knock over. Very safe and highly recommended, especially if the user is elderly or infirm.
The outside casing of the unit remains cool even when it is in use, so it would be much safer to use than a pan on the stovetop.
What is "Rapid Air Technology"?
If we take a peek inside the airfryer, we can see the conventional heating element and fan directly above it. When directed at the cooking pan with its starfish shaped base, it causes the hot air to circulate around the food , cooking it quickly and very evenly.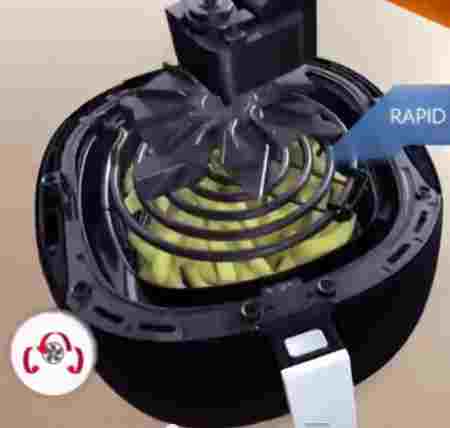 Super Tasty Results
It's nice to report a product with such overwhelmingly positive reviews by buyers, these comments were typical:
"oven chips come out great – not greasy and super crisp and with less calories"
"I am now able to have chips and still eat healthily. The airfryer is very easy to use. I would recommend it to anyone"
"Have recommended it to my friends. I Use nearly every day"
Several people commented that it left the kitchen without the typical smell of frying chips, which does tend to linger when you use conventional frying.
Philips Make Great Appliances
For a lot of modern kitchen appliances, purchased in chain stores, the goods will be made in China and will have very poor documentation, with some not even worth reading. Not so with Philips, the Dutch giant keeps up an impressive quality in its guides, recipe book and set up card:
"Set up was easy and very well laid out in the easy start guide provided with the fryer. The whole thing was out of the box, washed and set up ready for use in less than 20 minutes."
"What I was very impressed with was the build quality. The thing looks very swish in the corner of the kitchen, black and chic"
There is no doubt , too that the Philips is an impressive sight, they have manufactured a very stylish kitchen unit. Essentially a box with a drawer, the Philips engineers have produced a tool that anyone would be proud to display on the counter top.
Cooks Everything Well
The Philips Airfryer seems to be equally good at frying quite a variety of foods, chips freshly cut from potatoes, wedges, cubes, oven chips, pork chops, Chinese pork wonton dumplings. The timings and standard instructions found on most prepacked foods are fine, the instructions for the dumplings were followed and I produced excellent results, perfectly crisp and golden, better in fact that I had previously managed using a conventional method. The pork chops came out really well done and the Philips did not dry out the meat, it had all the flavour that I expected.
For chips or anything that would tend to stick together, take the basket out about halfway through cooking and give it a good shake. Following the instructions in the guide certainly gives good results, but after experimenting over a few weeks I found sometimes a quick spray of oil or with some foods like frozen chips, no oil at all, produced perfect results, so it does pay to try variations to see what suits you. The standard instructions suggest using a teaspoon full of oil. I have tried Olive oil and One Cal oil ( spray ) with good results. Fresh cut chips with a little Olive oil tasted better than prepacked frozen chips, but the frozen ones were by no means bad, my kids tested them over and over again and there were no rejects !
Sausages and bacon, probably other high fat foods can be cooked in this unit but the manual advises against it, this is probably to prevent splashing of the heating element, so probably best to avoid these.
Fortunately allergies to cooking oil are very rare, however some people just don't get along with food saturated in vegetable oil, my father is one who has to be careful what he cooks with, now with the airfryer, as it uses very very little oil , he can enjoy fried food again, he is a total convert after trying it here and went out to buy the Philips 9220 immediately !
Time and Temperature Setting
Simple Dial setting or "Analog" type setting. Most fryers are digital, but if you want absolute simplicity you can't go wrong with these 2 rotary controls
Temperature is adjustable from up to 200°C it's marked in 20° segments
Time up to  30 minutes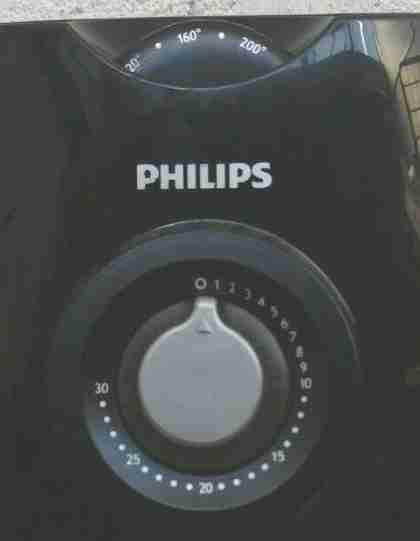 Never Burns your Food
I call this my "teenager test" , my teens are easily distracted and regularly burn stuff in the oven…One of the best features on the Philips and on Halogen Ovens in general is the timer. This means you are notified with a bell or buzzer when the cooking is done. Its so easy to get distracted by the tv or the phone and your food is ruined, Unlike conventional cooking with pans you can safely leave the Airfryer, to turn itself off.  So its teen proof !
PreHeating
Did you know… in a recent test of conventional gas powered ovens , some were found to take up to  20 minutes to reach the operating temperature! The worst results were for the highest temperatures. The poor insulation around  a conventional steel oven means that your energy  costs are being wasted heating your kitchen. In contrast the Philips Viva and Avance ranges of airfryers are constructed with totally enclosed compartments, so no wasted heat, plus the cooking area is ideal for meals for two people and no cooking smell through the house.
If your recipe calls for pre heating the oven, just add 2 or 3 minutes to the timer. The Airfryer does reach operating temperature very much quicker than a conventional oven , so it will save you time and money too!
Are the Philips AirFryer Models Reliable?
On the Philips website and on Amazon there are many long time users plus some that have sent recipes to me, having used their Philips 9200 series airfyers for over 10 years, so YES they are reliable, as yet there have been no element failures reported in all the many emails and feedback received.
New Model
The 2022 HD9252 model is the new equivalent of the 9220 model, Digital controls with a better price