Tefal's rotating paddle is back, the perfect way to continuously move your chips around, to get the perfectly browned finish with no extra effort.  The "Genius" plus is the latest evolution of this French made Air Fryer. 
I was very pleased to see Tefal's promise, on their website – "we guarantee that your Actifry will be repairable for 10 years".
Too many products are junk after the first problem, and more manufacturers should adopt this approach.
Chips can be notoriously difficult to get right – I mean perfectly right, as a top chef would like. 
this machine can do it very well. 
Simplicity is the main focus of the Genius. Although you can set temperature and time, like any other air fryer, set it with one of the 9 preset automatic programs, to suit the food you're cooking and it will turn out just right.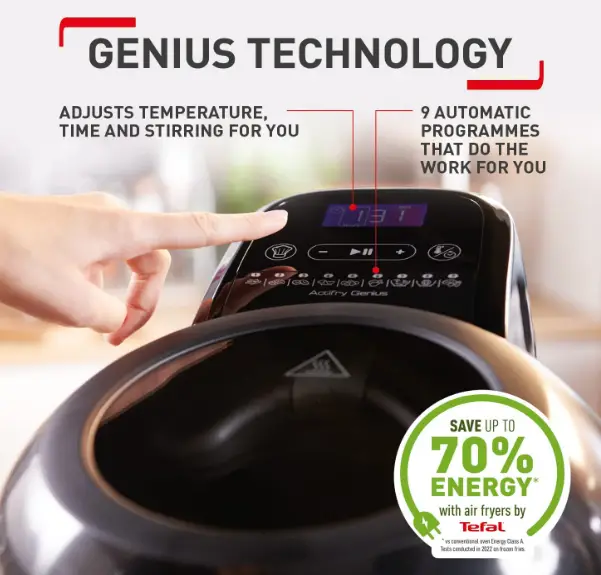 Controls On the Tefal Easy Fryer
Nice and Clear, Easy to set up time and temperature or use the presets (Modes) 
cooking time  

temp  

Mode  selector

delayed start

keep Warm

adjustment panel  with go/pause button

Manual Mode temp or time display

Cooking modes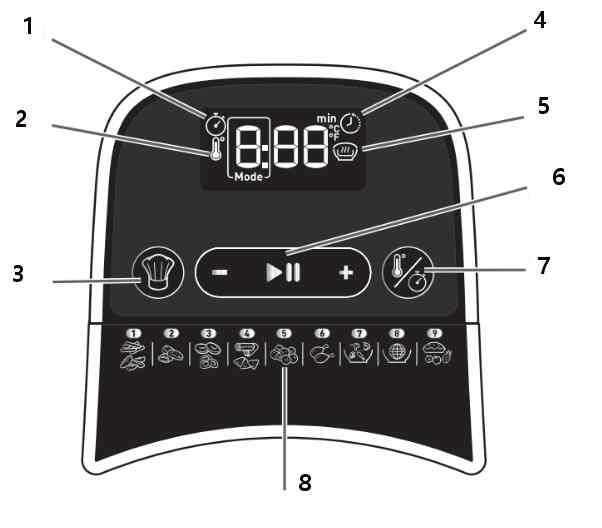 Preset Buttons
The Genius comes with 9 preset functions
1. Chips and fries e.g potato
chips, vegetable chips, potato
wedges, …
2. Breaded snacks e.g chicken
nuggets, breaded king
prawns, …
3. Battered snacks e.g. battered
onion rings, battered calamari
rings, …
4. Rolls e.g. pastry snacks like
samosa, spring rolls, …
5. Meatballs and vegetable balls
6. Chicken e.g drumsticks and
wings, …
7. Wok* e.g. fried rice with
prawns, sauted beef, stir fry
vegetables, …
8. World food* e.g lamb
tajine, kebab, …
9. Desserts e.g apples and pear
compote, caramelised nuts, …
How to Select Your Mode (preset) 
You select the preset by tapping the menu key – the Chefs Hat (3), each preset icon will flash in turn, then touch the Play button to start the cooking process.
Time and Temperature are both preset on all 9 functions although only the 'keep-warm' function cannot be changed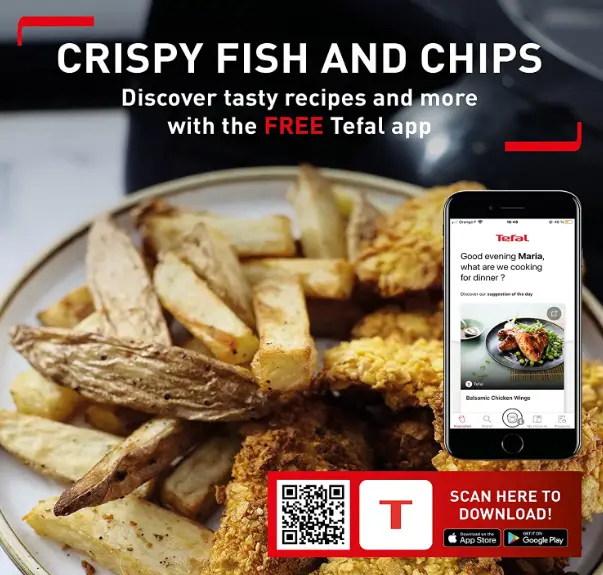 The Tefal App for Android and IOS is free to download, with instructions to set for each Genius model and easy transfer.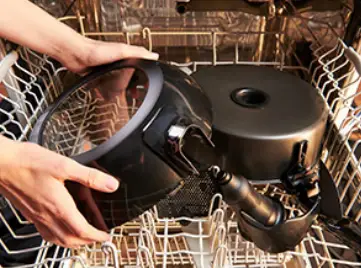 The frying basket is safe to wash in the dishwasher. Detailed instructions how to detach and clean the pan and filter are in the downloadable file.
The Tefal uses a standard layout, heating element, fan and food drawer
1520 watt

90cm power cord

Temperature 160°C (est)

Timer 0 to 60 minutes Auto shutoff (est) 

Weight 5.02kg

Dimensions 12x17x9.5 cm (may be a printing error! ) 

Designed to cook 6 portions Capacity 1.2 Kg

Pan coating – non stick ceramic
Download the Tefal Genius Instruction Book
1 Bought this because it's a Which "best buy". It's very noisy and I wish I hadn't trusted the Which evaluation so much. Still learning but it's not the ultimate solution to energy effecient cooking I was hoping for. It was very expensive but well made. From initial experience I'd say it's more suitable for niche meals. It has a lower pan for longer cooking times including chips and other vegetables but not at the same time. A mechanical stirrer turns chips and other vegetables on the lower pan. An upper tray which is introduced part way through the cooking for smaller portions of meat and fish then the program is resumed. A more basic model would probabably be more versatile and accomodate larger items like whole chickens which this model does not. It has about 9 pre-programmed routines and times can be set manually. A good point is that the lower pan and stirrer, upper tray and lid plus filter can all be taken to pieces and cleaned in a dish washer.
2 Purchased this item to minimise use of electric & gas and also to simplify the midweek meal preparation process. I've had the air fryer about a week and a half and have already used it three or four times. From fish and chips, salmon and veg to roast potatoes, the device has been so versatile.
It is reasonably straightforward to use and what I have prepared so far, my wife and I have been really pleased with. Whilst this is not a replacement for a gas hob and electric oven, it certainly appears to provide a solid alternative.
The device wasn't cheap but is well made and is producing some great results. Really pleased so far.

3 The last Tefal fryer l had lasted six years without a fault and was still working perfectly, but l wanted an upgraded model
4 I primarily bought to replace the deep fried chips. First attempts were promising but not quite there but finally cracked it and produced chips as good as double cooked deep fried ones! Result!
Also made a pork and couple chicken dishes. Really quick, easy and tasty.
Needless to say this will not end up in the back of a cupboard.
Rating and Recommendation
The  manual  was certainly better than the previous Tefal efforts, with some detailed explanation.
But, I was still unable to find the temperature min max values and a few other things that I use in my reviews and comparisons.
The product overall was good and easy to use. Certainly looks good, and very well put together.  
Chips cooked through and evenly. Some types of potato may tend to break up when stirred by the mechanism, make sure you have fairly robust potatoes.
The Genius range has three size models and comes with different features. The one shown here is the middle of the range.