The new 7 Liter Secura CO-05MH Halogen Infrared Turbo Convection Countertop Oven MINI comes with loading tongs an extension ring and wire racks.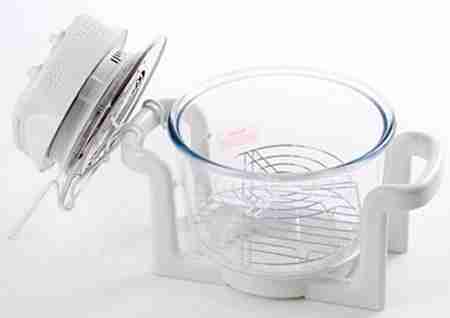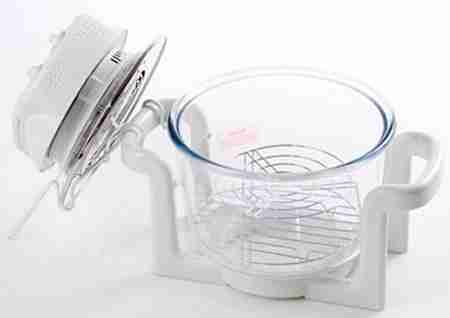 Specifications
at full power 1000W
Manual dial controls for temperature and timer
Temperature
Timer 0 to 30 min
Cooks from frozen
No oven pre heating required
Very economical, ideal for one person
Lightweight 15 lbs – Ideal for camping, RV or boat
Healthy Low Fat cooking
Good selection of tools included: Tongs, Extender ring and wire racks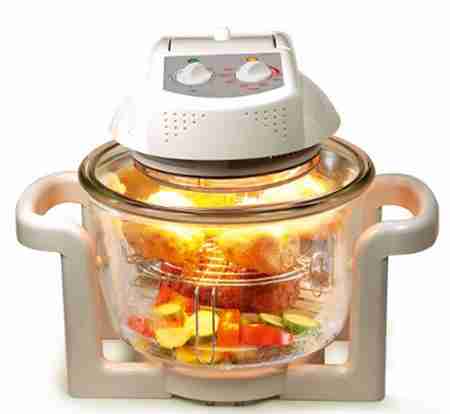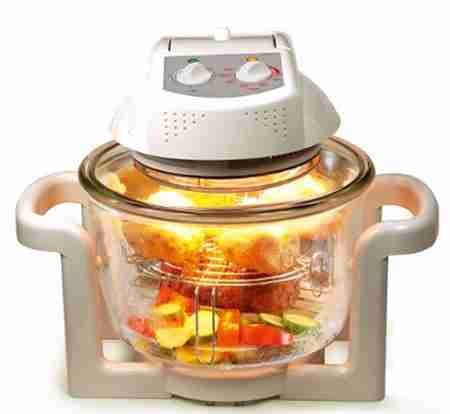 The 7 litre oven cooks as fast as a microwave but browns chicken and meat like a conventional oven, which comes out perfect, moist and full of flavour.It can broil, roast, bake, grill, barbecue, fry, and steam. Fried things are wonderful and without any deep frying oil or that frying smell all over the kitchen, that lingers for days. With its very stable base, it is quite safe on the work surface and the lid even has its own wire stand, anchored to one of the base handles, which is a good idea as the independent stands do tend to skid around on a table top. Overall the unit looks good and well built, with functional dial controls for temp and time.
What the Secura 7Litre buyers thought of their purchase…
It's very convenient for three main reasons:
1) There's virtually no preparation, no oiling, pre-heating or defrosting required.
2) The cooking times are close to microwave times, and cooking a meal for a single person is usually 10-15 minutes total.
3) Cleaning it up is fast and easy, you just have to wait for the glass to cool down, which takes about 30 minutes.
– This one appliance can almost replace all of my other cooking utilities; the oven, the microwave and the burners are all looking obsolete now!
.
easy to clean, and fits in the dishwasher with ease.
.
What a niffty little device! The mini is just the right size for a single or couple
 .
Does exactly what it says. Size is perfect…fit a whole chicken in without any problems and it cooks it wonderfully
.
it's so hard to cook for just one. This makes it easy without heating up the kitchen. I wouldn't have thought to put a hamburger in my oven to cook, but this works great on hamburgers, fish, tater tots, etc. I cook much more often since I purchased this. 
 .
Conclusions
The Secura 7 Litre oven is selling well, in this competitive sector, why? Because it is simple, it works well and is a great price. Plus it works on the move! RV owners, Truck drivers and Campers will love the convenience, versatility and low current requirements ( It will work with an inverter, from a car or truck battery ) of this oven and it is small so easily stored.  No complex electronics so it should be reliable.
Recommended 8/10