I have a few Andrew James products and have been highly delighted, so I tried this model dehydrator. It has 6 trays and is very easy to assemble once you have layered your food on each tray.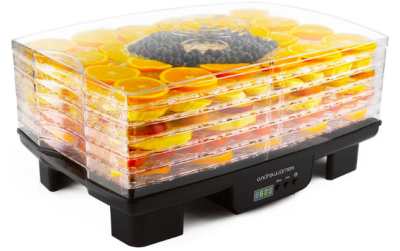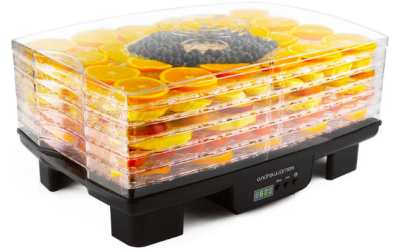 The digital controls are simple and easy to set, the timer can be set to 48 hours max. Heat can be set between 40   and 70 deg C.  The power consumption on the motor / heater unit is 550Watts , so it would typically cost 3p / hour to run. If like me you make doggy chews and all sorts of fruit snacks on a regular basis, its well worth it compared to bought produce and health wise, you know your family is getting their 5 a day fruit and veg.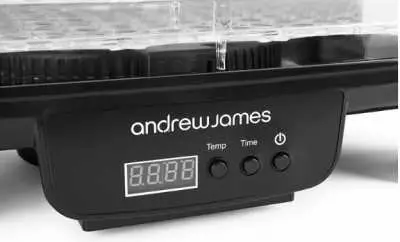 The trays are lattice plastic, as with all dehydrators below the £100 mark you have to be reasonably careful when cleaning the trays after use, but Andrew James do have packs of 2 trays available as an accessory.  The trays can be put in the machine 2 ways, making it possible to arrange a wider gap for larger food items .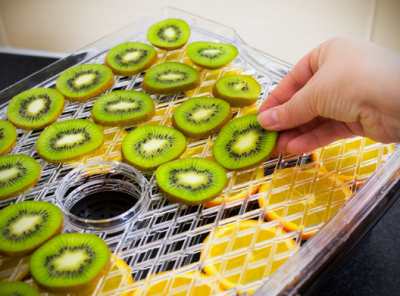 The trays measure 29cm X 44cm, in your kitchen, the square dehydrators take up less worktop room than the round models, something to consider if it's a very small kitchen. The overall height is just 21cm.
Packs of 6 Flexible and Dishwasher safe sheets are also available for the more messy food items or smaller items like berries that otherwise would fall through the latticework. The sheets are tough, fibreglass with a non-stick PTFE coating.
What did the buyers think of their Andrew James Food Dehydrator?
This is brilliant, easy to use, and produces delicious results. It makes excellent vegetable crisps, particularly parsnip and sweet potato, great dried fruit, mango, and kiwi are my favourites and I can't wait to try making some bill tong / beef jerky.
Some previous reviews mentioned there were no instructions on temperatures and times but I think this is now rectified and this information is included in the instruction booklet.
You just need to be careful when washing up the trays as they can crack easily.
Was not sure whether to buy this or not but took the plunge and have not regretted it. Some have said that the trays are not strong enough but that is down to their use as I find them more than strong enough. Cleaning of the trays is easy enough, just stand them upright, in a sink and use a sponge to wash
In conclusion this is a great value product, the design is efficient and well built, the price is excellent and when combined with the AJ 2 years guarantee, is highly recommended. I rate it 9/10 in our review