Not exactly a household name…. yet. What does this relatively new import have to offer?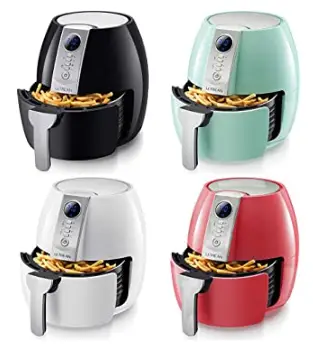 Available in 4 colors, Blue/Green, Black, Red and White
The stylish Ultrean has proved very popular attracting over 35000 ratings on Amazon since it was introduced in 2018
Simple Design: There are only manual controls with a Digital LCD display, no presets. Simply set temperature and Time then push GO!
Specifications for the Ultrean Air Fryer
Dimensions 11.26″D x 13.21″W x 12.42″H (inches)
weight: 9.97 pounds
Cap 4.2 Qt / 4 Ltr
Timer 30 min
Temp range 180°F to 400°F /82°C to 200°C
power 1500w ( US standard 120volt)
Ultrean AF01 Controls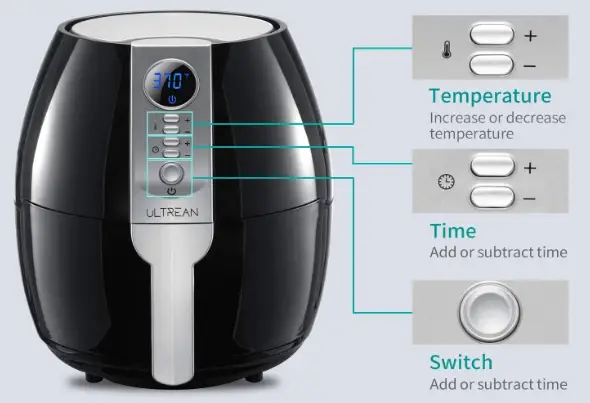 Setting up cooking on this model is ultra simple
set up Temperature
set up Timer
Press Go Switch
It will switch off when done ( don't forget to shake the contents if you are cooking fries, or turn pieces around if you are cooking drumsticks, fish fingers etc.
What the buyers said…
1 Actually, 5 stars aren't enough for this air fryer. I've never used one before & decided it was time. I love it!!! I've used it at least once a day since it arrived. It's the easiest thing I've ever used. Everything comes out of it perfect. I have a small kitchen & moved things around so I can keep it on the countertop. That's how much I use it. I'm going to take it with us when we travel in our motor home. No more having to light the oven. I'd never heard of this brand before but I took a chance on it & couldn't be happier.
2 I use this daily. I weightlift so being able to eat my meals timely is imperative. Great price, easy to use. Tackles anything I've thrown at it. Chicken, potatoes, steak, fries, salmon, you name it. Perfect for a single person. For a family I'd recommend a dual slot with different settings. Awesome so far after 4 months of daily use.
3 I love this airfryer! I don't write reviews but this product deserves one. So easy to use and clean and cooks food better than my oven. Makes food crispy and delicious with no mess. I do use parchment paper to avoid a mess. So happy and I love the color!
4 I LOVE this air fryer! It keeps meat so tender and juicy and cooks really quick! I rarely use my oven anymore since I have purchased this air fryer. I can fit 4 nice size chicken breasts or pork chops in it at a time. We are a family of 5, so I may purchase a bigger one in the future, but for now- I'm loving this one!
Conclusion and Rating
The Ultrean will have mass appeal, saving energy costs, initially a very reasonable outlay, very simple to use, straightforward instruction book and it looks good in the kitchen too!
I think we will see a lot more of Ultrean in the future, they already have several air fryers in different sizes
I give it an 8/10 rating, excellent value