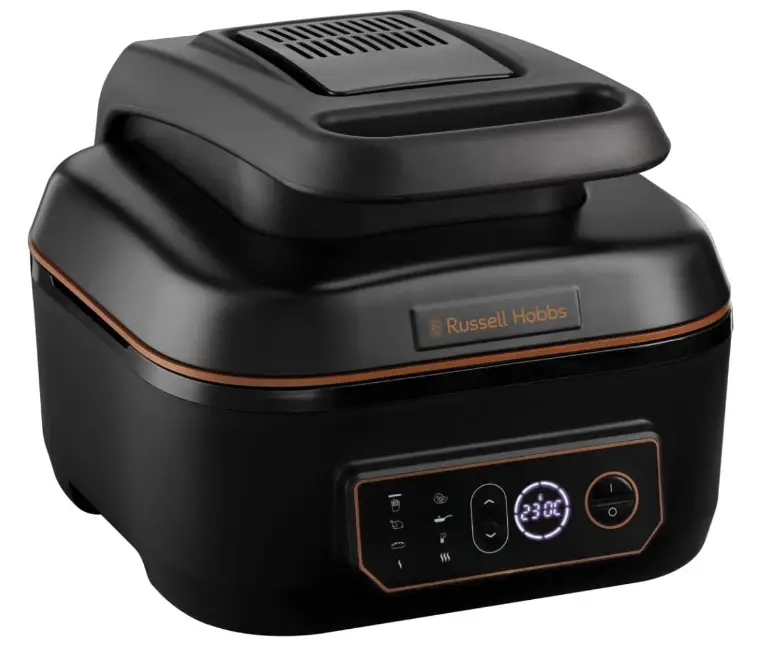 Specifications of the Russell Hobbs Multi Cooker
Perfect size to serve 2 people
Capacity 5.5 Ltr
Temp 65 to 260°C
Timer 1440 min! ( set by mode selection )
Dimensions: 320x375x282 mm Weight 5.4Kg
model number 26520
Power: 1745 watts max
Free guarantee extension (see below)
How did the Russell Hobbs Perform?
Like any of the big well-known manufacturers, Philips, Tefal, Tower, and Salter, that have been around a long time, Russell Hobbs has a good reputation and this model looks well made, designed with easy and safe operation in mind and will no doubt enhance their reputation further.
In common with some Tefal models, there are 2 heaters, one above with a turbofan, which is the typical air fryer layout, and one below, which allows total cooking control.
You can select the 8 MODES which operate like this: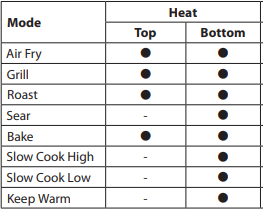 You can set the multicooker to display temperature in °C or °F by simply holding "0" for 3 seconds.
Safety – the power is cut off when the cooking is finished (also makes an alert sound ) or the lid is opened.
Grilling: There is a grill plate, on which you can place your meat, to sear it. Set the cooker on pre-heat to warm up the grill plate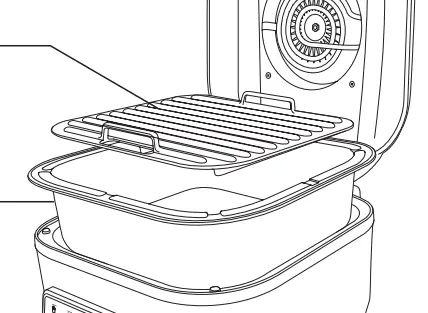 Grilling:
There is a grill plate, on which you can place your meat, to sear it like a barbecue with sear lines. Set the cooker on pre-heat to warm up the grill plate
Searing meat
Sear to seal in the juices, using the pan only.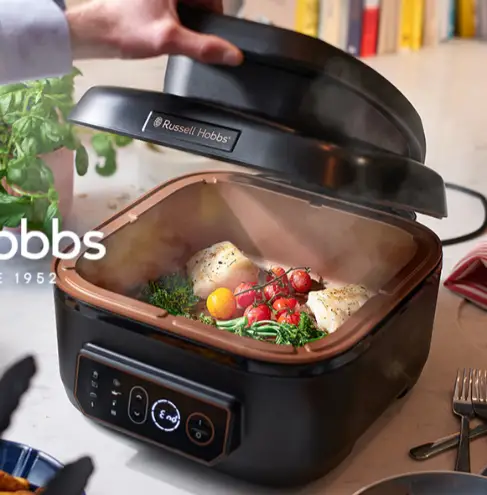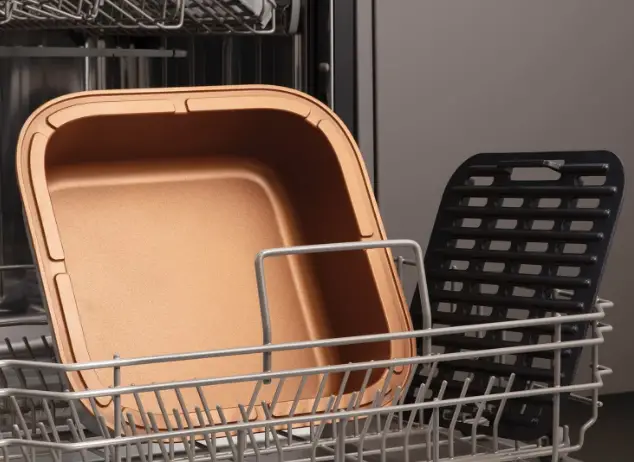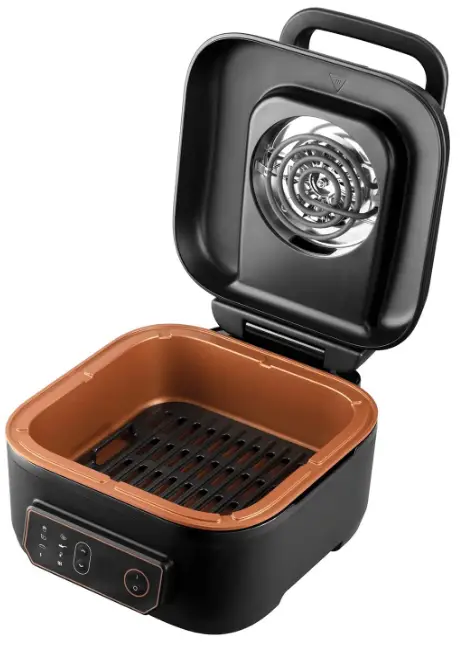 Simply choose the cooking mode to begin. Once cooking has started, you can change the time ( Up/Down keys ) or the temperature ( press I then Up/Down keys)
Guarantee Period
The guarantee with this product is 2 years, but by registering it within 28 days online, you get an extra year!
What the Buyers said…
1 Day 3, just popped in crumpets for breakfast, which were scrumptious and not dried out as they can bein a toaster. Yesterday chicken breast and potato wedges, cooked to perfection
2 It is very easy to operate and really adaptable to your own style and prefrences of cooking. I cooked breakfast on the sear and air fry mode this morning and sausages, bacon and tomato was served rapidly and much faster than i can achieve in my Ninja Health Grill as it does not sear from the bottom and is slow to temperature compared to the new SAGM. Tonight I seared and Air fried marinated chicken thighs within 10 minutes, also ready in rapid time, much faster than my Ninja ! The build of the SAGM is a lot lighter than the NHG and the inner bowl rattles about a bit as it sits above the bottom element, but so far I am MEGA impressed with the SAGM
3 Bought this after several recommendations & it is brilliant. Easy to use, and so economic. Cooks in less than half the time of my fan assisted oven, saving money on fuel bills & I rarely use my oven now. Many foods taste better cooked in the airfryer. Would highly recommend.
Conclusion and Recommendation
A super machine. RH has produced a little marvel with its two heaters allowing the ultimate level of control, with a very low learning curve. I rated the Russell Hobbs 9/10