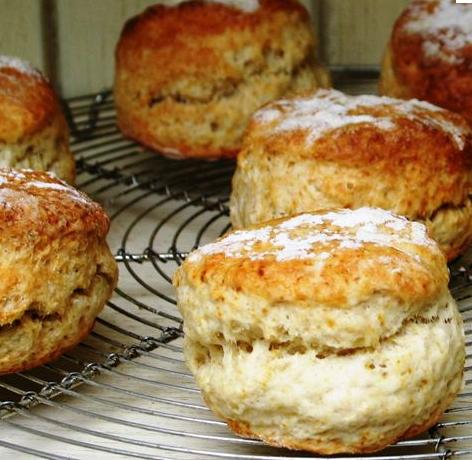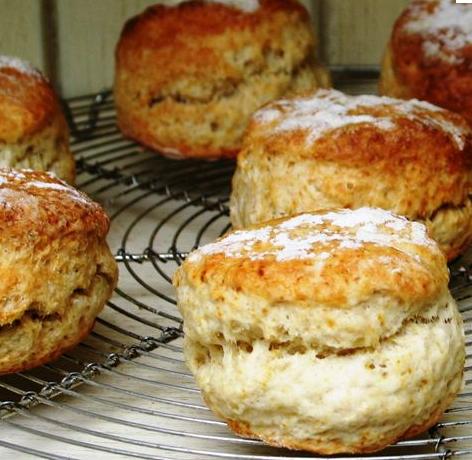 Ingredients
225g (8oz) self-raising flour
1 tsp of baking powder
25g (1oz) caster sugar
A pinch of salt
55g (2oz) unsalted butter (slightly softened)
150ml (5fl oz) of whole milk
1egg (beaten) or plain flour (for brushing or dusting)
Cinnamon
Dried Fruit
Mix together the flour, baking powder and salt into a bowl.
Stir in the sugar, add the butter and rub quickly into the flour, creating a fine breadcrumb consistency. Add the cinnamon and /or dried fruit to make different varieties
Add the milk, a little at a time, working to smooth dough.
This is now best left to rest for 5 to 15 minutes before rolling.
Roll out the dough on a lightly floured work surface until 2cm thick.  Using a 5cm round pastry cutter, cut the dough, using a sharp tap and not twisting the dough as you cut. Twisting the scone mix will result in an uneven rising.
The scones can either be brushed with the beaten egg for a shiny glaze, or dusted with the flour for a matt finish. Lightly knead together the rest of the dough and stamp out more scones to use all the mixture .
Place the scones on a greased baking sheet and bake in Halogen Oven for 10-12 minutes at 220°C until well risen and golden brown.
Allow to cool slightly on a wire rack, and serve while still warm. Serve with butter and jam.