Air Fryers have been around at least 10 years, fundamentally they haven't changed much, so which are the current best Air Fryers?
Digital  Philips Air Fryer HR9252
Rating 9/10 best features, accessories, price and guarantee
Available in  Black  read more
Excellent Standard Design
Tefal has been making good solid kitchen products for a long time here's one that should last well.  read more
What's under that gleaming black exterior of the new range of Airfryers?
Air Fryers are tabletop cookers that safely fry and cook lots of different varieties of ingredients with only a minimum amount of oil. 
Many have copied the Philips design from over 10 years ago, but I still rate the Philips as the best value, and they are available in 3 sizes.
They are quick, quicker than a drive to McD……s !   Fresh food cooked without that heavy fatty taste
Economical too, way cheaper to use than any gas or electric oven or grill.
Use it for all sorts of cooking, frying, baking, broiling
Philips Air Vortex Cooking
In the Philips models, the bottom of the pan is shaped to make the air rush into vortexes, cooking your food through, in a very quick time. Chips typically take only 10 to 20 minutes.
The pan can be cleaned in a dishwasher.
Note that not all air fryers have a full pan and a basket sitting in there… To me, the design depends on the hot air having full 360-degree access to the basket of food – or it's not going to cook evenly.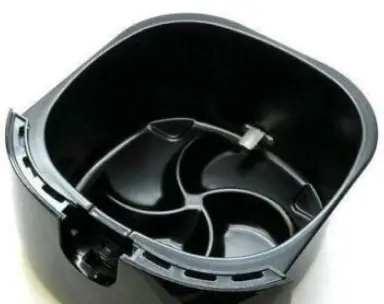 The Fan is situated above the heating element and creates a downdraft of hot air around the pan. The raised star pattern swirls the air stream round and enables speedy cooking. 
Food is cooked in the same way it is, in a conventional oven, from the outside in, unlike a microwave, so many cookery techniques work well in the air fryer.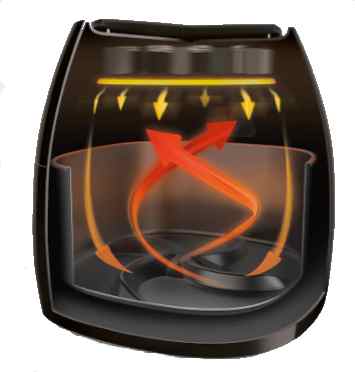 No Frying Smell Lingering Around the House
When someone has been deep frying, in a big pan of oil, everyone knows it !  That heavy odour lingers sometimes for days, its  like living next door to a chip shop ugh!
With an Air Fryer though it's different, it is an enclosed cooking area, a pod containing the food.
If you have a cooker hood or other unit to vent cooking steam and odours out of the kitchen, you will know how much the filters clog up when frequently frying food, you'll be pleased to see how much it improves when you start to use an Airfryer, which hardly lets any vapour escape at all, so really cuts down on cleaning around the kitchen.
The Philips range has an integrated filter, which vents the high pressures a little, when the fan is circulating the hot air around inside. So none of the oil laden air gets into the kitchen, less cleaning and long term less mess altogether.
Read More Air Fryer Reviews on our site
Read More Air Fryer Reviews on our site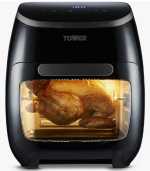 A big oven for the bigger family. Fast, convenient cooking, with more extras than any other AirFryer     read more