Tefal's Air fryer for 2022, is the Easy Fry Precision EY401840. Tefal is a UK company, well known and with a long history of good products. 
The description " Air Pulse Technology" doesn't seem to be explained, at least anywhere in the manual, so it's probably just promo-speak for a standard hot air + fan configuration Air Fryer.
I am very pleased to see "10-year repairability" stated on the Tefal website – so much of our gadgetry today is throw away with no spares available.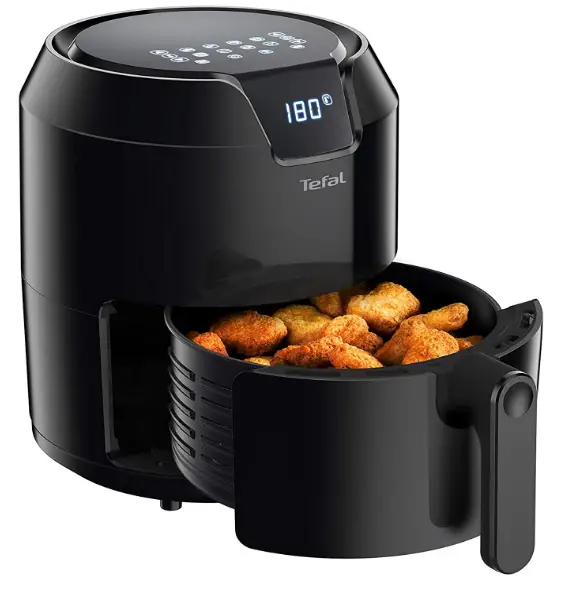 One negative point – compared with the Philips, I found chips in particular to be a bit uneven, so I had to stop and shake the basket more often.
 I would guess this is due to the Philips having a basket, so the circulating hot air can access 360 degrees, whereas the Tefal had only a half basket and an adjustable 'Griddle'
Once I had figured this out, the results were no worse than any other fryer, just a bit more effort required.
However, with no basket – when you tip out your chips, you will probably tip out the accumulated unwanted fat too.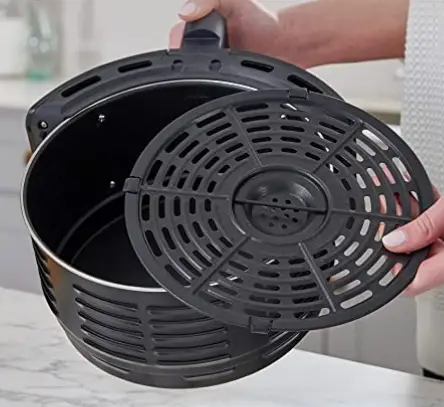 Controls On the Tefal Easy Fryer
Almost identical to the Philips Air Fryer, the layout has Temperature, Timer and presets. The Numerical display Time or Temperature is mounted on the front
A Temp Adjust Up
B Temp Adjust Down
C Timer Adjust Up
D Timer Adjust Down
E  Start / Stop
F Fish
G On / Standby
H Timer indicator
I  Main Menu Selector
J Drumsticks 
K  Alarm
L  Pizza
M Chips
N Cutlet
O Shrimp
P Cake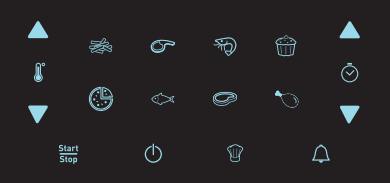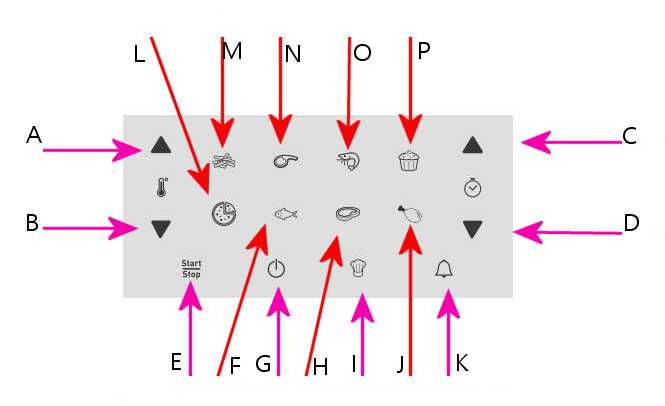 Preset Buttons
The Easy Fryer comes with 8 preset functions
Frozen Chips
Cutlet
Shrimp
Cake
Pizza
Fish
Grill
Roast
You select the preset by tapping the menu key – the Chefs Hat (I), each preset icon will flash in turn, then touch the ON button to start the cooking process.
Time and Temperature are both preset on all 8 functions although only the 'keep-warm' function cannot be changed.
The Tefal uses a standard layout, heating element, fan and food drawer
1500 watt
90cm power cord
Temperature 80°C-200°C
Timer 0 to 60 minutes Auto shutoff
Weight 4.5 kg
Dimensions 338mm x 278mm x 333mm
Designed to cook 6 portions Capacity 1.2 Kg
Instruction manual was a little sparse so after reading a few times i gave a few things a go, and to start with it was a bit hit and miss, Now I have used a few times I really happy with this product and glad I got it, I especially love how compact and easy it is to use and how FAST it cooks what I've found is most frozen products I have cooked using this precision fryer on average cook around 10 minutes quicker than the instructions state. I've had no issues with this appliance and look forward to experimenting with all its different uses.
I absolutely fell in love with the fryer as soon as it was out of the box. It makes perfect homemade chips and lovely, crunchy chicken nuggets.
There is a whole host of things that can be cooked inside this appliance that I have yet to try them all but so far I am thoroughly impressed.
The display one the top is very impressive and easy to use with all the pre programmed cooking temps as well as the ability to set yourself too. The cord is really long so if you struggle where to put things like I do you can most definitely find somewhere in the kitchen it will stretch to.
In all this is a great appliance and I am looking forward to cooking many more things in it.
Rating and Recommendation
I found the 'manual' short on detail, the quick start guide next to useless.  Why is it, especially on a UK product, we have to have a Quick Start booklet in diagrams, and very poor diagrams.
Surely it would be better, if a full English manual was downloadable on the net, instead of this half thought out rubbish. 
The product overall was good and easy to use. Certainly looks good, not shoddy like some of the Chinese imports. Not sure about the presets, I haven't tested those out fully yet, as I prefer to check the settings manually on foods I know well, first. One negative point – compared with the Philips, I found chips in particular to be a bit uneven, so I had to shake more often. I would guess this is due to the philips having a basket, the Tefal had only a half basket and 'Griddle'
Good for a family of  up to 3 or 4  and very useful when you're entertaining and the main oven is in use.