Review Updated November 2022
** OUR TOP RATED REVIEW **
At last the Andrew James company has released the ultimate Halogen oven with digital settings and a hinged lid. If it is as good as the previous Andrew James offering, it will be a world beater.
I have been a strong supporter of the hinged lid variety of Halogen cooker since the idea appeared some years ago, the advantages are plain to see, it is so much easier and moreover SAFER to operate. That is both safer for you and from the standpoint of the hot element in the lid, which can be damaged if dropped.
On the older , original designs where the lid must be taken off the glass bowl,  opening the cooker, without scalding yourself with steam , watching out for the electric cable which is still connected to the lid  and whilst trying to put it down on a special wire stand, which unfortunately sometimes skids around the work top , is a worry especially if you're new to halogen ovens. So this improvement is most welcome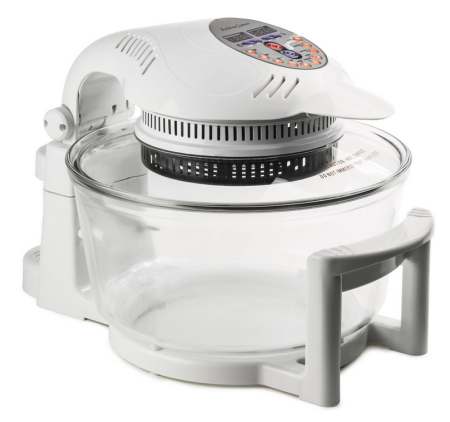 Great Price
The price difference though on most Halogens with a hinged lid, has been very large and offputting. With this new model though, Andrew James scores well on Price, keeping it below the £60 mark, this is extremely competitive, other hinged lid types sell for around £30 more.  This really is great value, considering that the unit comes with a great collection of accessories
Tongs
Low food grill
High food grill
Baking Tray
Steamer Tray
Oven Height Extender Ring
4 x skewer forks,
Toast rack,
Rice dish
The previous oven from this company was exceptionally well made and reliable. From the feedback already received about this new model, it would seem they have another winner!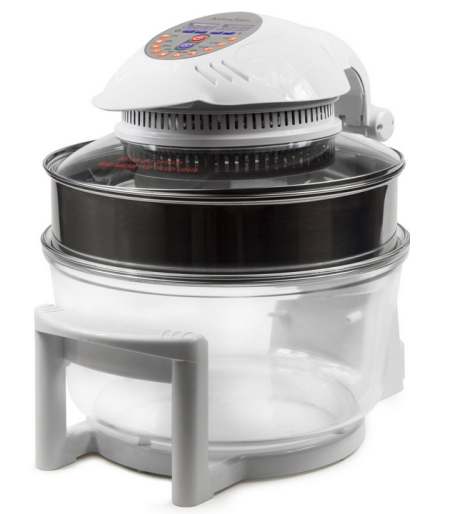 For easy and repeatable results, the digitally controlled model is perfect. They have made it even easier, with automatic preset cooking times and temperatures for pizza, rice, cake, toast and many more. For normal use it is extremely simple, just set the minutes on the left, the heat on the right and press GO
buttons 1 to 10 are the preset times and heat settings
11/12 set the time
13/14 set  the temperature
Easy Replacement Halogen Element Included
Andrew James have addressed the problem of the fragile element by making replacement very easy and by supplying a replacement free with the kit. On so many otherwise great halogen products from other manufacturers, this task has sometimes meant an untimely end, with the unit ending up in the bin. Not so with AJ Halogen Ovens. Please don't get the impression that it happens every day, it certainly does not. In fact, our original model Andrew James is still going strong, with its first lamp perfectly intact, despite a camper van holiday in France and being lent to the scout's group a couple of times! As long as you don't drop the cooker, it will serve you well.
Specifications
 240v 1400w

Dimensions L x W x H    330 x 340 x 470mm
Weight 6.36 kg
Temperature Setting 50 to 250°C
Time setting 60min 
Economical Cooking
A Halogen oven of this type will use around 0.8 kWh at 200°C compared to a standard electric oven at over 2 kWh. 
The halogen also cooks faster, about 40% faster. 
Which all means a 64% saving in Fuel.  Very welcome since our bills are going through the roof in 2022
What the Buyers Say…
This was bought for my mother to replace another where the bulb had blown and could not be replaced. The main advantage of this was the fact that it came with a spare bulb which can easily be changed.
After we received our Oven we firstly tried Jacket Potato's from the book supplied they were perfect.
We then tried a 3lb Chicken at the same time potato's for roast they both came out to perfection we are so pleased with our purchase we should have got one years ago looks like most of the time our cooker is going to be redundant.
This oven is so much easier than the one I had before and not as bulky, easier to handle, love it.
I use it most days as it does exactly what I need. And if like me you are unfortunate enough to have it go wrong, do not worry as this company's after-sales service is the best I have ever had to use.
Of the 762 amazon reviews posted an amazing 562 gave a 5 Star rating, a sure sign of a good all round product ! (April 2015) The fact that it is still available now in 2022, despite all the competition, proves it is the best halogen oven to buy
Best Features Best Price = Best Seller
Undoubtedly this Halogen Oven model is going to be a top seller, it has everything that we have been waiting for and a very good price. I am sure that even those who have been hesitant so far, perhaps because it was new or unknown, will now be confident to buy. In one respect alone, that of the handling of the hot lid, these improvements will attract many more customers to this cheap, speedy, economical, healthy way of cooking and with such tasty results. There is no doubt, the Halogen market is now maturing, with good reliable products and this model will be a world-beater.
** OUR TOP RATED REVIEW **
The Andrew James company has released the ultimate Halogen oven with digital settings and a hinged lid. It is a true 250°C heat on maximum, unlike some of the cheaper ovens. It has already proved to be as good as the previous Andrew James offering, and now has the safe hinged lid design…
Excellent, Totally Recommended.  I rate this oven 10/10