Morningware HO1200M-WR Halo Oven is complete with an extender ring, which when fitted makes this the largest capacity oven in the review at 18 liters.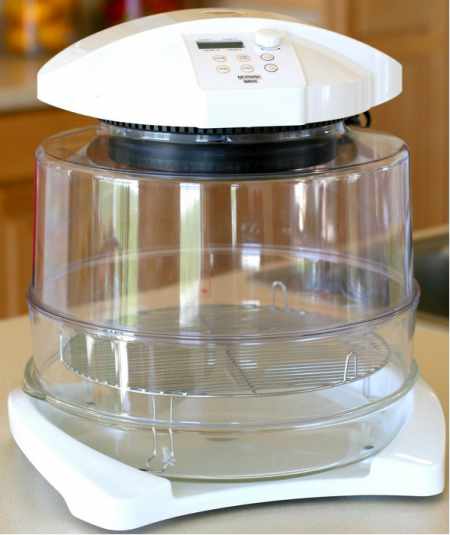 It has digital controls for heat, timer and fan speed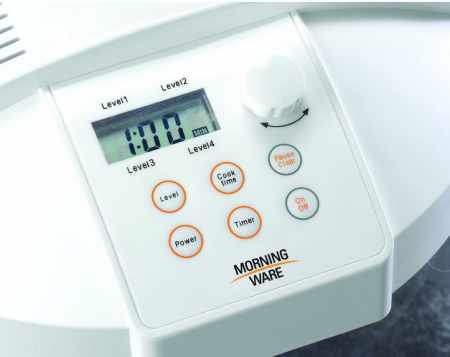 Picture shows the powerful halogen lamp and the fan ( variable speed in this model )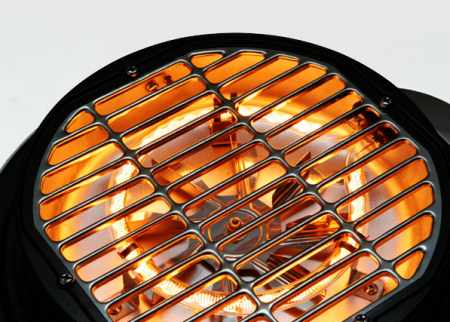 The cooker top ( containing the heating element ) can be rested on the integral rack, a much better arrangement than the other halogen ovens reviewed, where the rack can go skating off on the work surface.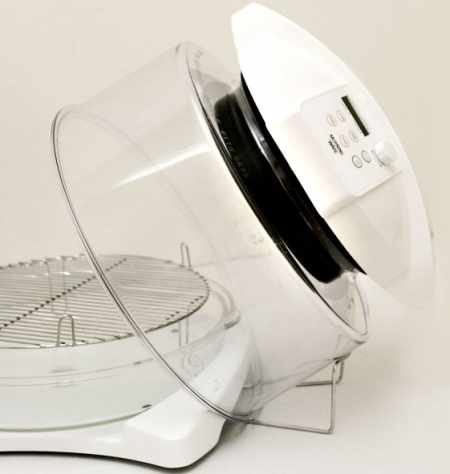 Great Accessibility
The base is made of Glass, the top of hardwaring  heat safe plastic.  As plastic is a better insulator, there is a smaller risk of you burning your hands. Our team all thought that the construction of the oven, with the side walls integrated with the lid/ heater was a big advantage, making rearrangement of the food, for example turning a chicken mid way thru, very easy indeed and less likely to cause injury touching the hot sides , as the food is completely accessible.
Specification
Cooking capacity of 18 liter, holding up to 23lbs turkey
Digital controls
Cooking temperature from 185°F up to 400°F
Cooking time from 1 minute up to 10 hours
2 hours of cook time delay function
Dishwasher safe
Stainless steel grill with a tempered glass tray
Bake, Broil, Roast, BBQ, Toast, Grill, Steam, Air fry, Dehydrate
Package comes with Instructions, 50 Recipes, Laminated Quick Start Cooking Chart and Warranty Card
Weight: 13 lbs.
Dimensions: 14″H x 13″L x 11″W
Electricity: 1200Watt
Reviews from purchasers of the Morningware Halo were all impressed with the results, the meat cooking to perfection and still moist
 I've cooked a 13-lb. stuffed turkey, salmon fillets, a 4-lb. chicken, a casserole of stuffing, a lemon pie, peanut butter cookies, fajita vegetables, sliced sweet potatoes, and a frozen pizza. It took some trial and error but I think this will work well for me
 I've already used it three times with excellent results! I cooked an 8 pound ham in under an hour, and it was the juiciest ham I have ever made
This Infrared Convection Oven cooks 30% faster than its competitor. I owned another Infrared oven but it was slower to heat up, where the Morningware Oven comes on instantly
there were very few problems reported , in fact overwhelmingly good reviews, especially as this is far from the most expensive convection oven in the review. One or two expressed the view that the plastic would not wear as well as glass, but there were no actual breakages reported at all. One last advantage of the upside down design is that the substantial glass base unit can be used to serve your food straight to the table.

.
Download the MorningwareWO1200-Manual operation manual
Very Impressed , good solid infra-red / convection oven with no problems and great results rated 7/10 in our review, making the Morningware Halogen a great buy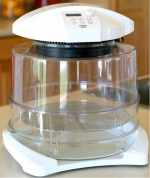 ,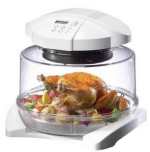 The Alternative model Morningware HO1200M is the same but without the extender ring. Even without it , this offers a super capacity  Halogen oven of  still bigger than most of its rivals in our review
.