Versatile Fryer
This model gives unprecedented control with not only 100 presets and 50 more that you program yourself, but up to 5 stages within each program!
You can Sear, followed by gentle heat, followed by high heat for a short period….. you get the idea.
Programs have been around a while but this is amazing.
Nuwave's Air fryers for 2022,  the Brio series, are available in several size models 6, 7.25, 8, 10 Quart, as described on this page, and then the Oven-styled 14 and 15 Quart models.
This 8 Quart size, is big enough for most jobs, cooking single or mixed items in the drawer unit.
The Brio uses a standard layout, heating element, fan, and food drawer
Capacity 8Qt / 7.5 Ltr
1800 watt  max
Temperature 50°F-400°F / 10 -200°C
Timer 0 to 100 Hours depending on  temperature 
Weight 16.9 pounds / 7.6Kg
Dimensions 16.5 x 15.1 x 13.1 inches
Power cord length 4 feet
When cooking is finished, cleaning up it simple,  the tray will go in the dish washer. 
If you cook fatty foods, eventually you may get white smoke coming from the heater element, as with any make or model. Just follow the cleaning instructions given.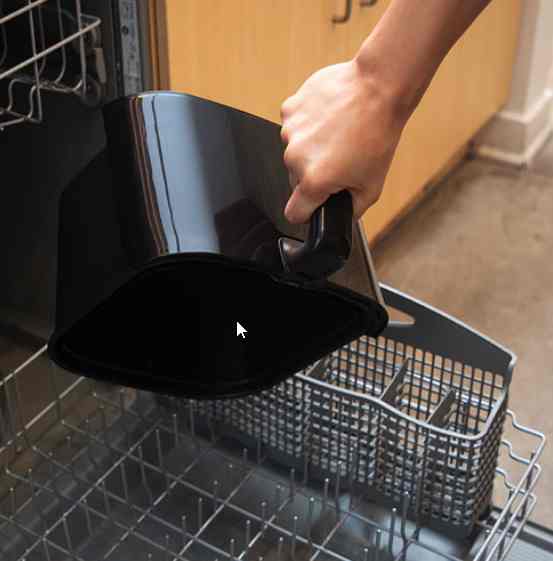 Controls On the Nuwave Brio
Similar to the Philips Air Fryer, the layout has Temperature, Timer and  program buttons
Temperature is shown in Fahrenheit but can be changed to Celcius with the Sear+Up buttons
You can select the wattage of the heater to be used  700, 1500 or 1800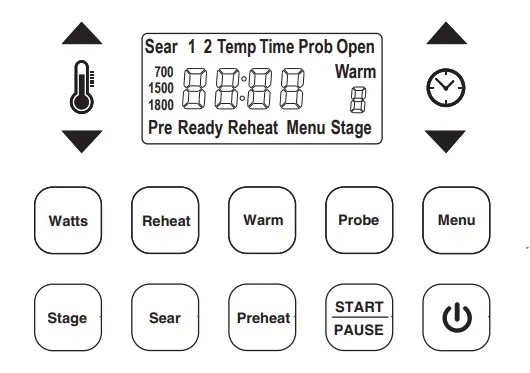 To Shake the tray for fries or flip the contents, the program halts if you take out the tray or press Pause and resumes when you reinsert it. 
Preheating
The Brio will automatically preheat up to the set temperature. This can be set to OFF if required.
The Temperature Probe
This is where the magic happens. Rather than setting the heat, which is a bit arbitrary as your food might be thick or thin,  dry or moist and so conduct the heat differently; the probe senses the temperature deep within the food resulting in a perfect match every time.
Programmable Settings
The Brio Fryer comes with 100 preset programs and you can program another 50 yourself.  The self-programming is outlined in the Handbook which is downloadable below. 
air frying
roasting
broiling
grilling
baking
dehydrating
However the exact functions 1 to 100 are not even listed, so I'll update my post when I have those details.
Brio customer Handbook
English & Spanish
I'm so glad I made this purchase! Don't mind the smudges … the air fryer was delivered in perfect condition. It's a little big for my counter but I loved air frying my brussel sprouts. They came out crispy and delicious. Just sprinkled some olive oil, black pepper, garlic powder and himalayan pink salt, put it in the fryer at 390 (per the manual) for 15 minutes and they came out great! I like the crispiness, so if you like your brussel sprouts less crispy, just decrease the time to 10 or 12 minutes – you won't regret it. The dimensions are approx. 11 x 14, and the basket is 4 1/2 from bottom of rack to top of basket and 8 1/4″ wire basket. Next I'm going to air fry chicken breasts and I'm positive it will turn out as yummy as the sprouts. I've only had the fryer for a couple of days so I do hope it lasts for a while. Happy healthy cooking!
2
We knew nothing about air fryers and purchased solely on a friends recommendation. How we love our new-wave air fryer! We have used it every day since purchase for porkchops to zucchini fries, to cauliflower crust pizza to coconut macaroons. We are eating keto and the fryer is a perfect compliment to our diet. Clean up is relative easy and the food is hot and delicious. It has simplified our meal prep. PS please try the zucchini fries-low carb, crisp and greaseless.
3
Wow..im diggin this NuWave 6 qt Air Freyer..at the time of purchase I didnt know it even Bakes Pies in 15 min, Roast a Full Chicken, Broils steaks and Grills meat in 10-12min, all your Veggies or French Fries it also can handle..It is 6 qt capacity so big enough for the whole family or capable for 1 person like myself. Cooks the meats and chicken tender and juicy.. I had the best Lemon Pepper Chicken Wings last weekend I have ever tasted.. all under 15 min max for anything you cook..Im super excited for this purchase and highly reccomend the Nuwave 6qt air fryer to anyone shopping for an Air afryer. 6 pre-programmed cooking temperature or 100-400° set yourself. You can even dehydrate fresh fruits and Veggies for healthy snacks. Its dishwasher safe and come with a 36 recipe cook book. Nuwave 6qt Air Freyer..dont shop around this is the one you want..was the beat priced one I seen and also was here in 3 days thanks to Amazon..Love my new Nuwave Air Freyer I highly recommend this brand
4
I purchased this air fryer to replace a model I bought years ago when these cookers first became popular and they clearly have come a long way. I wanted more room for larger meals and this model has lots of space. It is easy to use, not terribly loud, and cleans up well. I have an open concept kitchen/living room and in the summer months, this is a great alternative to turning on the oven and heating up the whole house while still being able to prepare a hot meal. Update 12/20/2020 – I still really like this item, but within a few weeks of use the printed ink on the buttons has nearly disappeared just from being touched. I know what they are now since I use it almost daily, but the manufacturer needs to upgrade their ink or something.
Rating and Recommendation
I found the 'user manual' short on detail, although it explained a lot about this complex machine, it fell short in describing the app – actually I dont think it even mentions it. 
 There is no doubt that it is probably THE most versatile airfryer on the  market. Pity about the print used on the controls. Here's where Philips touch sensor control panel wins over.
Great for everyday quickies like fries and very Good for a family of  up to 3 or 4  and very useful especially when entertaining and your main oven is already in use.