The Oyama Turbo Convection Roaster Oven model TRO-110U is very cheap…but is it any good? We explored its features and checked how customers found it.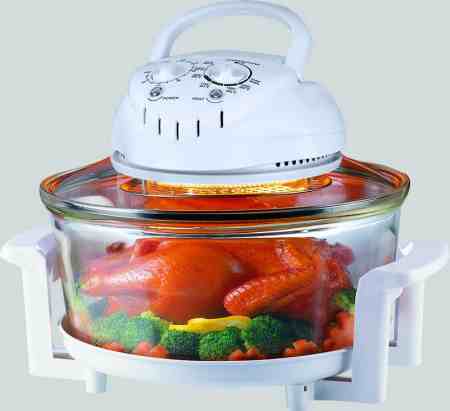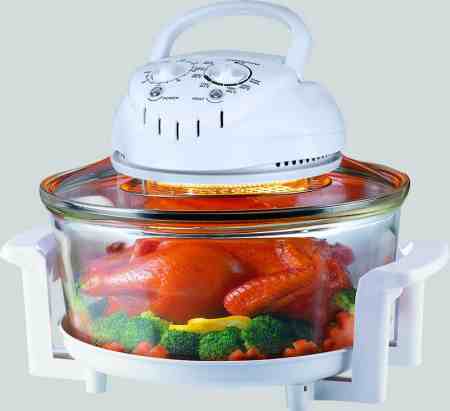 Main Features
Conventional design glass  bowl with heater in the lid
NOT Halogen! It uses a direct heating element
High Speed fan for even cooking
supplied with a wire rack only
Capacity is 10.5 quart ( 10 liter )
Simple Dial Controls for temp and time
Scoring  an average 4.3 stars out of 5 and having 5 star ranking given in 57% of all reviews takes some beating !  No doubt the super low price has something to do with it, but really, this cut down basic model is in BIG  demand. It is absolutely ideal for college kids, students and anyone living alone. The standard size Halogen cooker is 12 Liters , so the Oyama, is slightly smaller at 10 liters, ideal again for single meals.
The Oyama in Operation
Although it is quick, it isn't quite as quick as an equivalent Halogen heater. Halogens give instant heat, but this model, partly because of its size, does a pretty good job and will cook frozen items, straight thru and make an impressive and very tasty meal. Meat joints, fish and Chicken both  whole and pieces were terrific ! they didn't lose flavor or moisture in cooking and cooked evenly. Using the wire rack, you could do vegetables or potatoes at the same time as the meat, under the rack, just be careful to leave some space for the hot air to circulate, don't pack things in too tightly or it won't cook. Ideally if you have a perforated dish, put some water in the bowl base, that is the best method of steaming the veg and cooking the meat on the rack.  I did  like the fact that the temperature settings are in Centigrade/Celsius as well as the more usual Fahrenheit degrees.  It helps if your recipe is perhaps from Europe, saves making a monumental mistake converting it !
Cooking Accessories
If you're going to use the Oyama  frequently, I would recommend you purchase a few extras, Amazon have a set available for the few ovens sold without. For most Halogen ovens with the deep bowl design tongs to extract the food on or off the rack are  fairly essential if you are to avoid a burn. Oyama provide a peculiar handle which will lift out the rack. Although as I have said a few times on the blog, the wire lid racks are not perfect, they tend to skate around  on the counter top when you're trying to put it down. The lid remember is HOT and fairly heavy, so you do need somewhere safe to put it when you are moving the chicken around or lifting food out at the end of the process.  I do use the perforated pan for steaming vegetables a lot, so I would recommend at least those few parts, to make life a bit easier.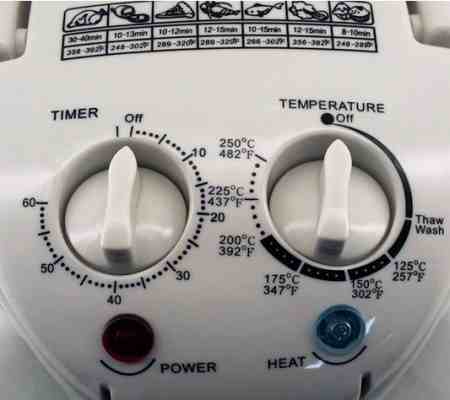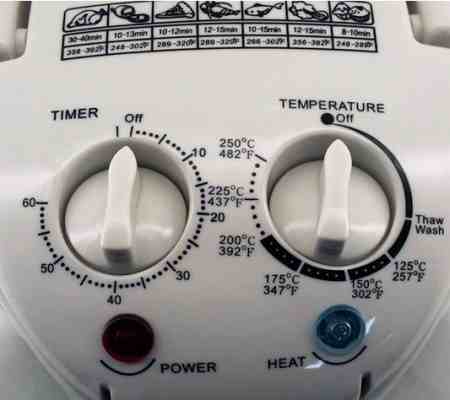 Take a good look at the control markings – I can almost guarantee that they will have rubbed off within a short time !
Also the printed guide settings shown here are the only guidance you get! There is no instruction book as such, just a couple of pages with about two recipes, so arm yourself  with a good Halogen cookbook.
What the buyers said about their Oyama Oven Purchases
the oven overall works great. Food generally cooks in less time than it takes to cook in our wall ovens, and I suspect at much less wattage
Clean up was amazingly easy as we had lined the bottom of the glass bowl with a sheet of foil. Fast, easy, low energy consumption and great tasting food! Can't beat this for the price. Oh, and did I mention it also fun!?
I am using this little jewel to avoid heating up my kitchen, I live in Houston where it gets really hot in the summer.
I rarely use my regular oven these days. Most things I want to make I can do in the turbo oven faster and better. It saves on time and energy costs when compared to a full sized oven. You can do a roast or a delicate piece of fish with restaurant quality results with little effort. It is without a doubt my favorite kitchen appliance.
Buy Now OR Add to Amazon Cart

Click on links below to check out latest prices
.