10 litre capacity / 15 litre with extender fitted
1400 watt max heating element
Temp 60 to 250 degrees in 10° increments  
Timer 120 min 
Lid handle cuts power off
Dimensions (cm) 32 x 41 x 33
Weight 6.38kg
Accessories: 2 racks high and low, extender ring, grips12
The Cookworks Digital Halogen Oven in use
The Cookworks  digital is not revolutionary, but the digital settings and display gives a better way and more repeatable way of using these remarkable cookers.  Most of the simple variety are fitted with infuriating clockwork non reversible timers. Digital allow you to make and change any setting instantly.
I did notice a few negative reviews concerning heating and the handle not working properly,  the lamp not being replaceable. The sample tested was fine, it cooked well using normal settings that I use on my own halogen oven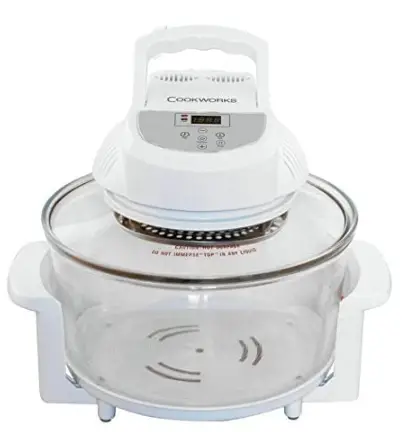 Most  models had 2 litres larger  capacity than the Cookworks model, which measures 10 litres and 15 litres with extender. 
For cooking  multiple  items of food  together, use the extender ring which extends total capacity to 17 Litres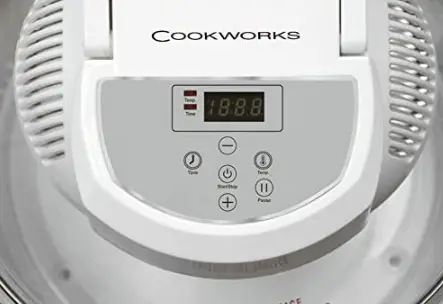 The time is set by first selecting the clock symbol on the left, then adjusting with + or -. Similarly Temperature on the right in 10° steps. Cooking can be paused. The lamps show  which parameter is shown on the display Time or Temp ( in degrees C ) 
Extender Ring
Low Rack
High Rack
Wire Lid Stand
Tongs
manual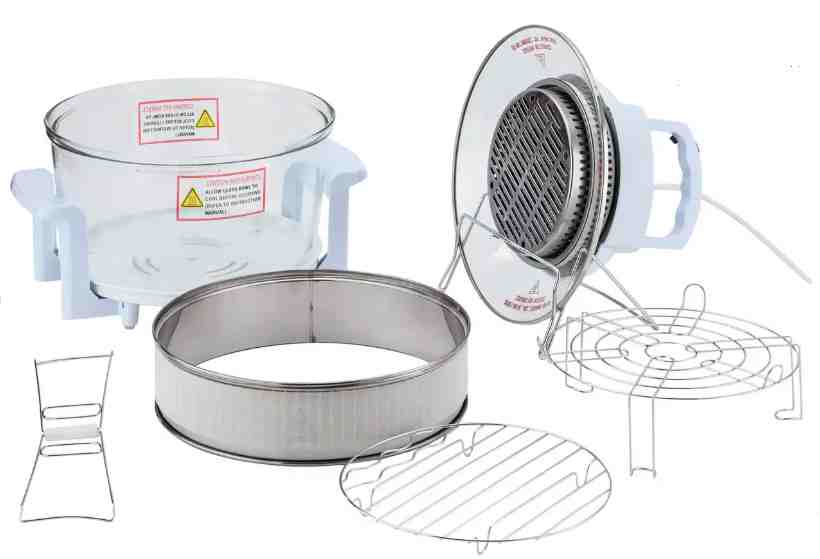 What buyers of the Cookworks said...
This is the third halogen I have had. I would hate to be without one. It makes cooking so much quicker, therefor so much time on my hands. The only snag is that the bulb is not replaceable, hence having three ovens. However they have lasted a fair while., and I definitely recommend this.
Perfect little cooker, cheaper from Argos
Reviewed in the United Kingdom 🇬🇧 on 23 October 2019
Ive left the value for money out because you can buy this from Argos for more than £20 cheaper at Argos price it certainly is value for money
I have arthritis in the hands, and it is really difficult to press the buttons to set the temperature and time, you have to push really hard. Then, when it has been set, the handle bounces up so that it doesn't turn on. It has to be pressed down and held, but still raises itself a little bit, though it doesn't stay on.
This is the third one i have had over the years i use it everyday so much cheaper than using the oven i love mine
Cooking, power and price more or less standard, Digital control makes repeating a dish, easy. There were rather too many complaints about the product and over a wide range of issues so I had to give it a low score 4/10