Fagor 12 Quart Halogen Infrared cooker is a great low price model of the most common design – Large glass bowl with the Halogen heater in the lid. A good range of accessories come as standard, including tongs, 5 quart extender ring, high and low racks, Lid Holder and a non stick fry pan-tray.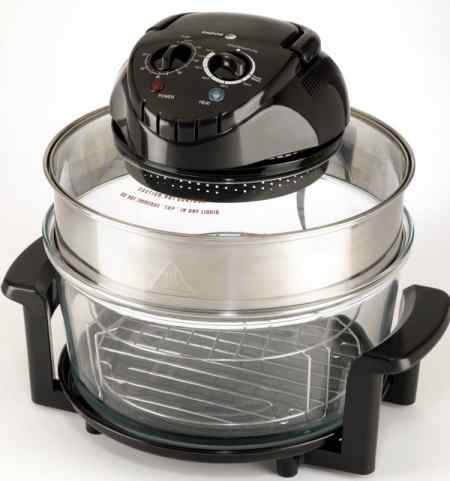 The Fagor with its extender ring in place, giving a total of 17 quart ( roughly 17 Liter) capacity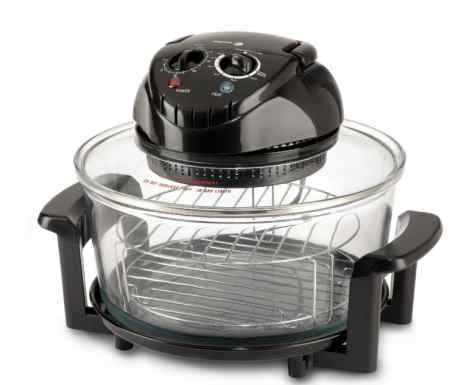 Overall an excellent kitchen appliance, cooking food well and as advertised, much quicker than conventional ovens.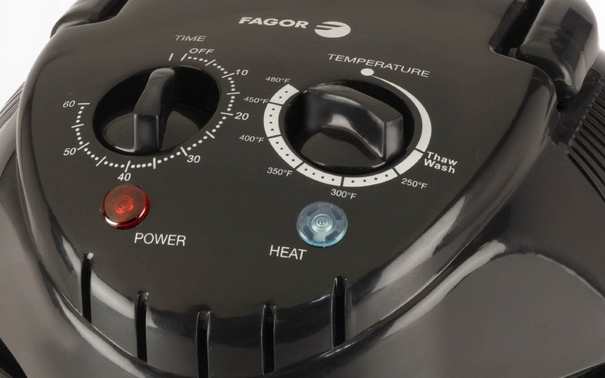 There were as always one or two items received with faults, but only one fault was mentioned more than once. Of the feedback received from customers who bought this product, the lid handle which acts as a switch, turning the unit off as you lift the lid, was found to have broken in the 2 negative reviews. The vast majority gave this budget price cooker a 4 or 5-star rating for its function.
Watch Tony Scruggs ( Fox tv Masterchef ) as he demonstrates all of the Halogen Oven functions, roasting, baking, steaming, and frying using the Fagor Halogen.
What the Buyers said about the Fagor…
It really is wonderful. I can cook in a meal in minutes instead of hours. I am handicapped so it is a pleasure to have this.
Love cooking in this. Makes the juiciest chicken and fish straight from frozen. This model, with the glass base, is so much easier to use and clean than the Nu-Wave version with the plastic dome.
We live in our RV in Florida not a place you want to light your oven to bake, this is a life saver, I can cook anything I would normally use my oven for and not heat up my RV.
I LOVE my fagor! I've had it for several months and use it at least twice – three times a week – sometimes more. I was very anxious to get this and this item works beautifully. I really like the fact it cooks something rock solid frozen. I've cooked chicken, pork chops, country ribs, meatloaf, egg rolls and pizza. Everything came out perfect.
The Fagor has standard features , is well  manufactured and represents Very Good Value especially with all its included accessories. Highly Recommended 8/10 and with a  very low price.