With a Rotisserie, enamel baking tray, stainless steel oven rack, and air fryer basket, this Oven has it all, it will save you on energy bills, cook way faster than a conventional oven with virtually no warm-up time, thanks to the quartz heating element which cooks with instant IR (infra red) light, similar to a Halogen Oven, but far more robust.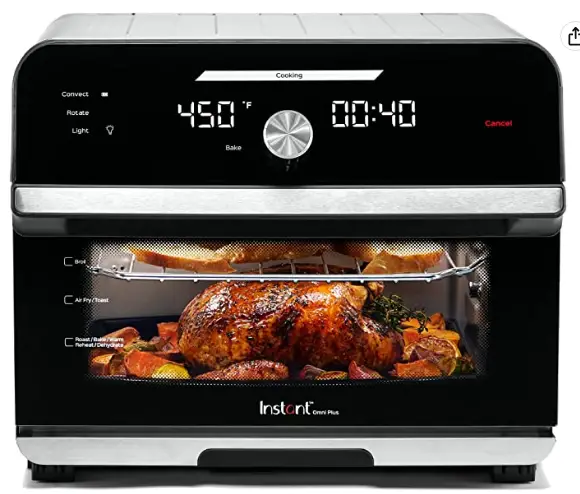 Omni Oven Specifications
Capacity 19 Qt / 18 litre
1800 watt 110volt
Temperature range range 85°F to 450°F / 76°C to 232 °C
Dimensions12x12x13.89 inches / 42 x 40 x 35.3 cm
Weight 25.43 pounds / 11.56Kg
10 functions:
Air fry, broil, bake, roast, dehydrate, reheat, rotisserie, toast, warm, and convection oven
keep warm auto-active after cooking
fits 12W" pizza or 6 slices toast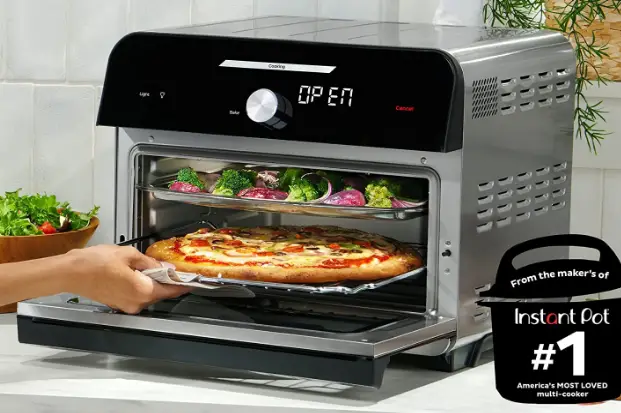 The Omni Oven in Everyday Use
I guess the biggest advantage of this design, is the glass door, you can keep an eye on cooking progress so easily. Over time the glass will become stained, so do clean it regularly after each use with a simple cotton cloth and washing up liquid.
Cooking a whole chicken: the Omni will easily accommodate a 4-pound bird on the rotisserie.
You can cook on the rack and the tray at the same time, as with any other conventional oven.
A good tip when using the rack only is to keep the tray in the oven at the bottom, catching the drips, making cleaning up even easier.
Here are the default settings for the preset functions on the Omni Cooker
The Omni Plus Oven Controls
Select your preset function
Set Temperature
Set timer
Set how dark you want the toast
Main Control Dial
Fan Speed ( high or low)
Rotisserie (on/off)
START cooking
CANCEL
Oven light (on/off)
Cooking Status bar

Several comments referred to the speed of cooking, it is worth experimenting with reducing time or temperature by 5% or 10% until you get the results you want.
What the Buyers said…
1 If I was only going to rate the cooking, I would have given this five stars. But there is more to it than that.
The temperature is more consistent and the cooked food is crispier than any of my three previous toaster ovens. I use my toaster oven approximately three times a day. The food is crispy and crunchy and delicious. There is a learning curve and they do warn you that everything cooks faster. And it's true. This doesn't bother me. And I love the keep warm feature! Also, I think it's absolutely brilliant that the device stops cooking and the timer is paused when the door is opened.
2 Instant Pot has done it again! Made my life easier and more fun in the kitchen! Intuitive and and easy to use but comes with great set of instructions for a good quick start or if you have questions about any of the functions. Love the Digital Touch interface and size of cooking space inside oven with great tray, rack and basket. And MUCH more useful than my old basket air fryer since you can toast or broil as well in the Omniplus without the item like a rice cake or piece of toast banging around with the convection hot air blowing!
3 After my well-loved Cuisinart convection toaster oven finally died, I was on the hunt for a versatile device which would not only do convection cooking but also air fry and dehydrate. I spent a lot of time going through reviews and finally settled on this one. I do like it, but…. for one thing it's quite large. This is good because it can handle a lot of food, including pizzas. However, beware that it takes up a lot of counter space
4 We waited to use it a bit before reviewing it and now… It's the most used appliance in our kitchen not counting the refrigerator! I was concerned with the air frying quality since it was a combo toaster oven and all… But that concern is gone. It's a good quality air fryer. The other functions work as well although we use air fry the most!
Several customers said that rack and/or tray do not quite fit properly in the grooves and fall out, so do check this.
Review Conclusion and Rating
With well over 12000 ratings on Amazon since the product was introduced in 2021, this is a very popular choice of toaster oven, it has excellent preset functions, which are programmable so it remembers them next time.
The Omni Plus has enough room to cook most things and does so extra fast (several comments refer to speed)
For the sub $170 price tag it is hard to find anything else that beats the value.
I gave the Omni Plus a 9/10 rating