The 9270 and 9280 are the XL size Airfryers, the spec is the same, but the 9280 has the App control built in
Philips wrote the book on AirFryers and have followed their tried and tested formula with this HD9270 and 80 models.
Philips 9280 Specifications
6.2 litre capacity
2000-watt heating element
Temp 75 to 200°C
Timer 60 min 
Digital Display
Touch Screen
App Control (9280 model)
The Philips in Every Day Use
The body is warm to the touch during use, but not like the typical glass bowl of a halogen so there is no danger of burns
The display is clear and easy to understand
The control panel is a true touch panel, not a cheap membrane switch type
 After use, the unit will shut down (standby) after 20mins with no commands
There is the Philips+ app available for Android and IOS from the Philips website simply pick, click and swipe to send to the Philips!
Temperature can be displayed in °C or °F simply hold Temp up and down buttons for 10 sec.
The "keep warm" timer defaults to 30min.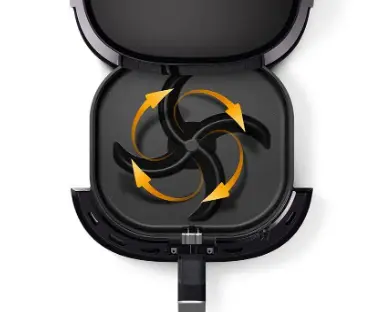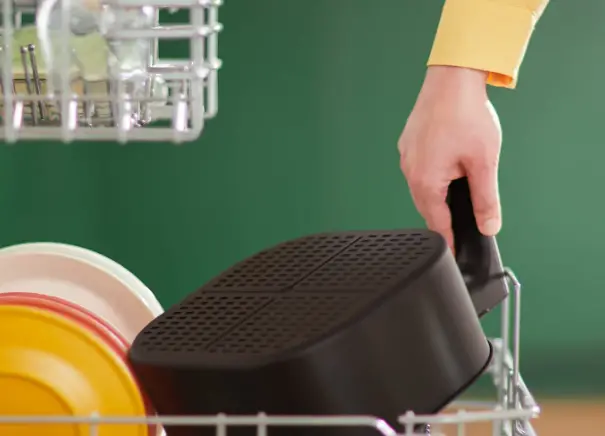 Philips touch screen control panel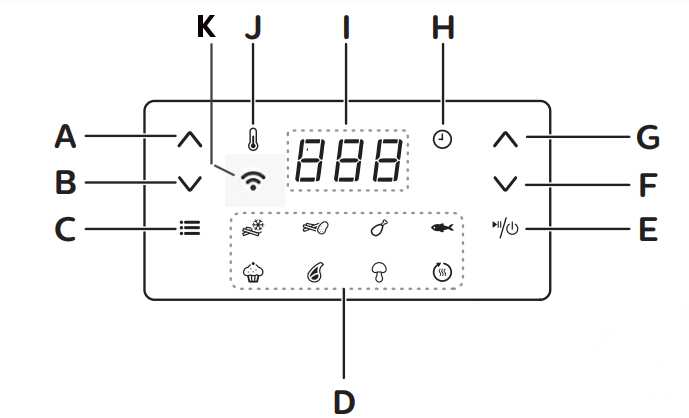 Control panel
A. Temperature up button
B. Temperature down button
C. Menu button
D. Preset menus
E. On/Off button
F. Time down button
G. Time up button
H. Time indicator
I. Screen
J. Temperature indicator
K. Wi-Fi indicator
Use NutriU app to see hundreds of recipes including Frying, baking roasting and grilling. 
Store your own recipes,  for easy access. 
Choose your recipe and swipe to send it to the Philips !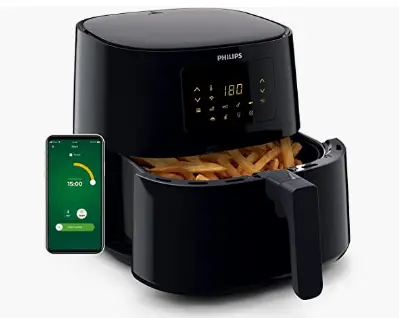 What buyers of the Philips HD9280 said...
All pretty good. I'd rather have this bigger size air fryer than the smaller one and I'm on my own. The frying space doesn't look as big as I'd expected it to be. Makes things crunchy with no oil at all lol. The controls are basic. Not completely touch screen. Has presets or you can choose your own settings. People are saying that it cooks faster than an oven so good energy saver especially with our current sky high energy bills etc.
So I finally relented and purchased an air fryer. I looked at eleventy billion different ones but, being a bit of a techy, I went for the Phillips one. I've tried various different recipes now and they've all turned out fantastic in far less time than my conventional oven. Last week I cooked a roast chicken and today I'm doing roast pork. You just choose from one of the recipes and swipe to send it to the air fryer. Absolutely fantastic and much more economical , and let's face it, we could all do with that right now!
I've used this airfryer for roast potatoes, it was so good. Used it on fish, oh my gosh, it was good. Used it on chips, it was perfect, used it on a whole chicken, yes, you heard me. A whole chicken and it was good. Used it to bake cake, it was marvellous. Am impressed with this airfryer and I highly recommend
Philips have a good & trusted name and this product will only enhance it. Super smooth operation, Standard features on the 9270, enhanced with the App control on the 9280.
I gave this model 8/10