Ninja have a good reputation for their "Foodi" multi cookers, so how does their Air Fryer stack up?
Specification of the Ninja air fryer
Capacity 4Qt ( 3.8 Litre )
Element consumption 1550 watts
Dimensions 8.5 x 12.1 x 11 in
Weight 10.58 pounds
Cord length 2.6 feet
basket coating nano ceramic (not ptfe)
Control – Digital – touch buttons
Temperature range 105 to 400°F
Timer 60 mins ( has a "shake" reminder )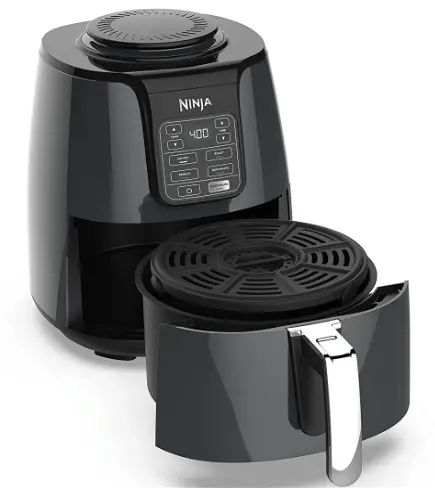 How the Ninja Performs
Ninja recommend that you preheat the unit for 3 minutes before any cooking. When it first comes on, it will be at a pre-set 390°F. Cook with the crisper plate inside the pan. Note that taking the basket out, does not pause the cooking so always click "PAUSE" first.
You can use the rack to cook two items, for example chopped potatoes can be part cooked at 360F ( with olive oil , paprika and seasoning ) for 10 mins, on the crisper plate, then place your fish brushed with butter, on the rack above the potatoes and cook for a further 10 mins. A very easy dish for anyone, even with no experience of the AF methods.
Just like a Halogen Oven, the air needs to circulate over all the contents to cook evenly, this can be achieved easily with the crisper plate.
The Ninja's Control Panel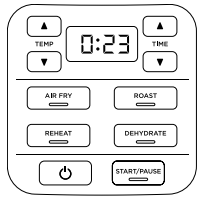 The layout of the controls is simplicity itself
Adjust the temperature (on the left) , then the timer (right)
Choose AIRFRY and hit START, to start cooking
What the Ninja Buyers Said…
1 This is my first air dryer ever – well, the second if I count a microwave that also had air fryer that I never used. That's why I always hesitated about buying one – I thought to myself, I have one in the house, so why would I need another, etc. while I was avoiding the other one because it's such a hassle to use? Eventually, I decided to give this one a try. I am in love. I am simply astonished at how better and healthier food tastes and how little mess it makes. I highly recommend it.
2 Easy to use. Cooks food fast. Still learning how to make a few things but so far it's perfect for frozen foods, like mozzarella sticks, frozen bacon wrapped scallops, potato patties. I tried making fresh meatballs, chicken, sausage and all came out moist and delicious. Very little mess and easy to clean.
3 I did not want an air fryer because I do not want to clutter my counters and my husband wanted it so I figured I'll give it a shot. If we don't like it we can always send it back right.
Anyway, it is awesome. We have made steaks in there that look like they were grilled. We have made grilled chicken in there amazing tender juicy. We have made shrimp wrapped in bacon that was unbelievable and my husband loves it. He makes bacon in it all the time it's easy to clean I don't have a house filled with smoke from all the grilling on the stove. I don't even have to turn my oven on as much anymore. It is wonderful best invention ever.
4 its ceramic coated cook surface did not have the failing nonstick complaints of the others, so I took the chance. I am so glad I did. Not since the microwave or grind-and-brew coffee maker have I added a kitchen appliance I am so happy with and used so frequently. A majority of food I used to re-heat or cook in the microwave is now being cooked in the Air Fryer with way better results. Basically if its something you might want browned or crispy, its the way to go. I have also made lots of food in int from dry rubbed wings that are as good as Wingstop or BW3, to crispy brussell sprouts like a gourmet restaurant, sweet potato fries and slices that are heavenly, perfectly cooked frozen treats like dim sum (that I used to microwave with barely tolerable results). I even used its dehydrator function to make my own beef jerky that turned out better than almost anything I have purchased. Cleanup is a snap, just washing out the nonstick drawer and its removable bottom plate. I would estimate 1-2 minutes to clean. I know this sounds like an over the top review, but I was frankly shocked at how much I use and love this appliance.
Recommendation and Rating
This model will suit all beginner "air fryer" cooks, its design is simple and intuitive, you will hardly need to look at the instruction book.
The construction is excellent, this product should be very hard wearing, the control panel is a true touch panel, like the original Philips designs, so there is no switch wear and tear. The 4 Quart size will be absolutely fine for 2 people, cooking very fast.
I give the Ninja a 9.5/10 rating
Return to the top of the US air fryer section