The Daewoo Halogen Oven has a standard One-hour timer and simple dial controls. 
With its super-fast heating method this is an ideal cooker for the winter of 2022 when our gas and electricity prices are going off the scale!  
Materials:  plastic  & Aluminium top
Cooking Bowl – Glass
Dimensions(cm)  15.75 x 15.75 x 11.81 cm
Weight : 6kg
Capacity 12 or 17 litres with extender
Power 1300watts ( 240v) 
Timer: 1 hour 
Temperature 125 to 250°C
Model SDA1032 ( 2019 )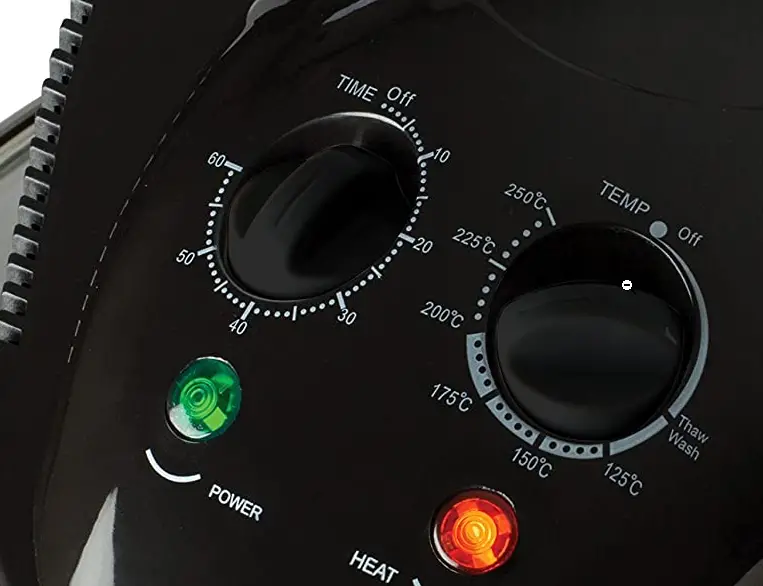 The Daewoo is extremely simple to operate with its 1 hour timer  and variable temperature dial. 
Daewoo Build Quality and Everyday Use
What is the Daewoo Halogen oven like to work with?  
This is a true 250°C oven
A very competent product. Basic bowl cleaning can now be done with the auto-clean setting. 
As with several other models the timer is a very simple dial type control but unlike several that I've tried, this one CAN be turned backwards (my thanks for this info to Jon  Boyle's comment) 
The cooker top handle acts as an cut off switch.
Should you buy a Halogen Cooker or a Multi-Cooker?
The more gadgetry – the more expensive.  Sure a Multi-cooker will do everything a Halogen can do and more (pressure cooking)  but you have to weigh up how often it will be used. The Daewoo is a basic model, cheap, reliable, and easy to clean.
If you're searching for a way to reduce bills, one of the best options is a
slow cooker
,  although it takes a long time, it uses not much more than a lightbulb's worth of electricity
so do take a look
The Daewoo Halogen Oven is a workhorse, able to cook most dishes, and works just like a conventional fan oven, but quicker and much cheaper to run
Interested in History? Follow the Rise, Fall and Rise again of the Korean Company Daewoo
What the buyers said about the Daewoo
In these crisis energy times this is a great way to save money. I have two grown boys who are always coming in at odd hours and wanting to cook something. The Oven is perfect. It takes a fraction of the time to heat up and also cuts down cooking time for ready meals. I bought this new one as I gave my older model to my son for University.
We have a largish kitchen so there is enough room on the counter top for it to sit 24/7 – I don't think it would get much use if it was packed away in a cupboard. As it is that is what works for us. Because it is ready to go at the drop of a hat we have used it on a daily basis to cook chips, roast potatoes, cod fillets, sausages, jacket potatoes, bacon and even a 2.5 kilo gammon joint. It cooked them all perfectly !! However, I would not recommend it for joints because when you try to turn them they can stick to the grid resulting in a wrestling match.
Our brand new Neff double oven, which can do everything bar whistling the national anthem is looking rather dejected because this air fryer has already taken over 90% of the oven work.
If you have room in your kitchen then consider upscaling to the 17 litre – well worth it and less than half the cost of most of the baby ones. I may come back when I check out my electricity bill – I have a feeling it is going to be a lot lower.

I had mine as a Christmas present for 2021 and it is Oct 22 and it still works. It is simple to use. I like the glass top so we can see how the food is cooking. I've cooked chips, sausages and bacon, apple fritters and fresh trout from the farmers market. Cooked very well I haven't used my oven in ages. The price is very reasonable compared to other air fryers. Even my not very techy husband loves cooking in it and reheating food. We are a two person household and we have one plate per person. The lid is quite heavy but we just put it aside, we are lucky to be childfree and don't have to worry about the lid falling on them. As someone who leaves ovens on for days accidently this is perfect for me
Download the Daewoo Instruction Book
Great product, simple and well made, at a very reasonable price, timer and temp dials work perfectly
  I give this 8/10 overall — recommended