1 New products with new features
Halogen ovens have been around for a long time now and if you opt for the old models you will be missing out for things have moved on. The technology has been refined, new halogen tubes are very efficient, using even less electricity. The newer halogen rings are much tougher than early ones. The designs of the lids has improved in several ways, to give less spattering into the element, to give longer fan life, quieter fan use and better hot air circulation. So have a good read through the reviews on my little website and make an informed choice.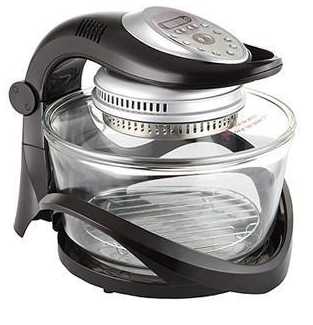 2 Halogens will save you money.
In the past year electricity and gas prices have soared, with some bills expected to be 10% higher than last year. If you are like most of us, in most European countries today , with austerity budgeting, no wage rises for the longest period in modern history, food prices also rising faster than ever before, plus household bills like petrol and mortgage or rent at an all time high, the  halogen is a breath of fresh air! It cooks faster than any other method, it cooks from frozen many meals that usually require a defrosting  period. It cooks meat and chicken to perfection. It hardly ever needs preheating like a gas oven and it is just the right size for family meals, so you're not heating a huge oven to cook 4 fish fingers for supper!  It doesn't heat up the kitchen either, wasting your expensive electricity.
3 Hinged Lid is safest type if you are not 100% able bodied.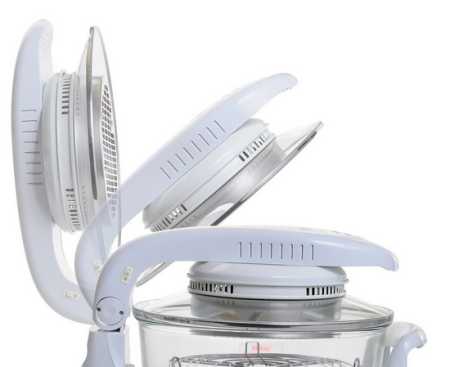 The simple addition of a fixed hinge lid to the standard Halogen Cooker has meant it is now suitable for those of us who don't have much strength or can't hold heavy things for long or cannot grip very well.  We take it for granted that we easily move around the kitchen and lift objects quickly. For those that don't, this is a life saver. The lid contains the heater element and should not be handled roughly – the hinged type lid solves that problem. The lid is also very hot so you really need to be sure you are able to lift it quickly and securely to one side, plus it is plugged into the wall making it doubly difficult if you are a little immobile. The hinged lid design solves this problem too, just open it up and it stays there safely out of the way while you attend to the contents of the oven.
4 make sure that the lamp unit is replaceable and cheap to buy
It has been a complaint aimed at the Halogen oven from day one, the heating element is easily damaged by rough handling. Sooner or later it may break, although  less so now, as the new generation of Halogen oven has a much better life span. Nevertheless, if it does break, you don't want that to be the end, a simple to fit replacement at a good price is an essential consideration. The benefits of the oven overall, make it very worthwhile to fit a new element if you can, rather than have to dump the whole unit.
5 Ensure there is no question of electrical safety
A simple point this one. Some halogen ovens are still on sale in the original form without the essential modifications to bad designs. If you go through the reviews on this site, my scores will make it clear enough, when there are a lot of comments and feedback from many customers about the same problems , like sparking electric cables, rusty element covers and poor electrical contacts to the lamp, the manufacturers of these models really should have modifications   ready and carried out pronto !  Or just replace it with a new  properly designed model.  They just don't deserve to have our custom, if they  don't.
6 Don't buy one with difficult to operate controls
It's a fact some manufacturers introduce technology that is NOT easy to use. Ok the old dials were dead simple, set up temperature with one and time with the other. Its fine to give your customers new digital controls, but if they are difficult to use, it simply puts customers off. I particularly like the Andrew James   model, that introduced digital controls, it followed the same simple layout as the old dial types and was a big hit –  because it was understandable.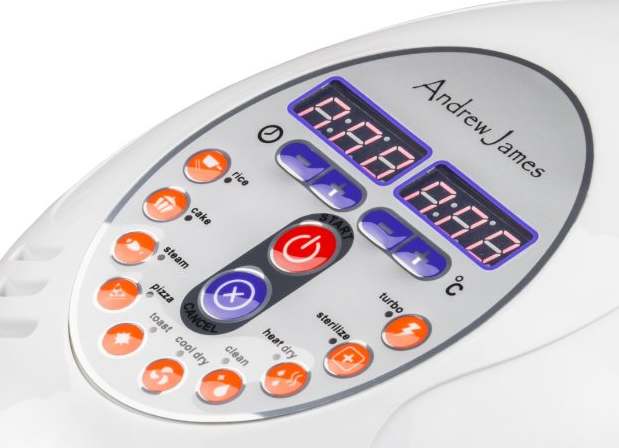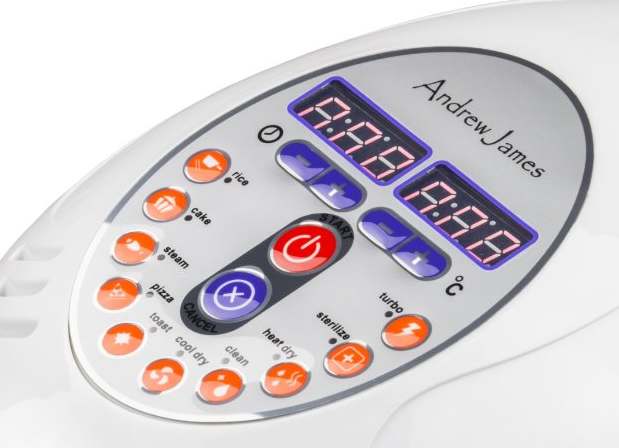 The advantages with digital are obvious,  in that times and temperatures can be set very precisely . In addition some would introduce new features like different fan speeds and delay timers, so you could have something preloaded in the oven and time it to start at  a later time.
7 Is the manufacturer in the UK( or US) and can be contacted easily.
So often I read reviews of goods bought in supermarkets, with an unknown name usually cheap, but not always, being commented on by some luckless customer who can't get a replacement handle or glass bowl. With the ones I review, you know where you are,  you can phone or email the service departments and order parts.  I never waste money on unknown brands now unless it is really cheap. Asda for example sell some kettles at an unbelievable £5 and they work properly !  But if you're going to pay out for a versatile cooker, make it a good one, the savings you make will pay for the  oven in no time !
8 Are spare parts available
The spare part that is crucial is of course the heating element.   For my own preference, the Andrew James models, a quick look on Amazon told me that the  element  is available easily and cheaply and the unit would not become an expensive burden.  I  haven't  had  the misfortune of a blown element but I have taken the cover off to have a look and even with my meagre skills I can see that the task is relatively easy.  As  my comments on the review pages will show  , this situation is not always a positive one, many of the ovens are criticised for being inaccessible, making element replacement too difficult to even attempt. Also don't attempt the job unless you can buy the right part.
9 Never burn or overcook your food ever again!
Cooking is controlled with a timer.  As a mom of teenagers I can assure you that they burn almost everything !  As soon as that pan of milk goes on the hob , or that pizza goes in the oven, their attention is instantly wandering, usually to the ipod, phone or tablet gizmos. Next thing the milk is bubbling over or the smell of burning pizza is coming upstairs or even setting off the smoke alarm. Well…. simple solution, buy a Halogen oven and it only cooks until the timer goes off. It will only cook with the timer engaged, so you can't fool it !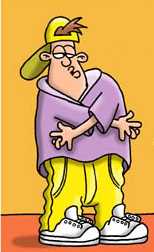 10 Which is easiest to clean up, A halogen Oven, A gas oven or a microwave ?
Easy! The Halogen will self clean the grease and most burnt on remains after use, but it is also dishwasher safe.   Cleaning the gas oven is still a messy job. Even the microwave takes a little while, but the Halogen makes a really quick meal and cooks it well, afterwards just pour in some  hot water and a squirt of washing up liquid and put it on "clean cycle" . The soapy water starts to swirl around the bowl and after a short while has cleaned off the worst of the grease. If necessary you can pop the big bowl in the dishwasher .