I was immediately attracted to this Ovation model with the Rotisserie and  with a 3 year guarantee. It has the mixture of the hinged lid which is very safe and the manual dials for setting temperature and time, I noticed a lot of good comments about this model on the internet and with the roti, its an outstanding price. However the comments on the Amazon site contain a few which have had a poor response from Ovation customer service.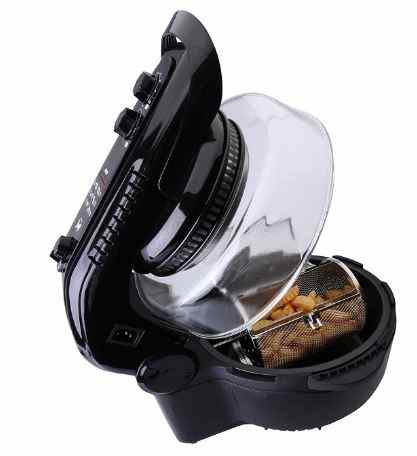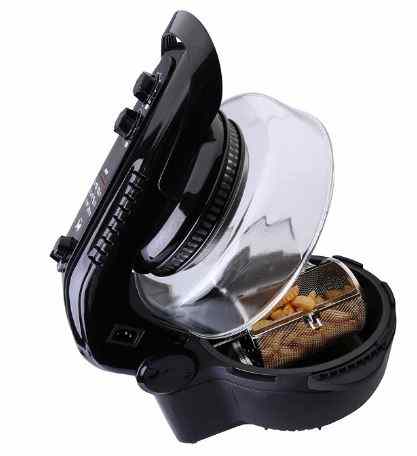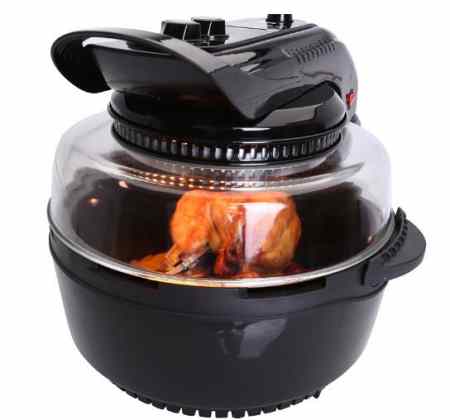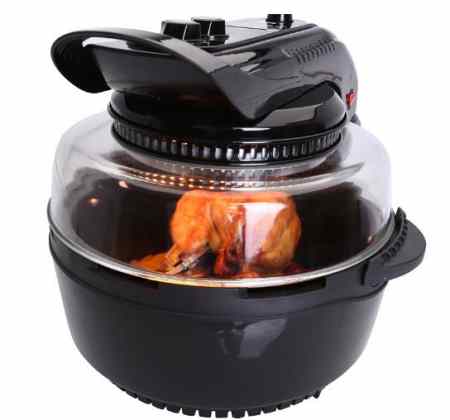 This Rotisserie Halogen Air Fryer makes it easy for you to enjoy your favourite foods, with less of the guilt. Using up to 80% less fat than a conventional fryer, this product makes cooking fried food with less oil simpler than ever. With a large 6.8L capacity and powered by 1400W, the difficulties of cooking for large parties or families is a thing of the past. Boasting an adjustable temperature control and rotisserie function, this item makes sure struggling to ensure consistent cooking in an air fryer no longer occurs.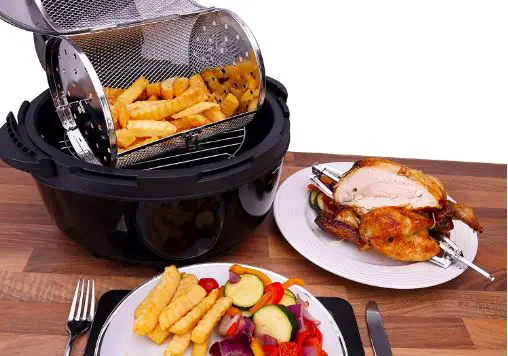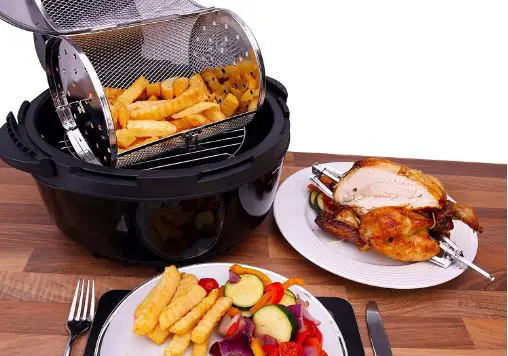 Ideal for baking, frying or roasting, the Rotisserie Halogen Air Fryer also includes a high and low rack to ensure food is cooked to perfection. An ideal accessory for any kitchen!
The Ovation Halogen Air Fryer also comes with the following accessories: a high/low rack, chicken forks, baking cage and tongs.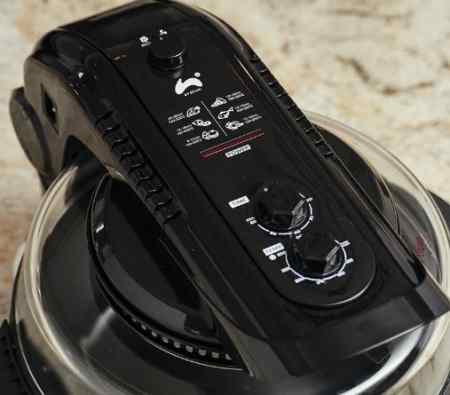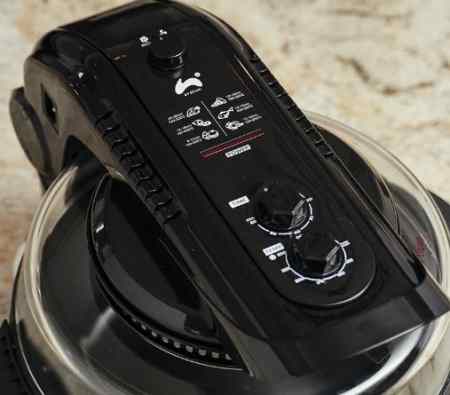 Specifications:
• 6.8L capacity Easily fit a chicken or big load of veg / fries
• 1400W – meets my cut off criterion, Ovens with 1300w heater or less are just not practical
• Weighs 6.83kg
• Two speed fan for greater cooking control
• Allows for fried food to be cooked with up to 80% less fat
Comes with Ovation's comprehensive 3 Year Warranty, after customer registration.
What the buyers thought…
*Love this product to bits. Easy to use and clean and it is great that it has a hinged lid (all though you do need to take in consideration the opening height if you have cupboards above your work surface. Its quick and easy. Purchased this as a replacement for my old halogen oven. Very pleased with it
* Love it. I've used it loads. Rotisserie chicken is amazing. Unfortunately 3 months on the non stick coating has come off the bowl. It's only ever been washed by hand with a soft sponge. I'm now on my third attempt in a month to contact ovation to resolve the problem but it seems they're not interested in customer service. Be warned. Once you have this you are on your own. The three year warranty means nothing. Such a shame as its otherwise a great appliance
*very easy to clean the pan is removable so it can be washed in the sink ,unlike the halogen oven with the glass bowl its light and as handles, the rotissie makes great chips with little or no fat/oil. Iv made cakes in it cooked roast meat (turkey) the hinged lid means your not having to move items of the unit top to make space for the lid ,its very well designed well made a very handy bit of kit
*I have still had no response from ovation. However. This afternoon I contacted amazon technical support and they have agreed to a return and refund. Shame on you ovation. I have already ordered a replacement from another company, it cost more but apparently they actually have customer service. 10 out of 10 amazon
*I bought this as it was advertised as 6.8 litre, but its almost twice the size of my old 7 litre halogen. I'm not sure how that works? Its quite unsuitable for a small kitchen as it takes up quite a lot of room
Conclusion:
I cannot really recommend this as quite a few of the  comments had very scathing remarks about the Customer service at  Ovation, which is a great pity since the unit cooks well and is generally well designed and made.
RATING 2/10