No big name on this product, but looking at the feedback from customers I thought it was well worth a look, especially based on the customer service department from Garden Secrets – always nice to hear. There were some inconsistencies in the descriptions  from different sources, but I found the correct  information and present it here. As usual the poorly translated instruction book was no use at all beyond checking the contents…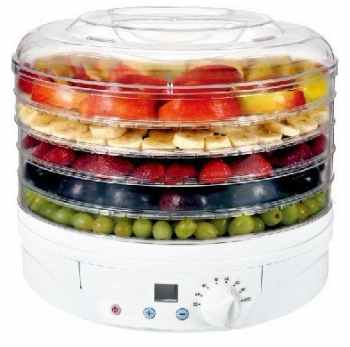 Main Features
5 Layers or Tiers  32cm diameter
Temperature adjustment 35 to 70 deg C
Digital Timer – up to 12 hours
Power: 240 watts
Auto shutoff
2 year No Quibble Warranty
Quiet in use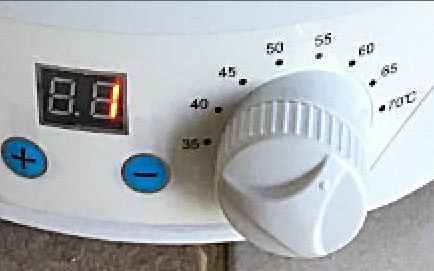 Low Power
The heater/fan consumption on this model is just 240watts, certainly economical, but I think it may be too low for creating crisp fruit chips, the other models tried were more than twice as powerful (  Andrew James 55owatts ) , so I would opt for another, if you want to go beyond simple drying, fruit leather etc. A number of comments said that the motor was quiet and although that's a good thing, it also indicates that it may not be effective, so moving the trays around at intervals may be necessary to ensure even drying, indeed there were some buyers that noticed that.
Tray Construction
In common with a number of these 'domestic' models, the plastic trays are a little fragile, they should be handled with some care when washing, to avoid damage. Some comments  did reveal transit damage, fortunately 'Garden Secrets' seem to be very good, so in all cases, they were replaced without issue. So check your trays carefully on receiving your goods.
What the buyers Thought about their Digital Dehydrator:
Excellent product. The lid came damaged (obviously happened in transit) and the seller was great to replace it immediately, and very easy to deal with. I have used it to make jerky, and to dehydrate fruit and vegetables. Very effective!
Not the clearest instructions of use, but dryer works well and doesn't keep too much noise, so can be used overnight too. As with all this type of dryers, you need to rearrange and turn the shelves during drying to ensure even drying.
Bought this for making kale chips and dried bananas, it's a good size, makes a big batch at a time. Heat moves around evenly.
There are a lot of "posh" dehydrators out there for £200+, aimed at the "raw food" movement, which requires that food be dried at a pretty low temperature to preserve its enzymes; and there are quite a few for about £35. The ones at the £35 mark tend to either not have very adjustable temperature, or not have a timer – but this model has both, and enables me to dehydrate food at the low temperatures required by raw food standards.
In Conclusion :
Seriously, I think if you are going to do a large amount of dehydrating / drying, or do it on a regular basis, it might be worth going with one of the more robust machines around the £100 mark. This one lacks power, so its not going to make chips, unless you slice very thinly or extend the timer beyond its 12 hours limit, which is a bit much. It did seem to dry a little unevenly, hence the need to move the trays around at intervals on our trial.  For 'now and then' occasional use, its certainly a cheap way to get some tasty snacks.  Fruit leather, jerky and apple slices came out brilliantly.  Review Rating 5/10
Buy Now OR Add to Amazon Cart