The Breville VDF105 Halo Plus Health Fryer is the latest in a successful line of Breville products. This one is definitely the most versatile yet. The 'gimmick' here is the tilt mechanism, instead of the paddle arrangement, which was sometimes a problem with previous products, the VDF105 has a rotating food compartment and a tilting head to make the food contents 'tumble' instead. You would use this mode to produce excellent perfectly even cooked chips. It differs in one other important way, from most other halogen ovens we have reviewed, there are 2 heating elements, one above and another below the cooking compartment ( removable bowl )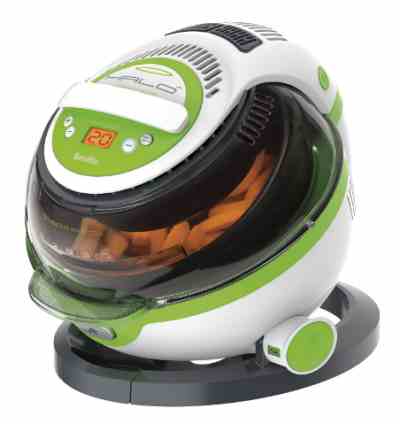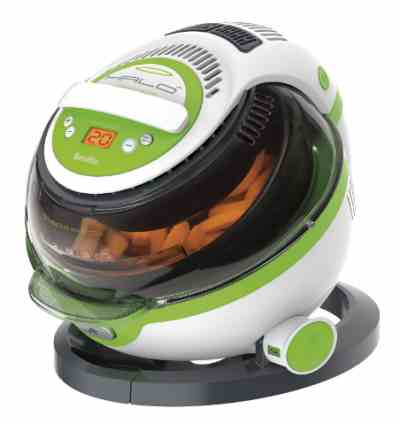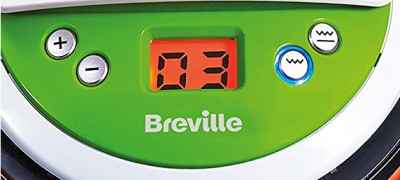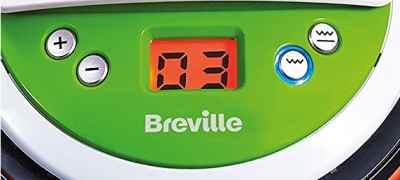 The Controls couldn't be simpler, 0 to 75 minute timer on the left, display centre and heat – grill or full heat. With the speed of cooking of halogen, this is all you need…. simples!  The timer shuts the power off, after completion, so no worries if the phone rings, it won't burn!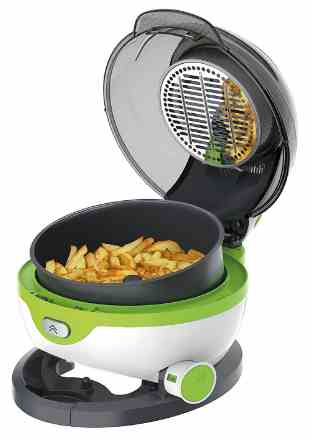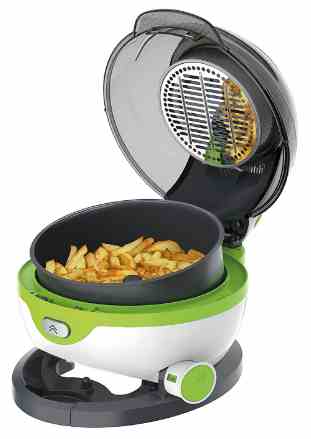 The VDF105 has a hinged lid, which is a great safety feature, especially when used by the infirm or very elderly.
When used without the tilt, you can fry or roast. Here is the bowl used flat, for salmon. The 105 model has a total capacity of 1.25kg, more than adequate for most main dishes.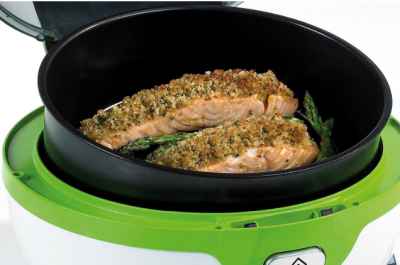 Having owned a few Breville products I can vouch for the quality of construction, they are very hardy and last well.
What Breville buyers said about their purchases…
"So far have done chips, jacket potatoes and roasted veg. Very easy to use and results with food are fantastic. Having tried food from the Actifry there really is no difference * Actifry is a competitors product that works in a similar way but is quite a lot more expensive."
"it cooks quickly, eg roast potatoes in 30-40 minutes."
 "It also switches itself off when the timer comes to an end .It's easy to clean as the parts go into the dishwasher. I would recommend this to anyone."
"all parts that need cleaning can be done in the dishwasher".
"We bought this a month or so ago looking to cut down on transfats, and also the fryer vapour/grease that gets everywhere. It works brilliantly on both counts. You dont even need any oil if you are throwing in frozen chips!"
" I have also used it to cook frozen foods such as fish fingers. It cooks all kinds of things well including currys and even cup cakes."
Buy Now OR Add to Amazon Cart