The new model 8246 is a big improvement over previous model 8217 , it should be a lot more reliable and accurate. Out of the box it looks well made and the new digital controls have some interesting pre set features for cooking :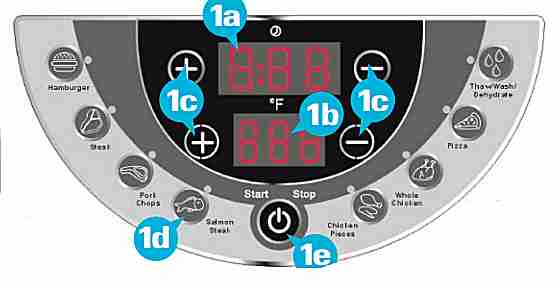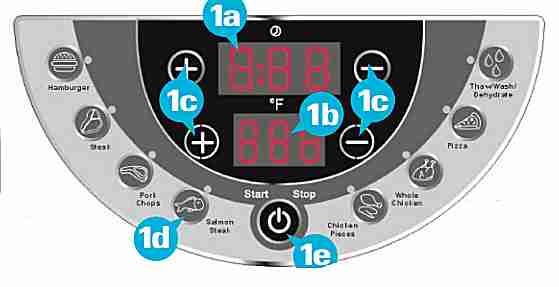 I did particularly like the clarity of layout, with separate temp up/down and time up/down adjustment buttons, marked "1C" in the diagram above, some other makes use a confusing mode change button, I think if digital is to be an improvement over the simpler dial type control , then each function has to be obvious in its operation.
Main Features
16 US quarts capacity /  15 Liters
Carbon lamp filament heating element
Comes with tongs, 2 racks high and low plus extension ring adding 5 liters to the capacity
Digital temperature and timer settings
The heating element is the new Carbon FIR (far infrared ) type, which is less fragile than the typical Halogen lamp, but with similar heating characteristics, very fast time to full temperature. The box contains a good set of tools for loading or unloading food or racks from the bowl and most important for versatility an extension ring, making the total volume some 16 US quarts. Temperature can be set from 120 to 480 Fahrenheit. Note that if you are using the presets, you can alter the settings manually as well.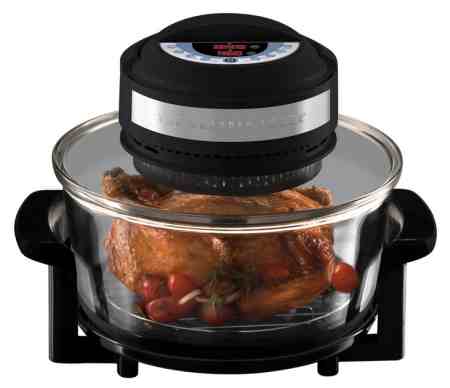 What buyers thought of their Sharper Image…
I have now owned this 2 years, I use it several times a day 365 days a year and it is still going strong. Buy with confidence.
I recommend this appliance to all homemakers, etc. You will not be disappointed at all. Only hope they could make a smaller (bowl) version for smaller cooking. The bowl is quite large to handle after cooking for two people. Nevertheless, it is considered versatile for large or small cooking.
While it is a little cumbersome, I will be taking with me during extended travel when I work. (I get tired of restaurant food.) It does not smoke or put out much heat or smell at all, so you could cook in a hotel room.
I had one before and it lasted about eight years and I could get it fixed so I bought a new one so far this is running real good and it was fast service
We gave the new Sharper Image 8246 model a 6/10 score, it's a major improvement in many ways over the older model 8217 ( also reviewed on the site ) . Arriving complete with accessories and extender ring it should be a valuable kitchen tool that will get a lot of use.
.