Tower T17024 Digital Air Fryer
Controls On the Tower T17024
The tower appears to be simpler in design to the Philips and Tefal
However it's because they have combined the temperature and  timer up- down keys, to change temp, first change the toggle key to indicate  temp, then adjust with plus and minus keys, same with time. The Time and Temp lamps indicate which is in operation.
I prefer them separate, I don't have to think about it, I just adjust them.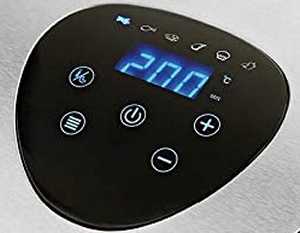 Preset Buttons
The Tower Fryer comes with 6 preset functions
Frozen Chips
Chicken / poultry
Fish / Seafood
Meat
Baking
Vegetables
You select the preset by tapping the menu key – (bottom left) the presets backlight comes on,  each preset icon will flash in turn, then touch the ON (top left) button to start the cooking process.
Time and Temperature are both preset on all 6 functions
The Tower uses a standard layout, heating element, fan and food drawer with digital controls
1500 watt
90cm power cord
Temperature 80°C-200°C in 10° steps
Timer 0 to 60 minutes Auto shutoff
Weight 4.5 kg
Capacity 4.3 Litre
Dimensions 338mm x 278mm x 333mm
Designed to cook 6 portions Capacity 1.2 Kg
Great machine wish I'd bought the bigger model with shelves, why because it is that good. The negative is the basket is pretty flimsy with 3 rivets connecting the basket to the handle. A plastic shield protects the release button to list the cooking basket out of the cooking bowl. This should comes off every time and is a real pain. The basket itself has folded back slots that are virtually impossible to clean and I can see how easily it will be to break the basket from the riveted handle. Not good.
So that is the build and I don't expect it to last long with regular use. 🙁
As for cooking it is superb, the food tastes good fries and had browns are crisp and dry. I've found it is easier to use frozen products rather than going through the whole preparation process.
Having said all of this I made a mistake buying this item and should have spent the extra on the larger oven with a glass front, it's not much larger in overall dimensions of price but delivers more flexibility. Since buying this I've also discovered a number of relatives have the same product and all have exactly the same comments.
I'm surprised that the standard oven manufacturers that now combine microwave with traditional ovens are not including this technology in their own ovens, I guess it's just a matter of time as the technology is genius.
Unfortunately  several buyers had the same experience with the drawer handle
Rating and Recommendation