Wow "Sunpentown SO-2002 Digital Convection Oven with Nano-Carbon and FIR Heating Element" , what a mouthful !  Well folks the new heating element I reported on some considerable time ago….. is here .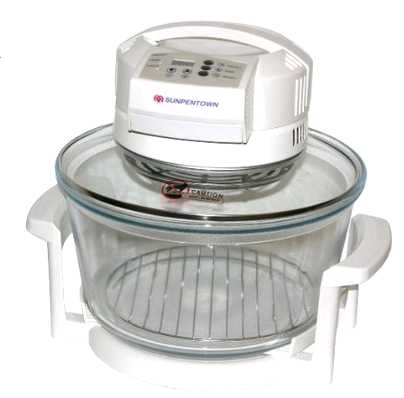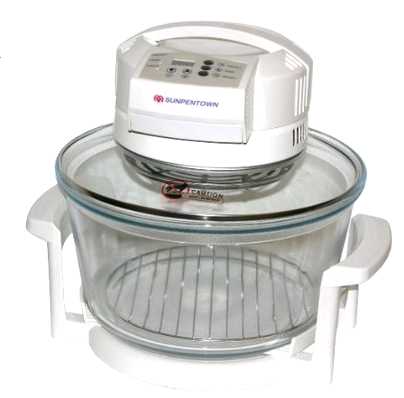 What is Nano Carbon and Fir
The most relevant explanation is its extreme performance, it is capable in one second, of reaching a higher temperature than a traditional element is, in a full three minutes ! Now that is an ADVANCE . FIR is just the wavelength of the 'light' it puts out to do the cooking with, its in the Far Infra Red end of the electromagnetic spectrum. As far as comparison to recent Halogen elements, it is designed to be tougher and is more efficient, so the main problem that haunts Halogen ovens , its lifespan , is addressed with this one big advancement. You will also be pleased to know that it is going to cost less long term with its more economical element. This is the only model i've ever come across with 2 hot air fans. I don't know if its more efficient with two fans, over the lifetime of the product, the 2 fans should be more reliable, but may be noisier long term, but it certainly works ok.
Accessories Included
The Sunpentown comes with a high and low rack and tongs, so if this is your first purchase, I recommend you at least add a pan and a steamer pan, which are very  useful, plus maybe a lid rack. One of the tricky little maneuvers that you will perform is taking the hot lid off, when the timer sounds , so a wire rack is fairly essential , you don't want to drop the heater or scorch the countertop. I would consider an extended ring too, one of the most useful things to buy with an oven of this type. There are some good accessory packs available on Amazon here.
Main Features at a Glance
Glass Bowl ( not plastic ) is 12 Liter capacity
The timer is digital and you can program intervals of up to  12 hours and cooking time of up to 60 minutes
158 to 482 degrees F temperature control
1 year warranty ( Limited see conditions )
15 pounds weight
Dimensions 10.8 x 14 x 14.5 inches

What the buyers of the Sunpentown had to say….
Great product.
i've been using it almost daily since i got it. it works great and is easy to clean. i live in a small condo and used to not be able to cook many things at home because of the smell or the extreme heat produce by my oven. thanks to this oven, i have been able to even cook sausages without leaving the house smelling like them.
One of my favorite items to cook in it is "crab stuffed mushrooms with parmasan cheese". It cooks them to perfection. Brown and slightly crispy on top, and perfectly cooked juicy centers. I have not found an item that it does not cook well. Pastries and breads cook incredibly fast and come out delicious. 
I've cooked with this oven at least 2x a week and really like the oven. I cook mostly fish, also chicken and chopped meat and it has performed as promised and as i expected. What i like best, I can do all of this and NOT heat up the house like i would using the oven or even a toaster oven. A real plus for me considering we live in a a/c for 9 months area. So i change my rating to 5 stars.
I have learned to buy the small pizza's to fit , cooked frozen pork roast to perfection , bake potatoes and even made golden brown pies. I love it !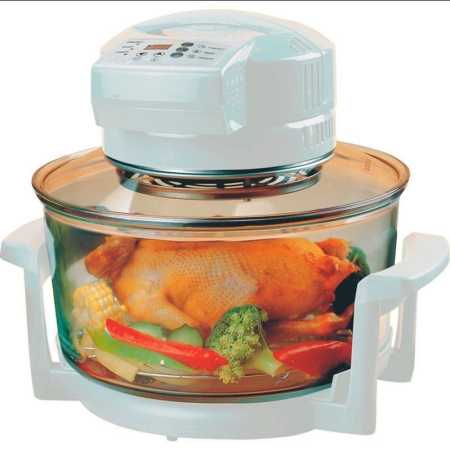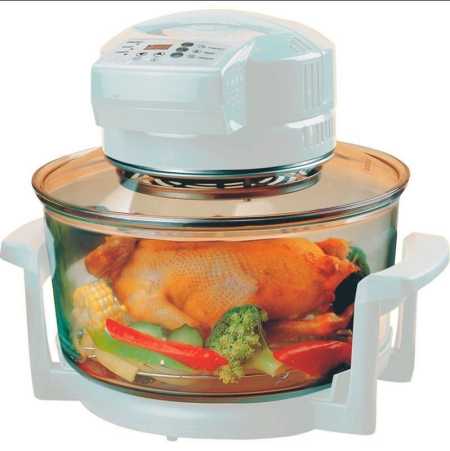 My Conclusion…
I found that the Oven worked great, although no faster than any other Halogen type oven, certainly consistent results can be had with this machine. Compared to the previous Sunpentown product (reviewed on this site ) it is a  major improvement. They don't have the polished quality feel to them that more familiar products do but I think they have a reasonable cooker here. My only real gripes were the timer is pre set to 40 minutes, which is slightly inconvenient, you have to cycle the time round to your own setting every time. Also the temperature settings decals are not very well printed and will rub off too easily, so if you do plan to purchase , you may have to put on some markings of your own after a time. However this complaint can be levelled at many of the products we tested, so really its no worse than any other
Our test results rating 6/10