The Russell Hobbs model 25630 is the first slow cooker I've seen, to incorporate a food thermometer for ultra-accurate temperature settings. This makes it ideal for Sous Vide (under vacuum) cooking. It has fully variable Digital Timer, and Heat settings with a Digital Display. 
Colour: Grey
Material Bowl-Ceramic & Aluminium-body
Cooking Bowl – ceramic
Dimensions(cm) 27 x 19 x 25 
Weight 7.7Kg
Capacity 6.5 litres
Power 350watts ( 230v) 
Timer:  (Slow Cook) Low – 4 hours or High 8 Hours ( all adjustable)
Timer: (Sous Vide) Defaults to 1 hour – adjustable
Temp (Sous Vide) 57°C Adjustable  38ºC to 91ºC
Food Thermometer
Keep-Warm Setting : auto 4 hours then turns off.
Digital Settings and Display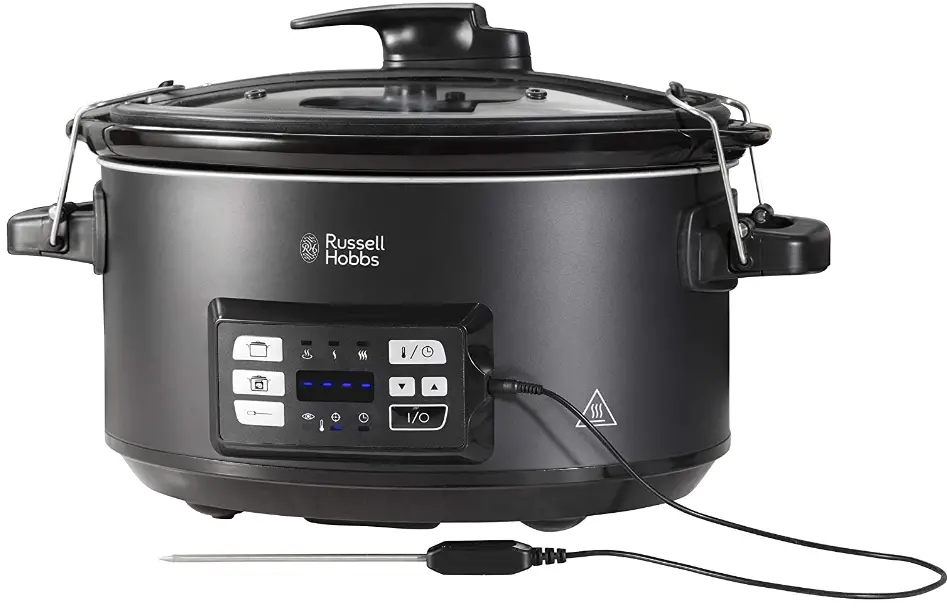 The Russell Hobbs is simple to operate with Easy Timer and Heat settings.  It has a clear blue LED display.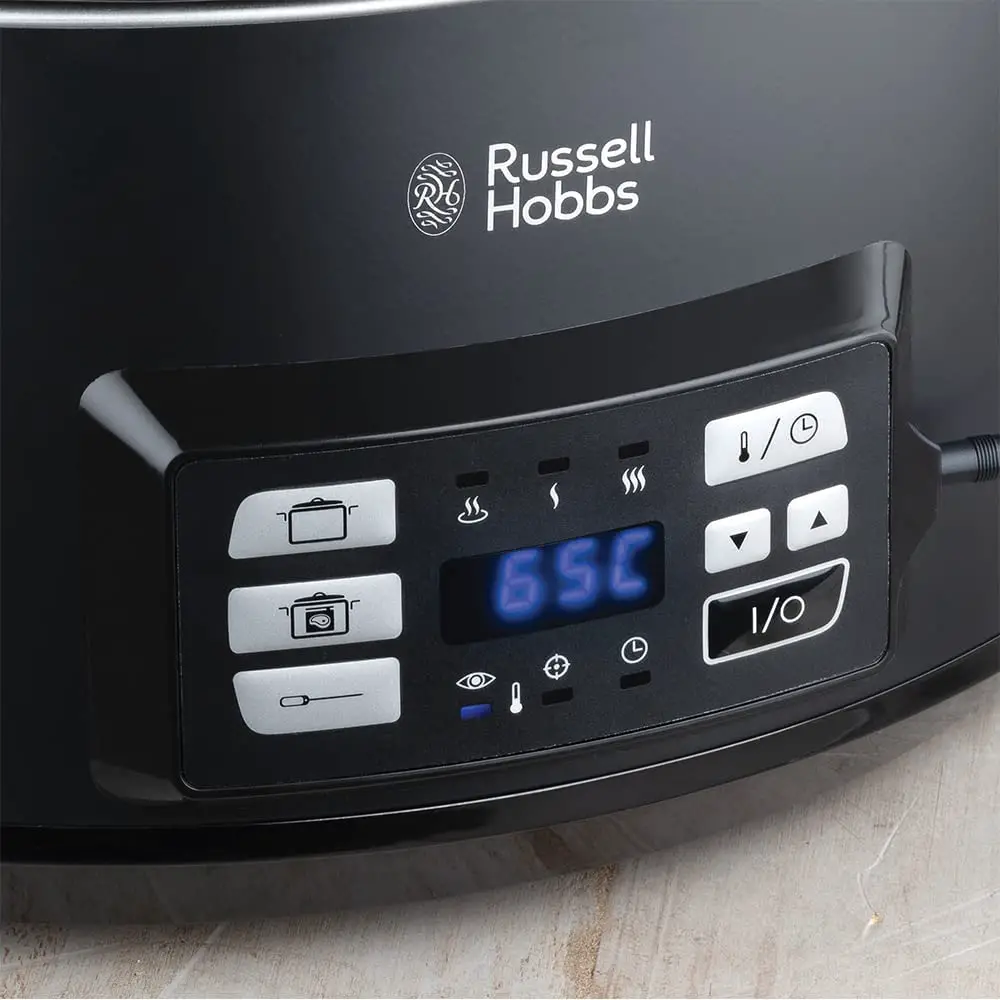 First select the adjustment required with the Temp-Time button, then adjust with UP/DN buttons
The Display can be set to Temp-now, Temp-Target or Time
Press the Sous Vide mode button (left centre) for full temp control, or the SlowCook button (left top) for Slow mode High, Low, or KeepWarm
Russell Hobbs Build Quality and Everyday Use
What is the Russell Hobbs Slow Cooker like to work with? You can expect top-notch quality products, that last, from this manufacturer, I have several items in my kitchen, my Russell Hobbs Kettle has been here since the last Ice Age.
The large inner pot is ceramic ( pottery ) as with many slow cookers, so you cannot use a hob to sear meat in this bowl, as you can with the steel and aluminum bowls. The lid, unlike most slow cookers, has strong clips, which when the locks on the handles are engaged, results in a tightly sealed bowl.  The cleaning of this seal and checking it is correctly seated is easy, but important maintenance.
Cleaning of the bowl and lid can be done without fear of damage in the Dishwasher.
 What is Sous Vide?
The term Sous Vide is French and means "under vacuum". It is a method of cooking that gives accurate results every time. The meat is contained in a sealed plastic bag, in a rack under water. It can be a vacuum-sealed bag. The method cooks slowly any searing or browning required can be done after the sous vide cooking is finished.
Using the temperature probe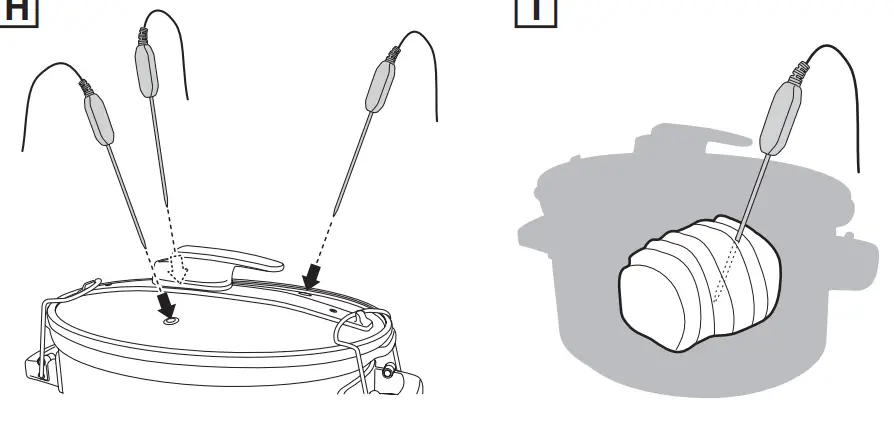 When cooking a joint of meat,  you can insert the thermometer in one of the purpose made holes in the lid or when using the Sous-vide cooking method, in the handle, to monitor water temp
What the Russell Hobbs Buyers said....
Bought mainly to try out Sous Vide cooking.
Very, very easy to use and holds near constant temperature extremely well, even over an 18 hour cook (my longest so far).
Tight fitting lid keep heat trapped in so economical to use.
Sous Vide results so far have been everything I had hoped for.
The fact this is also a slow cooker is a massive bonus.
Brilliant product.
I was looking to replace my ageing slow cooker and stumbled across this product on Amazon which also includes a sous vide feature. Quite separately I was interested in trying sous vide cooking but didn't want to invest in more space taking equipment. This product provides the best of both worlds. It's has a generously sized pot and an intuitive easy to use control panel. It includes a plug-in thermometer that monitors and displays temperature on the control panel. This is also used to regulate temperature particularly with sous vide cooking. So far I've mainly tried sous vide feature which required in addition I purchase a vacuum sealer in order to contain my food items. The results of sous vide cooking are outstanding , very reliable and consistent. A quick Googling of what you're cooking will suggest appropriate temperatures and times for the degree to which you want your food cooked (medium rare, medium or well done). I'm delighted with the results of this and currently won't even cook a chicken breast without using my sous vide feature such is the quality of the result. This feature really differentiates the product so congratulations to Russell Hobbs for coming up with the idea. When considering the cost of separate sous vide equipment I can only say what a bargain this product is because you effectively get a slow cooker thrown in for free. I'm going to buy another one for my sister at Christmas.
Easy to use, easy to clean – this is a brilliant piece of kit.
I purchased this to replace my other slowcooker as I have started doing more sous-vide cooking. It's perfect.
The element is all around the main bowl, which makes the temperature regulation much easier. It's also digitally controlled and will maintain a temperature rather than most which heat up then cool down – this allows much better control over the cooking process. This also allows for much lower temperature settings than most slowcookers, perfect for sous-vide cooking amongst other things.
Download the Russell Hobbs Instruction Book
Great crossover product, well made, but difficult to directly compare. This will attract buyers wanting a quality product for slow cooking and wanting to expand their range into sous vide cooking and with the thermometer, cooking joints of meat. 
I liked the layout of this design, the build quality and the price which is reasonable with these features
 I give this a 9/10 rating overall – great value