What do I mean by "Perfect Design" , simply this: Safe, so the operator doesn't get burnt, using the appliance, Safe, if young fingers touch the outside of the appliance. Digital Display so you can see the settings. Digital settings, so the programs are repeatable, a window to see your food cooking without opening it, and easy to clean..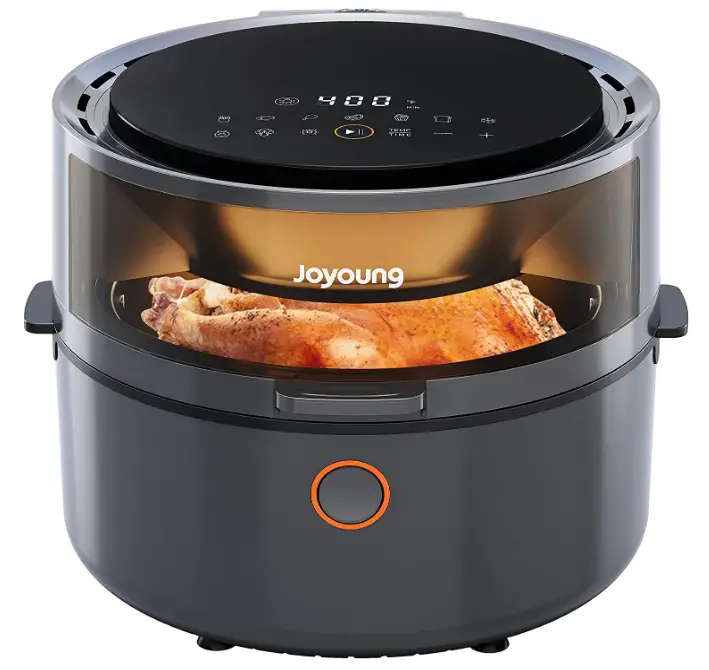 https://besthalogencooker.com/wp-content/uploads/2022/11/joyoung572.mp4
Ok, I can hear you thinking, why is this, an air fryer, in a review of halogen ovens? Well bear with me, it has a lot of the best features – like the hinged lid and the advantages of the best halogen ovens, like the viewing window, plus it is Digitally Controlled: that I decided this WAS the right place to review it.
The Philips air fryer is brilliant, no doubt it is a great design, copied by many manufacturers, but sometimes the food splashes fat up, into the heating element. And you can't actually see your food cooking.
Joyoung has addressed this problem and has combined the best function of any halogen oven – the hinged lid, with a splash guard. This has a viewing window in it, to check on progress.
This results in what I believe is the safest and easiest unit to cook with, anywhere on the planet
And, the heater fan is quiet in operation, as several comments showed.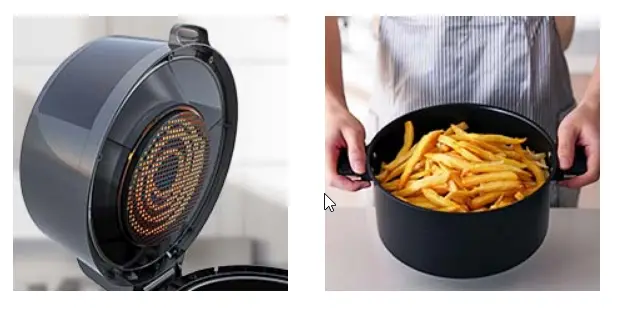 The heating element has a glass heating tube protection net and a tempered glass ring, which allows you to easily clean it in seconds after each use. 
The food basket has scald-proof handles – just take it straight to the table !
Notice how wide the lid opens
Controls On the Joyoung Cooker
Temperature display can be set for Centrigrade or Fahrenheit. 
You can manually set the Timer or the Temperature with the Temp/Time button and then the + and – buttons. 
The setting can be paused or cancelled or continued with the centre "play" button. 
There are 10 preset functions, fully programmable, listed in the picture.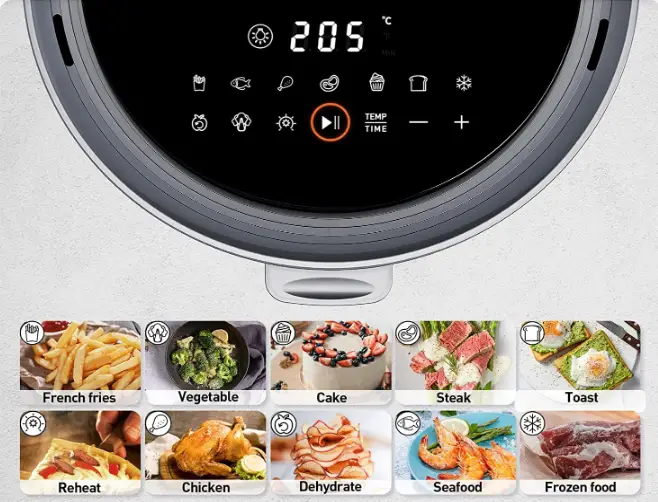 Specification
The Joyoung uses a hinged lid layout, heating element and fan in the lid
1500 watt 240volt ( Note: Amazons description refers to US version ) 
90cm power cord
Temperature 37°C to 205°C in 1 degree increments
Timer 0 to 24 hours !! in 1 minute intervals with Auto shutoff
Weight 5.49 kg
Dimensions 35x35x32 cm
Designed to cook 6 portions Capacity 1.2 Kg 5.5 Litre
What the buyers Said…
1  Wow, I like this air fryer, it's such a no-brainer, you can use it to cook frozen pizza, nuggets… you name it. What suprise me the most is the window and internal light, you can check the ingredients any time. Touchscreen is sensitive, straightforward, and easy to use. Anyways, it's a good air fryer I like it.
2  This air fryer is excellent and is definitely one of the best I have used. It has a viewing window which helps you monitor the cooking progress without the need to open the air fryer and disrupt the cooking process. It has 10 cooking presets loaded with buttons on the top for easy cooking, but you can also adjust the temperature and time yourself with the buttons on the top. The tray has a rounded shape rather than the traditional square shape, making it easy to cook or heat up pizzas or other rounded pastries. It has even heating and all of the food I have put in so far has cooked evenly resulting in a nice texture all around. Overall, very good air fryer and up there with the big brands. Definitely worth the money.
3  There is a good selection of preset programmes and once you study the manual, you're ready to be a pro and make your cooking healthier and in my view a lot tastier too! It is a really versatile gadget and one everyone should have in their kitchen. I seriously cannot fault it, and after three months of use, apart from a structural design niggle, I am very happy with this brand and this machine and do not see much of a difference in the outcome with some of much pricier counterparts from big brand names, so…great value for money!
4  I purchased a few air fryers in the past, but so far this is the best one I have owned. It is basically a mini freestanding oven that makes every kitchen look very modern. It makes cooking for a family easier and it also produces healthier food since you hardly need to use any oil, or none at all. The tasty food comes out crispy and evenly cooked. I hated using my chip pan as it was messy and took a lot of effort to clean it and change the oil in it.
This air fryer, is not only for chips, but for a variety of food. It is very versatile. A little cookbook is included in the package, but you can search the web for more recipes and ideas for how to make the most of this air fryer.
I am very happy with the product and what it has to offer. I just love the LED digital touch screen, it makes it look stylish, and with the pre-programmed options, it is simple to use. I also love the transparent window, because I don't have to open it up to check on the cooking process so often. The time and temperature are customizable.
It also comes with 2 years' manufacturer's warranty. You need to register the details online.
Overall, I think this item is great and I hope it will last longer than my older ones, which did not even last 6 months.
5 Not very heavy, easy to clean and not very noisy. Nice to have the option to observe you meal without the need to open the lid.
Rating and Recommendation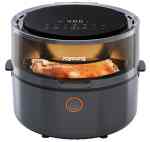 Joyoung
Air Fryer  
This will sell well.  The price is below the main brands, but the functionality and quality are up there with the best. Only drawback is the size compared with 12 litre standard Halogen, this is only 5.5Litres (hence only 9/10)
Best Features of Any Cooker RATING 9/10
 9/10
Go to top – main Halogen Section